Germany players placed their hands over their mouths during a team photo ahead of their game against Japan for their World Cup Group E as the row over FIFA's threat of sanctions over the "OneLove" armband continued.
All Germany players took part in the gesture in front of dozens of photographers on the pitch ahead of kick-off, after FIFA had threatened seven European teams with sanctions if they wore the armband symbolising diversity and tolerance.
The Germany gesture was highlighted at half-time on RTÉ Sport, the panel noting that the host director did not show the footage of the team photo, nor of the fact that goalkeeper Manuel Neuer's captain's armband was checked by the officials ahead of kick-off.
Former Germany midfielder, Didi Hamann, was an RTÉ analyst for the game, and spoke about the issue, offering his support to the players, with aspirations that the team will now be allowed to focus on the football.
"They said it's not about making a political statement; human rights are non-negotiable," said Hamann.
"That's what it was about. They voiced their concern and their issues with what is going on in Qatar.
"The players have been put in a position where they wanted to wear that armband, but the association didn't get it through with FIFA. And why should the players rectify a situation that the association couldn't solve in the first place?
"There has been a lot of pressure on these players, and I'm sure they are tired of the whole debate. They did their statement, that is fine, and I think we should leave it now and concentrate on the football.
"The players are there to play football. It is certainly something they don't like to do. They do it if they can, but there is only so much they can do."
🇩🇪 1-0 🇯🇵
Didi Hamann feels players planning to wear the One Love armband have been let down by their FAs. The Germans covered their mouths in protest today
📺 Watch live now on @RTE2 and @RTEplayer: https://t.co/cpCr43tolm
📱Live updates: https://t.co/1fMQMqLQj9#FifaWorldCup pic.twitter.com/WNJLwOz2eh

— RTÉ Soccer (@RTEsoccer) November 23, 2022
Germany's Interior Minister Nancy Faeser, sitting next to FIFA President Gianni Infantino in the stands, sported the armband as she chatted with the football administrator.
Earlier, she had criticised FIFA, saying the threat of sanctions was a mistake and not acceptable behaviour.
---
Germany lose sponsors following OneLove call
---
"This is not alright, how federations are being put under pressure," Faeser said during a visit to a German FA event in Doha before the game.
"In today's times it is incomprehensible that FIFA does not want people to openly stand for tolerance and against discrimination. It does not fit in our times and it is not appropriate towards people."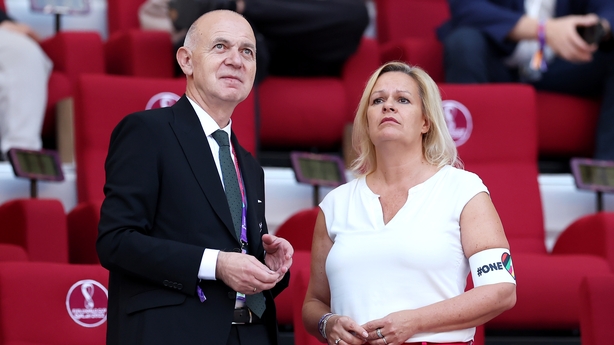 A statement from the German Football Association (DFB) said: "We wanted to use our captain's armband to take a stand for values that we hold in the Germany national team: diversity and mutual respect. Together with other nations, we wanted our voice to be heard.
"It wasn't about making a political statement – human rights are non-negotiable. That should be taken for granted, but it still isn't the case. That's why this message is so important to us. Denying us the armband is the same as denying us a voice. We stand by our position."
Homosexuality is illegal in Qatar.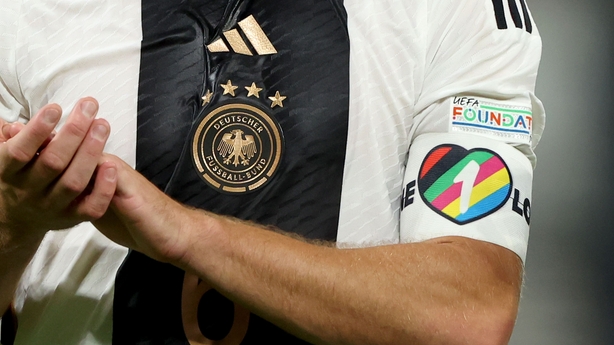 Meanwhile Danish football federation chief executive Jakob Jensen says the group of nations who sought to wear the OneLove armband at the World Cup are co-ordinating their discussions on legal next steps after FIFA forced them to drop their plans.
Jensen says the group of seven European associations are looking at which legal avenues are open to them after it became clear they faced sporting sanctions from FIFA if the rainbow-coloured bands were worn.
However, he ruled out going to the Court of Arbitration for Sport at this stage.
He said in a television interview: "Now we're looking into what are the legal options, we are co-ordinating our discussions on that as well but at this point it is not possible to go to CAS.
"You can't go through CAS now and I think this is some rumour running around the press.
"The Germans are looking into the legal possibilities. It's very different than going through CAS. If you want to go through CAS you need to complain within the FIFA system first, you need to go to the appeals body, then you can go through CAS."
The PA news agency understands lawyers acting for the OneLove nations are looking at the regulations to examine the sanctions the associations were being threatened with, and that this step is not seen as a major escalation.
However, there is no truth to rumours that the Danish Football Association (DBU) is planning to leave FIFA following the row, the association has told Reuters.
Media reports surfaced on Wednesday following a news conference that DBU president Jesper Moeller had said the FA was considering pulling out of the governing body for world football after Denmark and six other European teams were threatened with sporting sanctions if they wore the armband.
"Some media have made the misunderstanding that DBU will withdraw from FIFA," DBU head of communications Jakob Hoejer told Reuters in a WhatsApp message.
"That was not said at the press conference. We're critical and not satisfied and we'll not vote for the present FIFA president (Gianni Infantino). We will discuss further actions with our Nordic and European colleagues."
We need your consent to load this YouTube contentWe use YouTube to manage extra content that can set cookies on your device and collect data about your activity. Please review their details and accept them to load the content.Manage Preferences
Listen to the RTÉ Soccer podcast on Apple Podcasts, Spotify or wherever you get your podcasts.