France centre forward Olivier Giroud has failed to score at the World Cup in Russia but is still a vital cog in their plans for Sunday's final against Croatia in Moscow.
While a goal in Sunday's final will be high priority for the 31-year-old striker, his play is about much more than just finishing as displayed in a semi-final performance against Belgium.
Giroud was central to coach Didier Deschamps' plans, dropping deep into midfield to start a defensive block that kept the Belgians from better utilising all the possession they had.
When France went onto the counter-attack, Giroud was often the decoy, drawing defenders to create space for team mates.
"It's true Olivier hasn't scored yet. I repeat yet," said Deschamps last week.
"He is important for our style, we need his supporting play. It's good if he scores but Olivier is always very generous and doesn't complain about working hard.
"He might not have the flamboyant style but the team needs him even if he doesn't score."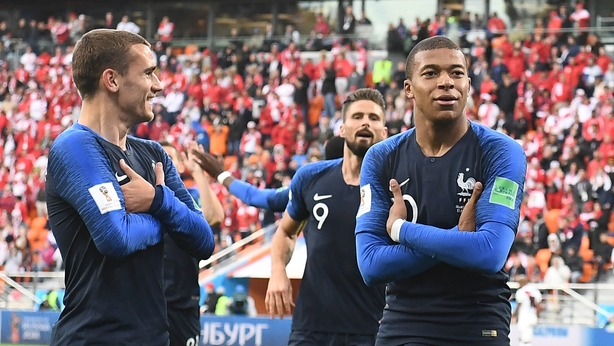 Belgium goalkeeper Thibaut Courtois labelled the French tactics 'anti-football' after Tuesday's semi-final in St. Petersburg, alluding to Giroud's defensive role.
"The criticism is not justified," team mate Blaise Matuidi responded on Friday.
"He hasn't been successful in scoring but he works so very hard for the team and for us that's super."
Giroud, who will earn his 81st cap in Sunday's game at the Luzhniki Stadium, said last weekend he was hoping for a goal but not at the expense of the game plan.
"I don't feel frustrated. As long as the team wins, I'm happy. I try to open gaps, to play in the build-up. My game is also to play for my team mates, it's my altruistic side," he said.
"I've given assists for three goals here, but for sure I'd like to score. But if we win without me scoring, I'll be happy with that too."
Giroud last scored a goal in the warm-up friendly against the Republic of Ireland in Paris on May 28 but it took his tally to 31, making him France's fourth highest goalscorer of all-time.
Six months before that he was no way certain of going to the World Cup with his club career faltering at Arsenal. He gambled on a switch to Premier League rivals Chelsea, in search of playing time. The gamble appears to have paid off.
"Now, we are in the final of the World Cup. What can I say? It's extraordinary and I don't think we actually realise what we've done," he said in a brief video interview released by the French Football Federation after Tuesday's semi-final success.
"If we keep that solidarity and collective strength to the end, I don't know what can stop us. I hope from the bottom of my heart that we can play the same way in the final, but with more clinical finishing."