While many fans will rue the missed chances and others the dominance of Croatia's Luka Modric as England's World Cup dream ended in the semi-finals, some may bemoan one other factor - the return of the ITV jinx.
People may have hoped the hoodoo of the nation's prime commercial terrestrial network had finally been shattered with the last-16 win over Colombia but, alas, that proved only a temporary lifting of the hoodoo.
Heading into the tournament, England's record in live games screened by ITV in major finals was dismal compared with those shown on the BBC and sadly that remains the case as their meaningful involvement in Russia ends.
f course, there have been many contributing factors cited for England's various frustrations over the years from David Beckham's kick to Urs Meier's decisions and Fabio Capello's austere approach.
And for players, it should matter little whether coverage of their games back home is being presented by Gary Lineker or Mark Pougatch.
ut a study by the Press Association shows that England have performed considerably better for BBC than ITV audiences over the past 22 years.
Stretching back to Euro 96, England have won 14 of their 22 tournament games shown exclusively by the BBC, a success rate of 63.3 per cent.
On ITV, who has shown the same number of games in that period, the figure plummets to 22.7 per cent with just five wins from 22.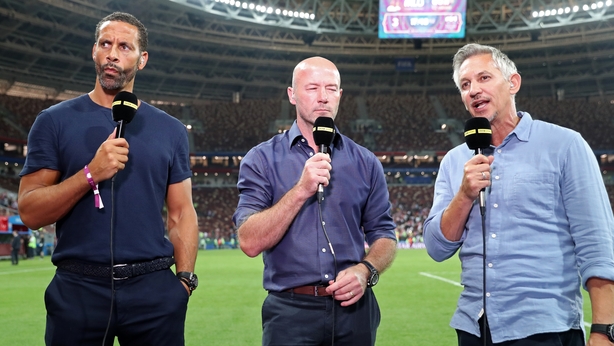 The BBC has improved its record during this World Cup, having screened the group stage wins over Tunisia and Panama as well as the quarter-final defeat of Sweden.
ITV lost two of its three games with the network also overseeing the group stage loss to Belgium as well as Wednesday's Croatian heartbreak.
It had seemed ITV had turned the corner as England ended their own jinx - that of the penalty shoot-out - against Colombia last week but it seems as though normal service has been resumed.
The Croatia loss joins other defeats such as the 1998 last-16 loss to Argentina and the Euro 2016 debacle against Iceland on ITV's roster of disappointment. Prior to the Colombia victory, ITV's only previous World Cup success in the studied period was an unconvincing defeat of Trinidad and Tobago in 2006.
ITV can, however, take heart from the viewing figures it has announced for Wednesday's game.
The peak audience for the match was 26.6million - an audience share of 84 per cent - with an average between kick-off and the final whistle of 24.3million, the highest for a single game ever.
ITV has also successfully covered England's recent qualifying campaigns, although that may be of little consolation to hurting supporters right now.