Gareth Southgate's pride was as clear as his heartache after England's summer came to halt agonisingly short of the World Cup final.
Their nation came to a standstill during Wednesday evening's semi-final as the Three Lions lined-up against Croatia looking to keep the dream alive.
Kieran Trippier's early free-kick put England on course for their first final since 1966, but Southgate's men will not be able to replicate Alf Ramsey's side after Croatia staged a fightback to instead face France this weekend.
Ivan Perisic levelled and Mario Mandzukic secured a 2-1 win in extra-time, propelling them to a first World Cup final as England's manager wondered what could have been - 22 years on from his semi-final heartache at Euro 96.
"I think that's maybe something for a couple of days' time because at the moment we all feel the pain of the defeat," Southgate said when asked how the defeat leaves England.
"Did we expect to be in this position? I don't think realistically any of us did.
"But when you've got to this point and we've played in the way we have, and as well as we did in the first half, then you want to take those opportunities in life.
"So, the dressing room and all of the staff is (in) a very difficult place at the moment.
"Having said that, what I will say is that I am remarkably proud of the group of players that have really advanced.
"I think the reaction of the supporters to them at the end compared to two years ago tells them that, first and foremost, experiences with England can be positive, that the country are very proud of what they've done and the way that they've played.
"And, yeah, there will in time be a lot of positives to take.
"It's of course very hard to put that into context and a bit too soon, really, because I think you have to suffer the result a little bit.
"It's too easy sometimes to move on quickly.
"But, certainly, I'm hugely proud of what they've done.
"I couldn't have asked them to give any more for me or for the country.
"They have broken through a number of barriers over the last few weeks."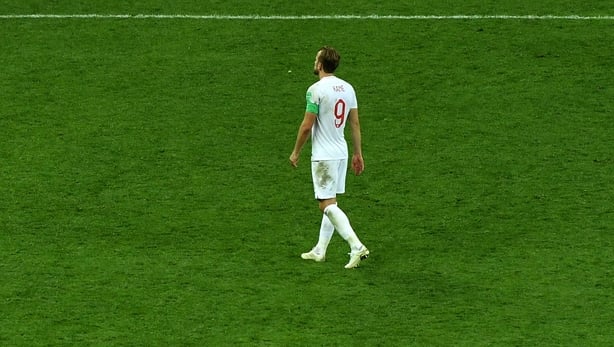 England secured their biggest major tournament win in Russia, as well as winning their first World Cup penalty shootout and first knockout match since 2006 en route to just their third ever semi-final in this competition.
But the defeat to the smallest nation to reach a World Cup final since Uruguay in 1950 is a body blow that leaves the Three Lions reeling ahead of an unwanted third-placed play-off against Belgium on Saturday.
"It's impossible to say anything to them to make them feel better at this moment of time," Southgate said in the bowels of the Luzhniki.
"I don't think when people look at the experience and last 18 months, that people expected us to be in a semi-final of the World Cup.
"But, once we were here we really believed we could win the game.
"For us, it was an opportunity to do something which only one team in our nation's history has ever done.
"We're still one of only three teams ever to get to a semi-final, and I think for all of the players and staff they have got to be proud of that.
"I don't think any of them could have given any more.
"Physically, we lost Trippier towards the end and there were others who had given absolutely everything.
"As much as we kept trying to refresh with substitutions, players had run out of steam.
"But that's partly the age of them as well, they're still physically maturing and Croatia have some hardened warriors, who mentally in their decision-making and their understanding of big matches at times came to the fore.
"So, for the players, I couldn't be prouder of what they've given. The way they've represented their country has been exemplary.
"They have to go through big matches and big-match experiences to be able to become a team that can win.
"If you look at every other nation that has had success, they've got to semi-finals and maybe not got across the line first time.
"But they have to use the experience for the benefit - not just tonight's but lots of other experiences over the last few weeks that definitely will and have made them a stronger team."