Belgium's World Cup stars have hit out at France's 'anti-football' and admitted that they would have rather lost in the quarter-finals to Brazil.
The Red Devils fell at the penultimate World Cup hurdle as they lost the semi-final 1-0 as a result of Samuel Umtiti's 51st-minute header and frustrated goalkeeper Thibault Courtois admitted that he would have prefererd to have lost against Brazil.
"We have played against a team that plays anti-football," Courtois told Sporza.
"It's a pity and frustrating, I prefer to lose a team like Brazil, who wants to play football at least."
The Belgium keeper admitted that his side struggled against sides that sit deep and acknowledged that France got their tactics correct against Roberto Martinez's side.
"France is no better than us, they do not play football, but they do have a lot of strength.
"Their striker played 30 metres from the goal, which I have not even experienced at Chelsea yet, they are right, they also know that we have trouble against teams that are very deep."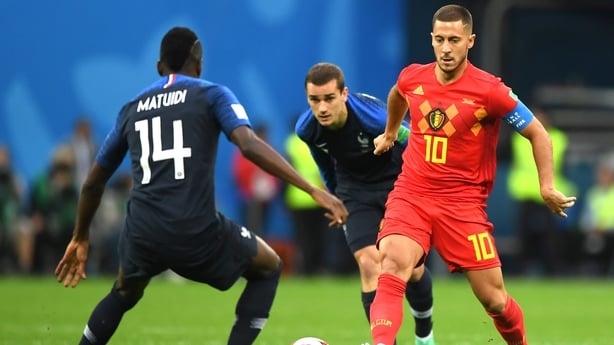 Eden Hazard was also scathing of the French in the post-match press conference claiming that he would rather lose with Belgium than win with France.
"We can be proud of what we have achieved. As a captain, I am happy to be part of this team," said Hazard, as quoted in Niewsblad.
"I prefer to lose with this Belgium than win with this France. They may not play well, but they do defend strongly and are very efficient. We have not found their weak point. That little moment of magic needed to score was not there.
"We have seen a fantastic Belgian team and have been eliminated by a team that was more solid than us."
Manchester City midfielder Kevin De Bruyne was not surprised by France's approach, yet he also blamed his own side for not being able to score throughout the 90 minutes.
"Did I expect France so defensively? Yes, they played the whole World Cup like that," said De Bruyne.
"The difference was minimal. There was no difference between Belgium and France. One corner, that's football. It was a completely different match than against Brazil, but the level was very high.
"You have to score to win and we have not done that. We did what we had to do. France was no better than us."