Captain Hugo Lloris is confident France will be ready for the challenge of taking on a Belgium outfit who "know how to do everything" in Tuesday's World Cup semi-final (Live on RTÉ2 from 6pm).
The Belgians, often said to currently have a 'golden generation' of players, have looked impressive during their run at the tournament, which included a 2-1 victory over Brazil in the last eight.
They have sealed a place in the semis for only the second time, and the first since 1986.
Lloris said : "I think the Belgian team is the most exhaustive team in all aspects of the game during this tournament - they are strong everywhere. They have everything they need to be a great team and and they are a great team.
We need your consent to load this rte-player contentWe use rte-player to manage extra content that can set cookies on your device and collect data about your activity. Please review their details and accept them to load the content.Manage Preferences

"It is a fantastic generation and in order to beat them we will have to play a great match. We know there are going to be difficult moments and we'll have to be ready to suffer.
"But we will be ready because we have an extremely good state of mind and it is the semi-finals in the World Cup. It is an opportunity in our careers and we have to grab it with both hands."
The 31-year-old goalkeeper has three Tottenham team-mates in the Belgium squad and there will likely be a number of cases of Premier League club colleagues facing each other during Tuesday's game in St Petersburg.
France boss Didier Deschamps said: "We know them, they know us. The peculiarity is there are many players on my team who have their own club team-mates facing them. So they know each other. It's an advantage on both sides."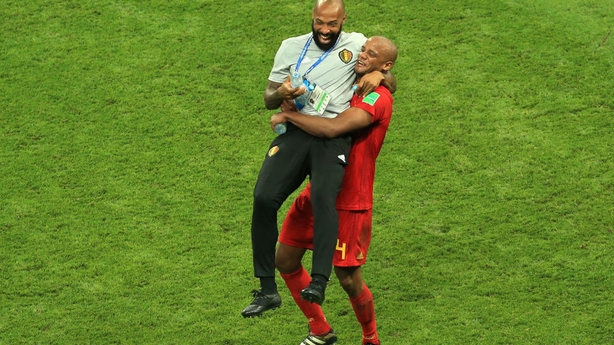 In terms of familiarity, there is also the fact Belgium have former France forward Thierry Henry working as an assistant coach under Roberto Martinez.
Deschamps, who was Henry's captain in the French squad that won the 1998 World Cup, said: "Of course, it is a difficult situation, it really is not easy for him and it does happen sometimes. You are part of the enemy team.
"He did know that from the time he was joining the management team and becoming an assistant to Martinez, that that could happen. But on the personal front it is with great pleasure that I'm going to see him tomorrow."
Goalkeeper Lloris, another former France team-mate of Henry's, said: "It is true that it is a little bit peculiar to see him with the Belgian team but that is his career and that is how he is learning his future career.
"I think his heart will be split tomorrow because before anything he remains French. We know him, he has a lot of passion inside him for football and he will be with the Belgians and give everything to help his team."
While it was reported by L'Equipe that Kylian Mbappe did not participate in training on Monday, Deschamps said he expects to have a full squad to choose from.
"Nobody is out even though we rested four of our players today - that was a precautionary measure," he said. "Everyone should be operational for tomorrow."
Meanwhile, Belgium boss Martinez has urged his players to have a fearless approach.
The Red Devils moved into the last four for the second time in their history with Friday's win over Brazi, matching the achievement of the side that ended up finishing fourth at the 1986 World Cup.
Midfielder Nacer Chadli has expressed his belief that having taken the "big step" of overcoming five-time champions Brazil, Belgium "do not have to fear anyone".
And Martinez said in an interview with ESPN: "This group has to play with no fear at all.
"If we approach this match with fear within us, we will bring ourselves down and we'd be able to do so much less than what we can actually do.
"To play without fear would probably be the one thing which would help us the most."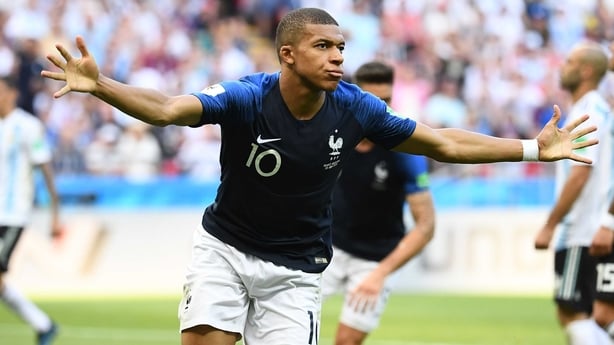 The Spaniard has also stressed the need for Belgium to be ready for the threat posed by teenage France star Mbappe.
Martinez has no doubt it is "very tough" to nullify the 19-year-old forward, who scored twice in the 4-3 last-16 win over Argentina.
Asked about stopping Mbappe, he said: "That's a very tough thing to do.
"I don't think there's an easy answer for that because Mbappe is an exceptional player under those circumstances.
"We will need to anticipate him and be well-positioned. We need to defend spaces more than the player himself. But we are not going to forget the others since France has a very complete attacking pattern."
As regards Belgium's golden generation, Martinez said: "It is important for everyone to understand that Belgium has a population of 11 million and that the current generation of players did not happen by accident. There is a very clear structure within professional football in Belgium.
"Belgium is a country focused on developing its young talent. We can only be ourselves and we already have time to use this World Cup as an advantage with the newest generations."
We need your consent to load this rte-player contentWe use rte-player to manage extra content that can set cookies on your device and collect data about your activity. Please review their details and accept them to load the content.Manage Preferences

You can follow the FIFA World Cup all the way with RTÉ. Live blogs of every game on RTÉ.ie and the News Now App, with all remaining games live on RTÉ television and RTÉ Player.