England manager Gareth Southgate has launched a staunch defence of Raheem Sterling ahead of the World Cup semi-final against Croatia.
The Manchester City forward came in for some criticism again following Saturday's win over Sweden, with his international goal drought close to three years now.
However, Southgate insists the 23-year-old's worth to the side is not judged purely on goals and he remains a crucial part of the game plan.
We need your consent to load this rte-player contentWe use rte-player to manage extra content that can set cookies on your device and collect data about your activity. Please review their details and accept them to load the content.Manage Preferences
"I think Raheem has been fundamental to the way we have played - his movement, the positions he takes up, his pressing of the ball, his work-rate for the team, the winning of free-kicks, the winning of corners, his speed to stretch teams," Southgate told the ITV World Cup podcast.
"He was a constant threat to Sweden. Of course he hasn't scored the goals we would have liked to score but for myself and the players he has been a crucial part of the way we have been playing."
It seems likely Sterling will keep his place for England's first semi-final in 22 years - when Southgate himself missed a penalty in the Euro 96 shootout against Germany.
The manager sees similarities with that squad which just came up short on home soil and hopes his charges can do better in the country's first World Cup last-four encounter since 1990.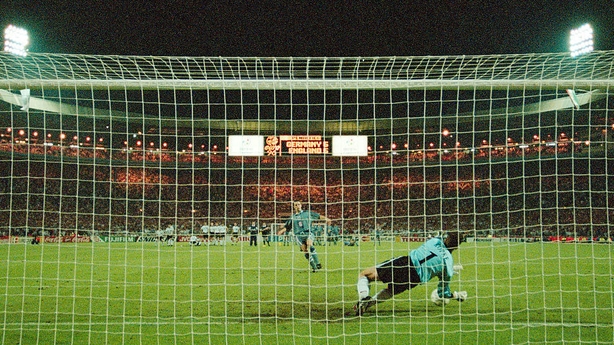 "I think it would be unfair to say we have things that other England teams I played in didn't have," he added.
"The last semi-final I was involved in there were a lot of similarities in terms of the camaraderie of the group, the commitment of the guys who haven't played, the desire to play a possession-based game and the tactical understanding that the players have shown on the field.
"I think there are a lot of similarities to the team of 96."
Southgate has engendered a more open, relaxed environment at national team level, with the players carrying less emotional baggage and playing with more freedom.
It is something which has been a key point of the manager's success so far and he is keen for his players to embrace the magnitude of a World Cup semi-final.
"As I have got older I have become more conscious of that - it is easy to avoid challenges and avoid putting yourself on the line," he said.
"But in the end you will never know the possibilities of great success or great moments like we have had in the last few weeks.
"The brain sometimes tells you to avoid the possibility of disappointment or failure but that is going to happen.
"The key is how you respond to failure and react to it. None of us are satisfied and none of us are particularly hyped up.
"It is an opportunity, a game which is very evenly-matched. We know what we want to do but we have to focus on our preparation and control the controllables."
With England having worked itself into a World Cup frenzy, Southgate admits he has thoroughly enjoyed his two years in charge.
"I suppose what has surprised me is I have enjoyed it more than I thought I might," he added.
"When I decided to take it that is exactly what I set out to do. If you come into a job like this and look at the possible down sides for sure you don't take it."
You can follow the FIFA World Cup  all the way with RTÉ. Live blogs of every game on RTÉ.ie and the News Now App, with all remaining games live on RTÉ television and RTÉ Player.