Paul Pogba is a "big problem" for France and the midfielder does not contribute enough to establish himself as one of the world greats at this World Cup.
That is the assertion of Eamon Dunphy, who was far from impressed with the Manchester United midfielder's contribution to France's 2-0 victory over Uruguay nor at the tournament thus far.
Didier Deschamps' side eased into the semi-finals of the World Cup with a fairly facile victory over the South Americans and will now face Belgium for a place in this year's final.
"Pogba is central to the French enigma..." - But Eamon does not think that he is in the same league as Neymar or Hazard.#RTEsoccer pic.twitter.com/KV4AjLz75X

— RTÉ Soccer (@RTEsoccer) July 6, 2018
But Dunphy thinks that the former Juventus man is inhibiting his country from playing free-flowing football in Russia.
"Pogba is a big problem, he just doesn't contribute enough to be regarded as a world class player," said Dunphy, speaking on the RTÉ2 World Cup post-match panel.
"Pogba is central to the French enigma but why aren't they more fluent?
"In assessing France, you have to deal with a lot of things and the biggest thing is the lack of fluency, the fact that they have to labour.
"Against Denmark it was laboured, against Peru, it was very laboured. And again against Uruguay, it was laboured again.
"The big exception was Argentina when Mbappe burst on the scene and ripped the Argentinians to shreds."
Dunphy believes that France have other issues in the team and is concerned about the relatively new centre-half partnership of Raphael Varane and Samuel Umtiti.
"The partnership of Varane and Umtiti is still bedding in and it's vulnerable, and they will be hurt by better attacking players."
Fellow pundit Keith Andrews was in agreement with Dunphy that Pogba's inclusion was an issue for Deschamps when it comes to getting the right balance in his team.
"They always have to compensate for Pogba. And Deschamps has had 81 games in charge but he clearly sees something in Pogba that we can't see.
"He is a big, big issue and there are knock-on effects all over the team in terms of getting the balance right going forward and in defence."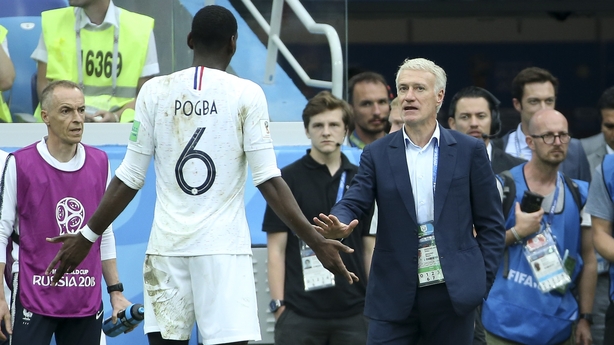 Andrews believes that Pogba will benefit from the return of Blaise Matuidi in the semi-final as the midfielder was ruled out of the Uruguay clash through suspension.
"Matuidi is more experienced. He has played for top clubs and he might have a better relationship with Pogba in terms of talking to him and guiding him through games
"I think he will come back into the team but there will still be issues, where he plays, and how to get the best out of [Pogba]."
Richie Sadlier joined Dunphy and Andrews on the panel for the first of four quarter-finals and while he admitted that he could not argue with his colleagues' assessment of the enigma that is Pogba, the former Millwall striker felt that France would not be too concerned considering they have reached the last four of the tournament.
"I think Pogba frustrates at times and looks to catch the eye for individual contributions rather than the more disciplined, consistent work that you demand from your midfielder.
"But I don't think the French dressing room will be sitting there worrying about that.
"If you assess their chances of progressing in this tournament, their flaws are still fewer than the majority of the teams left.
"So I wouldn't be overly concerned about them.
"There will be some concern but they will be thinking, 'no one has really landed too much of a glove on us and we're already into the semi-final'."