Gareth Southgate has stressed that a place in the quarter-finals of the World Cup represents progress not success.
The England manager says he wants to achieve more than a warm welcome when the squad finally returns home.
We're at stage where we could go home now, get a nice reception - we've won a knock-out game, a shoot-out - or we can go stages further - Gareth Southgate
From a public relations standpoint, England's Russian summer has been a runaway triumph at home - with the bond between supporters and players rebuilt after a few rocky years.
But Southgate, whose stock is rising with each passing day and every adulatory social media meme, is approaching Saturday's eagerly anticipated clash against Sweden with a sense of perspective.
"We have made progress but we haven't achieved success yet," he said.
"My feet are firmly on the ground. I've been in football for 30 years, and I've had plenty of ups and downs.
"That night (against Colombia) was a great night for all of us but my focus was pretty quickly on to Sweden because we are in the last eight of a World Cup.
"We want more of those experiences and we want to go as far as we possibly can."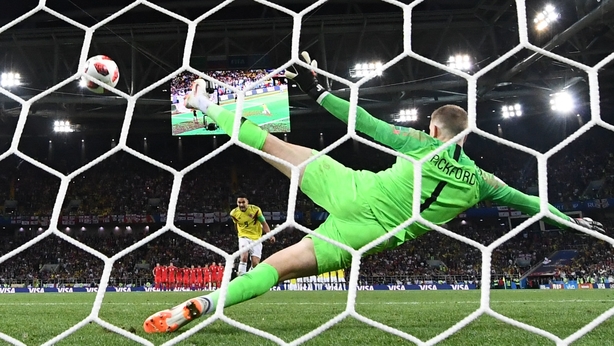 At the outset of the competition, consensus suggested a place in the last eight would be a good effort from Southgate's youthful squad. But the goalposts have been shifting in recent days and even the level-headed manager has raised his sights.
He said: "We're at stage where we could go home now, get a nice reception - we've won a knock-out game, a shoot-out - or we can go stages further and really have made a difference and created our own history.
"We said before we came we wanted to make the nation proud, a way of us behaving to do that, but we needed to win some football matches as well."
England won their first major tournament penalty shoot-out in 22 years on Tuesday night when they knocked-out Colombia in the round of 16 on spot-kicks.
It sets up Saturday's quarter-final clash with Sweden and the chance for the Three Lions to make the semi-finals of a World Cup for the first time since 1990.
Southgate also sounded a note of caution about Sweden, whose current FIFA ranking of 24 places them 12 behind England and eight below Colombia.
That is potentially misleading given the qualified ahead of Holland, beat Italy in a play-off and topped the group which Germany finished bottom of in Russia.
"They're a team I respect enormously," Southgate said. "They have a very clear identity and have had absolutely incredible results, really, against more favoured countries with bigger reputations.
"I've played enough matches against Sweden over the years and watched them enough in tournaments to know how strong they are."