The International Football Association Board wants to press ahead with changes which will tackle some of the poor behaviour that marred England's World Cup win over Colombia on Tuesday.
The Three Lions beat the South American side on penalties in Moscow to progress to the last eight - but not before Colombia had repeatedly mobbed the referee to protest about his decisions.
American referee Mark Geiger penalised Colombia for almost twice as many fouls as England and gave them six yellow cards to England's two. But he did not show any red cards, despite Wilmar Barrios headbutting Jordan Henderson in the first half and furious Colombian protests before Harry Kane's penalty after the break.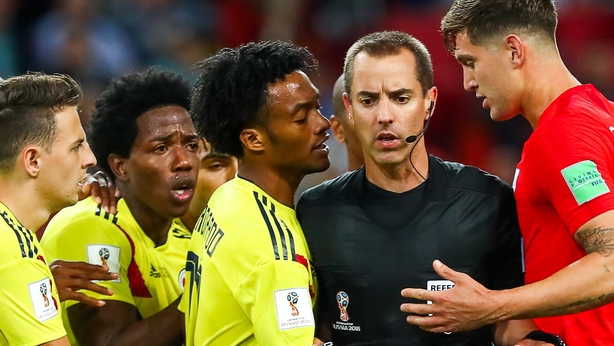 Speaking to PA Sport shortly before the game, IFAB secretary Lukas Brud said his organisation's next big initiative would be to eradicate behaviour like this from the game.
In charge of football's laws, IFAB is made up of four representatives from the home nations and four from FIFA, and last year it launched a six-year project to protect referees and improve player behaviour called 'Play Fair'.
Brud explained: "We know that what happens on TV will happen at the weekend in games between 10-year-olds - they will have seen their idols do it and think it's okay. That's why we launched Play Fair.
"We haven't moved forward with it very quickly because VAR (video assistant referees) was our main focus - but we are looking at ways of changing negative behaviour through the laws of the game: mobbing the referee, simulation, time-wasting and so on.
"The rugby example is something football needs to consider and that's why we've started to look at the role of the captain as a way of dealing with players who mob the referee. It could be that only the captain or the player involved in the incident can talk to the official.
"We are also looking at ideas to counter time-wasting. We want to come up with some law changes that will make the game more attractive."
Among the other ideas being considered are instructions to referees to caution players sooner for dissent and fines or deducting points for persistent offenders. 
We need your consent to load this rte-player contentWe use rte-player to manage extra content that can set cookies on your device and collect data about your activity. Please review their details and accept them to load the content.Manage Preferences