Joachim Loew will consider his future as Germany head coach after the defending World Cup champions suffered a shock group-stage elimination.
A 2-0 defeat to South Korea in Kazan following stoppage-time goals from Kim Young-gwon and Son Heung-min condemned the four-time champions to an ignominious bottom-place finish in Group F.
It is the first time since 1938 that Germany have failed to progress beyond the first stage of the tournament and national newspaper Bild led the fierce criticism, declaring: "This is the biggest disgrace in German World Cup history!"
Former captain Lothar Matthaus, who lifted the World Cup with West Germany in 1990, wrote on Twitter: "This is a very sad afternoon."
Loew's tenure is therefore under considerable scrutiny and, despite signing a four-year contract last month, he admitted he would take time to reflect on his future.
Asked whether he will continue in the role he has held for the last 12 years, Loew, 58, told a press conference: "That's hard to say. Of course, it takes a couple of hours to look into that. I'm shocked, I'm shocked because we didn't manage to pull it off.
"Where we go from here, we'll have to talk about it calmly. It will take me some hours now to come to terms with it. I'm incredibly disappointed by this elimination."
Germany recovered from their opening defeat to Mexico by snatching a dramatic win over Sweden courtesy of a stoppage-time goal from Toni Kroos.
And victory over South Korea would have been enough to progress after Sweden clinched a 3-0 victory against Mexico in Nizhny Novgorod.
However, Die Mannschaft were once again far from at their best, with defender Mats Hummels particularly wasteful in front of goal.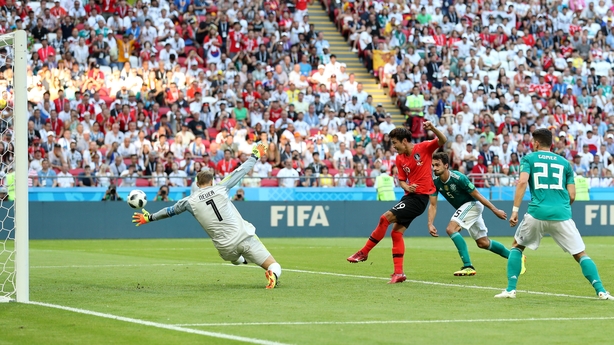 Kim was not so profligate when he fired home from close range - although he was initially given offside before a VAR review sparked renewed celebrations - and Son completed the job.
Asked about Kim's strike, which was allowed after Toni Kroos was adjudged to have played the ball backwards, Loew said: "The player was in an offside position - that's what I saw.
"But if the video referees have taken a different decision, then they will probably be right."
Low and his players will return to Germany on Thursday, but with the coach dismissing suggestions that dark times could lie ahead.
He said: "Until quite recently, we have probably been the most consistent, in terms of performance, team in the past 10, 12 years.
"But we now are out and, of course, it's a case of absolute sadness and disappointment, but I think we have young players who are very talented and who have the opportunity to go forward."