Amidst almost universal agreement that the referee was correct to overturn his own call after a video review, Liam Brady feels that the Video Assistant Referee [VAR] system still needs improvement.
The RTÉ World Cup panel of Brady, Richie Sadlier and Michael O'Neill discussed Bjorn Kuipers' actions after he initially awarded a penalty for a 'foul' on Neymar when Brazil and Costa Rica were deadlocked in their Group E encounter.
The Dutch official then ran to the sideline to review his call. After a few seconds he decided that he had made an error in judgement and ran back to the box and cancelled his original decision.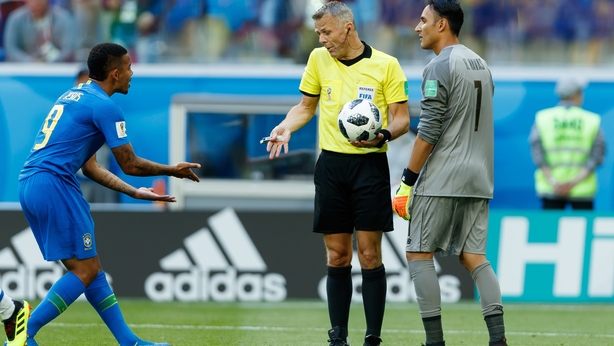 O'Neill and Sadlier both argued that this incident provided the perfect example of how the system should work. 
Sadlier, speaing after the match which Brazil won with two late goals, said: "In the simplest terms it's brought in to support the referee to minimise the amount of game-changing errors that he would make.
"In this case he made what would have been a game-changing error, he looked at the technology and that cleared up for him that he'd made a mistake and he was big enough to acknowledge the mistake."
Northern Ireland manager O'Neill was in agreement. "It is VAR as I would certainly like to see it used, give the penalty and if it's the wrong decision then you should have a look at it," he said.
"It was one of those where technology has sort of worked the way we'd like to see it used in the game."
.@richiesadlier gets physical with Liam Brady as the #RTEsoccer panel debate the Neymar incident and whether VAR got it right #worldcup #BRA #CRC pic.twitter.com/6DX5l0YeXk

— RTÉ Soccer (@RTEsoccer) June 22, 2018
However, former Arsenal and Juventus star Brady said it appeared that the VAR was actually making the decisions.
He said: "What is apparent is that they [the video officials] are making the decisions up there and they're telling the referee.
"Every time the referee has been called over to the [sideline monitor] he's agreed with why they've asked him to look at it again.
"He's never confirmed his own decision at all. He's changed the decision in every instance.
"I think he's being told 'you've got to change your mind'.
"I'm for [VAR] but it's not 100% correct."
You can watch the full debate above (worldwide).