Sepp Blatter has said he will use his "influence" to help a British bid win the right to stage the 2030 World Cup, providing his help is wanted.
The disgraced ex-FIFA president was speaking to Press Association Sport in Moscow, where he is a guest of Russian president Vladimir Putin despite being banned from all football activities.
Blatter, much to FIFA's obvious unease, attended Wednesday's Portugal-Morocco game at the Luzhniki Stadium and then had dinner with Putin and deputy prime minister Vitaly Mutko in the head of state's Kremlin apartment.
The 82-year-old said he and Putin exchanged "small talk" and the president reminded him of the telephone conversation they had on 2 December, 2010, when Russia won the right to host the 2018 World Cup, beating, among others, a bid from England.
Blatter, who has been suspended by FIFA since October 2015, backed Russia's bid, then, but believes it is time for England to try again. And he is willing to help.
"I still feel that England, the motherland of football, should have a World Cup when it's the turn of Europe," said Blatter, pointing out that 1966 was a long time ago.
"There will be a lot of contenders (for 2030) but they will deserve it, and Scotland, Wales and the Irish - why not? - should be in, too, because that would be a better candidate for a 48-team World Cup. That's a lot
(of games) for one country.
"So good luck for England."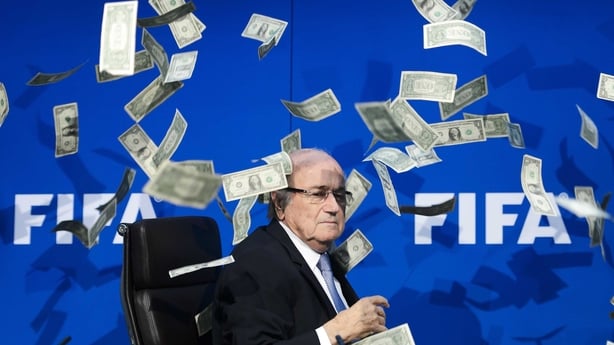 Asked if he would use the influence he built up during his 17-year reign as FIFA boss to support a British bid, he said: "OK, I will use my influence, if England will accept my influence."
Given the Football Association's recent experiences of bidding for World Cups, they might be tempted to accept any help they are offered. Blatter's, though, might not be such a good idea.
In a terse statement, FIFA said it "had taken note of Mr Blatter's visit to Russia" but had no further comment to make and it was telling that there was no footage or pictures of world football's former frontman at Wednesday's game.
Only time will tell if his Russian hosts can hide him again when he attends Friday's Brazil-Costa Rica game in St Petersburg but Blatter, who is serving a six-year ban from the game for making a dishonest payment to ex-UEFA boss Michel Platini, denies his former colleagues are embarrassed of him.
"I don't think they are embarrassed I'm here - they knew I was invited by the head of state and the two presidents (Putin and his successor at FIFA, Gianni Infantino) spoke about it," said Blatter.
"But if was the president of FIFA I would have said 'Welcome to the World Cup, Blatter' - it's only for a few days."
He claimed he has spoken to several senior figures in the game on the phone and they have welcomed him to the World Cup and said it was a "lost opportunity" on FIFA's part not to make "a little effort" on his behalf.
Asked how this would work given his ban and the fact that he remains under criminal investigation in his native Switzerland, Blatter said: "I'm suspended like a player, a coach or referee.
"OK, I cannot act like a president of FIFA, but a suspended player can go to the stadium or training - this is the same. I can go to any stadium I want, in Switzerland or anywhere. I'm not suspended from that." 
We need your consent to load this rte-player contentWe use rte-player to manage extra content that can set cookies on your device and collect data about your activity. Please review their details and accept them to load the content.Manage Preferences