Argentina coach Jorge Sampaoli has backed "genius" Lionel Messi to achieve his World Cup dream in Russia.
Reporters at pre-match press conferences often ask coaches to reveal their teams but rarely expect an answer.
However, the 58-year-old Argentine, who has been linked with Chelsea, is not like most managers, though, and he shocked the Spartak Stadium's packed media room yesterday by picking up a piece of paper and rattling off the 11 names to face Iceland today (2pm, live on RTÉ2) .
The key name was not Messi, however, it was Meza, Maximiliano Meza.
A midfielder with Argentina's Independiente, the 25-year-old is hardly known outside South America - and the Group D opener will be only his third cap - but picking Meza over Juve playmaker Paulo Dybala or young striker Cristian Pavon means Messi is the undisputed heart of this team.
"Meza was the person we were looking for because he gives us versatility and he allows us to recover the ball," said Sampaoli, who has been in charge of the two-time World Cup champions for a year after successful stints with Chile and Sevilla.
"He is ready and he is as good as any player in the squad. He might not be involved in so many elite games but he really understands what Argentine football means."
And the answer to that, according to Sampaoli, is simple: let Leo do his thing. This has led many Argentine pundits to suggest this is Messi's team in every sense.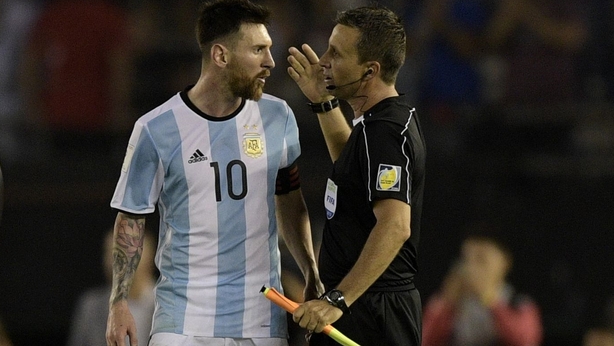 Sampaoli has practically admitted this in the past, but in Moscow on Friday, he tried to explain what he meant.
"It's true that the coach organises the team - we know how to set up teams to find situations," he said.
"But if you have a player like Messi, the coach's job is to arrange the team around him. So if you have a player like Leo, you organise the team differently."
This would make perfect sense to anybody who has seen the 30-year-old orchestrating affairs for Barca, but he has found it harder to lift Argentina to the same heights and some believe this is his last chance to emulate the man he is most often benchmarked against at home, not Cristiano Ronaldo but Diego Maradona.
Sampaoli rejected this notion, though, saying the superstar has plenty more in the tank.
"Messi is very fit and is really looking forward to this World Cup," he said. "He's hoping to achieve his dream here and he's very skilled. He should not be under pressure because he makes people very happy with his game.
"And I don't think this should be his last World Cup, not with his skills and the professional way he plays. He should be the one who decides that - he's a genius."
A genius with a fine supporting cast. In front of Chelsea's Willy Caballero, will be a back four of Benfica's Eduardo Salvio, Nicolas Tagliafico of Ajax, Manchester City's Nicolas Otamendi and Manchester United's Marcos Rojo.
Patrolling midfield will be ex-Liverpool and West Ham star Javier Mascherano and AC's Lucas Biglia, with Meza and ex-United winger Angel di Maria providing width, City goal machine Sergio Aguero furthest forward and Messi going wherever his muse takes him.
Sampaoli denied naming his team so early showed a lack of respect for Iceland, who he said would be compact, tough and quick to counter-attack, he just did not see the need "to hide it".
Iceland, of course, is a nation with the smallest population to reach the World Cup and they will be making their debut on this stage. Argentina's experience and expectations are very different.
"Argentinians are very demanding in football, we know that," said Sampaoli. "I know exactly what I was wearing in 1986 (when Maradona inspired the team to glory) but I don't remember what I was wearing last month. We are a country that puts everything into football and I'm sure we'll have 40 million people following us tomorrow."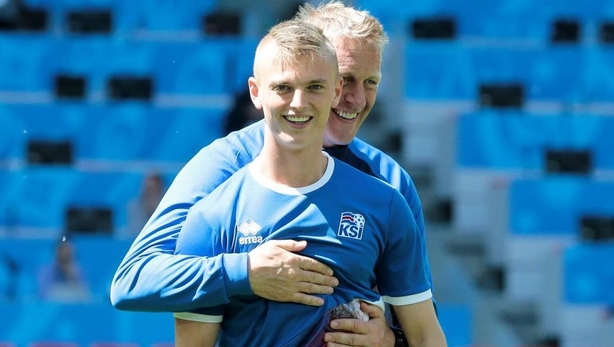 The World Cup debutants' boss Heimir Hallgrimsson has labelled the clash "the biggest game in the history of Icelandic football".
And Hallgrimsson and his staff have a "headache" ahead of the game, with every player in the squad keen to face the two-time world champions.
He told a pre-match press conference: "Everyone wants to play. This is the biggest game in the history of Icelandic football and it's a headache which our training team has to work on."
In a bid to prevent questions about his other job, Hallgrimsson added: "I am still a dentist and I will never stop being a dentist."
Hallgrimsson said the bid to keep Messi at bay will be a team effort.
He added: "Regarding Messi, I don't have a magic formula. Everybody has tried everything against him and he always manages to score.
"He is one of the best players in the world. We will (play against him) like everything we do, we'll do it together. We'll help each other and try to do it as a team. I've said it would be unfair to give a player the role of marking Messi, that would not be fair."
The 51-year-old rejected the notion that Iceland's recent rise has been miraculous.
Hallgrimsson: "We don't think it's a miracle. It's really good work from the FA, the staff around the team and especially the players. No team can win football matches without good players.
"It's down to knowing your strengths and weaknesses and playing according to them.
"I know that we are probably different from many other teams here in the World Cup finals. We play a different style of football.
"But I think we show that if you work together as one unit as we have done, anything is achievable.
"And I hope we can continue showing that. It is no shock and if somebody is surprised then they just don't know much about the Icelandic national team."
You can follow the FIFA World Cup from 14 June with RTÉ. Live blogs of every game on RTÉ.ie and the News Now App, with 56 games live on RTÉ television and all 64 games available on the RTÉ Player.