To think that manager Mick Bohan figured that just being competitive this year would be a challenge in itself for his new look Dublin team.
Maybe they over-achieved or maybe their wily manager was simply playing down expectations with a group in transition but they certainly had the stamp of champions at Croke Park.
A terrific first-half performance, lit up by the majesty of Hannah Tyrrell, laid the platform for a memorable success, Dublin's sixth at the grade.
Tyrrell scored eight of Dublin's 11 points in that half and oozed quality in front of a healthy 45,326 crowd as she provided the team with a vital cushion that they would later require.
Kerry, trailing by nine points with 50 minutes on the clock, cut the gap to just four following a Louise Ni Mhuircheartaigh inspired blitz of scoring but ultimately came up short.
It's their second successive final defeat while Dublin are champions for the first time since 2020, when they completed their four-in-a-row.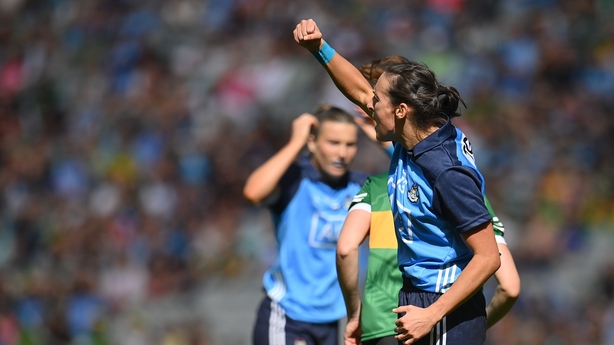 Their group is much changed since then with two players just out of the minor ranks, Niamh Donlon and Niamh Crowley, winning their first senior medals in defence.
It's a first senior medal for Tyrrell too and though she had a quieter second-half she deservedly walked away with the Player of the Match award.
Dublin came in as considerable favourites despite losing to Kerry twice previously this year, in the National League and again in the group stage of the Championship.
Kerry had also been in a final more recently than the Sky Blues, coming up short of Meath in last year's showpiece.
Throw in the huge level of transition within Dublin's group - just eight of today's starters lined out in the 2021 final loss to Meath - and you could see why Kerry supporters were optimistic.
But Dublin put in a near flawless performance in the semi-final defeat of Cork and suggested with a blitzkrieg start that they intended to be even better on final day.
Tyrrell got the demolition underway with a point after just 13 seconds and, remarkably, with just 43 seconds on the clock they scored their second when Tyrrell this time laid off to Orla Nolan.
The early match ups were intriguing; experienced Dublin defender Leah Caffrey picked up Kerry's most dangerous forward Louise Ni Mhuircheartaigh with teenager Crowley on Hannah O'Donoghue.
Kerry corner-back Ciara Murphy began the game on Tyrrell while Eilis Lynch picked up Dublin captain Carla Rowe.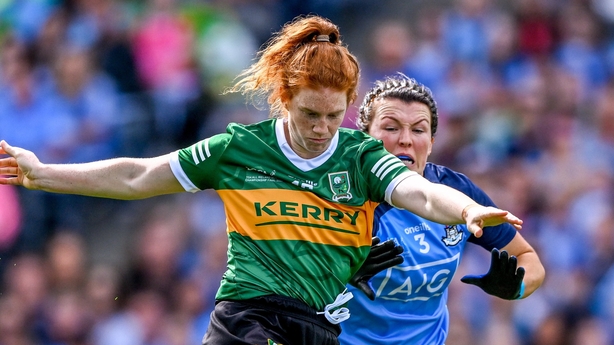 Tyrrell was the story of the opening half and as she racked up the scores, and assists, the Kerry management assessed their options and moved Kayleigh Cronin onto the former rugby star.
Neither of them could live were her movement, power and purpose and Tyrrell finished the half with eight points, four from play and four from frees. She also played in Nolan for that early score and was involved in winning three of the frees that she converted herself.
It amounted to a masterclass from a player desperate to win an All-Ireland medal having only returned from six years playing rugby in 2021.
With AFLW bound Jennifer Dunne also terrific at midfield and former AFLW player Lauren Magee lending real punch from the half-back line, Dublin were full value for their 0-11 to 0-04 half-time lead.
Dublin weren't as dominant in the second-half but, in truth, they didn't need to be with such a cushion under them.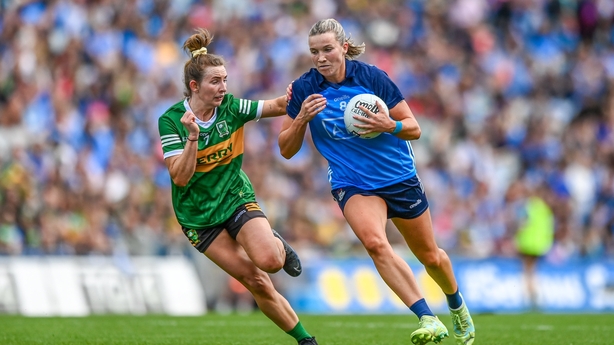 Niamh Carmody pulled back a point for Kerry after the restart and then won a free that Ni Mhuircheartaigh converted.
That got the margin down to five points, the same gap that stood between with 20 minutes to go.
But four Dublin points in a row between the 41st and 48th minutes, from substitute Niamh Hetherton, Rowe and Dunne, left nine between the teams and went a long way towards killing the contest.
Kerry took a gamble and brought on Siofra O'Shea despite suffering cruciate knee ligament damage in training the weekend before their semi-final win over Mayo.
She has yet to undergo surgery and presumble figured that it was worth the risk.
Dublin responded by bringing on veteran attacker Sinead Aherne following her mid-season return to the team.
They looked set for a routine win with a 0-17 to 0-08 lead and only 10 minutes to go but a late 1-02 from Kerry, the climax of which was a Ni Mhuircheartaigh fisted goal after good work along the endline by substitute Amy Harrington, brought it right to the wire.
Tyrrell, fittingly, had the final say, of sorts, when she cleverly made space for Rowe to burst into in the closing seconds to hit what proved to be the last score of the game.
Dublin: Abby Shiels; Leah Caffrey, Niamh Donlon, Niamh Crowley; Aoife Kane, Martha Byrne, Lauren Magee; Jennifer Dunne (0-02), Eilish O'Dowd; Caoimhe O'Connor (0-01), Orlagh Nolan (0-01), Kate Sullivan (0-01); Hannah Tyrrell (0-08, 0-04f), Jodi Egan, Carla Rowe (0-04, 0-01f).
Subs: Ellen Gribben for Egan h/t, Niamh Hetherton (0-01) for Kane 41, Sinead Aherne for Sullivan 52, Danielle Lawless for Gribben 58.
Kerry: Ciara Butler; Kayleigh Cronin, Eilis Lynch, Ciara Murphy; Aishling O'Connell (0-01), Emma Costello, Cait Lynch; Lorraine Scanlon, Louise Galvin; Niamh Carmody (0-02), Niamh Ni Chonchuir, Anna Galvin; Hannah O'Donoghue, Danielle O'Leary, Louise Ni Mhuircheartaigh (1-07, 0-06f).
Subs: Mary O'Connell for Louise Galvin h/t, Siofra O'Shea for O'Donoghue 42, Amy Harrington for Ni Chonchuir 47.
Referee: Shane Curley (Galway).