Meath secured back-to-back All-Ireland titles on Sunday, beating Kerry at Croke Park and former Dublin star Denise Masterson believes that the Royals timed their run to the title to perfection.
Speaking on the Sunday Game following the finale at Headquarters, Masterson admitted that she had been critical of the defending champions this season, compared to their 2021 title-winning charge, however, she felt that Eamonn Murray's side were back to their best when it mattered most.
Masterson felt that the champions were unstoppable at various stages in the final and said that they were deserving winners following the nine-point victory against the emerging Kingdom side.
"I didn't think they had performed to the heights they had last season and I thought they looked a little lethargic," said Masterson. "And I thought it was interesting listening to Shauna Ennis talking about nobody telling you about the lows after the highs of winning an All-Ireland, and that they did find it tough.
"But they were outstanding and are very worthy champions and they should be very proud of what they have achieved.
"They timed that run to perfection and they just looked unstoppable at stages."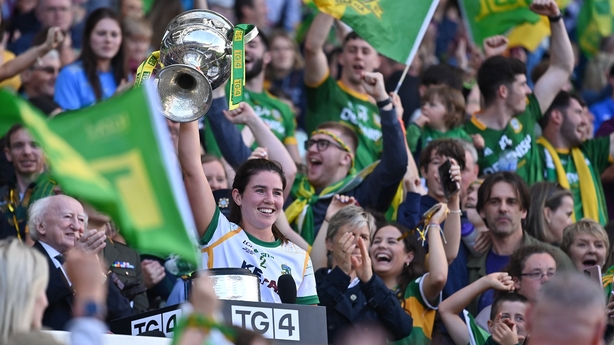 Fellow Sunday Game pundit and Armagh forward, Aimee Mackin, was impressed with the way that Meath kept their composure early in the game following the high tempo that their opponents set in the opening stages of the final.
And she lauded the key players on the team who have the habit of taking responsibility at key moments in the game.
"In the semi-final you could see Emma Duggan really stepped up to the mark, and today it was Niamh O'Sullivan who stepped up to the mark and got crucial scores at a crucial time," said Mackin.
"And they have a variety of players who can do that with the likes of Vikki Wall as well.
"Kerry came out of the blocks flying and that can shock you, but there was no sign of Meath losing their composure. They had plenty of time, so they just remained calm and just done it in typical style."