Meath manager Eamonn Murray says his side had unleashed their best football of 2022 to qualify for a second successive TG4 All-Ireland Senior Final after a narrow win over Donegal.
It was another thrilling semi-final and Emma Duggan blitzed Donegal in the closing stages to send the reigning champions back to Croke Park on 31 July against Kerry.
Meath had already beaten Donegal in the Lidl NFL Division 1 final earlier this year and it looked to be going down to the wire until Meath dug it out again, just like they did in the quarter-final against Galway.
"There's no point in winning the league by 20 points and losing today. We've timed our run to perfection," said Murray.
"That's two weeks in a row. And this time last year we were six points down against Cork and we came back. Today was another nail-biter.
"When we lost Máire O'Shaughnessy we put six points up on the board. It's unbelievable. That's our best football that we played all year."
Donegal manager Maxi Curran knew it was a chance missed for his team.
"It's probably the end of an era, alright. Nobody will probably be making a decision in the next day or two but it's probably getting close to it," he said.
"We had a period of dominance in the first half, where we had the lion's share of possession. We kicked some wides and some short, and maybe ran into some blocks.
"Compare that to the Meath at the start of the second half, where they scored six points. That was crucial for them and that's probably the biggest difference in the two teams.
"They got their scores when they were on top and we didn't. We had our periods, no doubt about it. Then when they got their noses in front, they're always going to be hard to reel in at that point."
Kerry captain Anna Galvin spoke of her relief after overcoming Mayo to end a ten-year wait to reach a final again.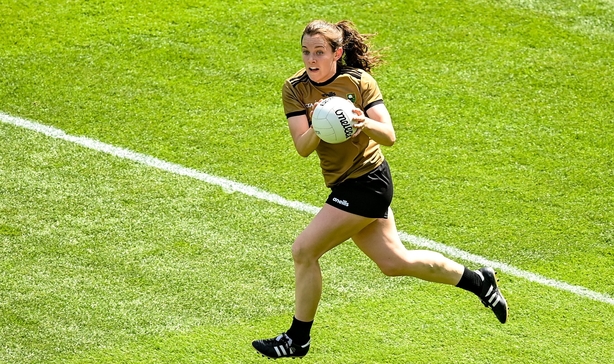 The Green and Gold jerseys will grace Croke Park again in two weeks after a stunning nine-point victory, their first appearance in the decider since 2012.
It was Kerry's first time back in a senior semi-final in five years but they settled quicker to take a big 3-06 to 0-08 lead into half-time.
Mayo were looking to make amends for last year's defeat to Dublin at this stage but goals from Aishling O'Connell and Síofra O'Shea (two) had them chasing from the early stages.
Paris McCarthy added a fourth Kerry goal in the second half and the Kingdom were cruising into the 31 July showpiece.
"We knew in the end that we have the legs. We've done serious work, we put the hard yards in and we had that in us," said Galvin.
"Huge relief, we're just thrilled. Myself and Lorraine Scanlon were walking back across the pitch there and we were like 'it took us 10 years to get back there'. We're delighted to be back there now.
"Just can't wait to get back to the pitch again, training and preparing again during the week. Big relief."
Mayo manager Michael Moyles rued the defensive lapses that made the difference.
"You can't really plan for silly goals going in like that," he said
"I felt like every time they ran at us, they were going to score goals in the first half and it looked like that. We just looked at sixes and sevens. The energy that we showed last week just wasn't there in the first half.
"We just want to kick on and to make a culture that's very, very strong inside the dressing room and outside the dressing room. Mayo needs to be a strong county at this level all the time."