Getting to the top of the mountain is one thing, staying at the summit as others clamber to squeeze into the same rarified air is quite another.
It's a challenge Meath have not been daunted by as they grasp at the footholds on the climb back up the rock face of the TG4 All-Ireland Ladies Football championship.
They have the ever reliable Emma Duggan to thank for getting them to the base camp of a semi-final though after her goal and late, late winning point against Galway in last weekend's quarter-final.
Winning an All-Ireland and becoming the new benchmark in the game means opponents are going the extra mile in pursuit of Meath and Duggan knows the next few weeks will be more arduous than the incredibly unexpected ascent to glory in 2021.
"The big difference from this year to last year is that teams are looking at us a lot closer than they have previously but that's brought a new challenge," the Dunboyne clubwoman tells RTÉ Sport matter-of-factly at the launch of Lidl Ireland's 'County Pride' campaign as Meath prepare for this weekend's semi-final against Donegal.
"With that, people probably give their opinions on our performances so far and stuff but our way of looking at it is it's knockout stage now and it's when you want to be producing your best performance.
"We're not thinking about anyone else's opinions and we're looking at ourselves really.
"But it's different from being the hunters compared to being hunted. It's a new challenge for us and one we've been looking forward to this year and trying to be as consistent as we can."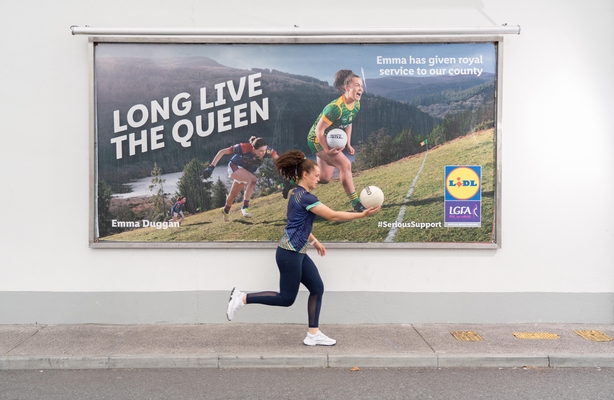 And Duggan isn't shying away from the ever growing prospect of trying to become a perennially winning team.
Rather she is keen for Meath to become the type of team that follows up a breakthrough with an era of success.
"It's huge. We haven't really talked about the back-to-back thing. It's just one game at a time, one season at a time as well. But it's massive. We did want to go out this season to prove that last year wasn't a one-hit wonder. We want to be a consistent team like Dublin or Cork who have been there or thereabouts for I don't know how many years," she says, acknowleding that this is the first year in aeons that neither the Dubs nor the Rebels are in a semi-final.
"They've shown that dominance and that's something that we want to show as well and winning another All-Ireland or getting back to an All-Ireland final will definitely solidify that as well."
With that mentality in place, Meath are more than happy to be pushed to the brink as Galway did to them last Saturday according to Duggan, and she was glad they "showed their experience" in battling through in the dying seconds.
It provided a stern test ahead of the clash with a Donegal side which overcame Dublin in the quarter-finals and also pushed Meath close in the Lidl National League final.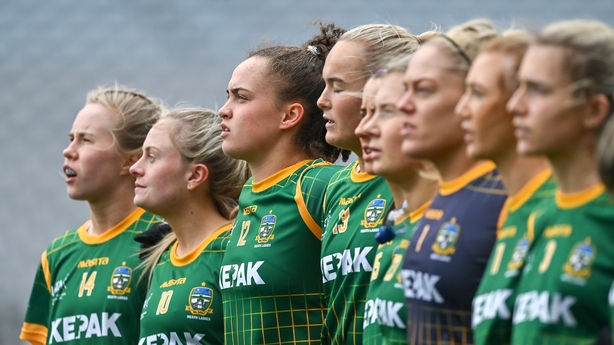 Indeed, Duggan feels the Ulster county has improved even more from that game when they came within two points of snatching a maiden league crown away from Meath.
"They're going to have their tails up and be full of confidence and we're going to have to deal with that and the physical side of them as well as everything else," says the 19-year-old, who does note that Meath do "thrive" at this stage of competition now.
The growing national attention that comes within the territory of being All-Ireland champions is another thing Duggan and her team-mates have also had to get used to away from the field.
"There are obviously aspects that have changed a huge amount," she admits.
"The big one is just walking down the street and randomers noticing you which for me I wasn't really expecting that. But there are other aspects that I want to stay consistent in my life.
"I would not be a massive fan of getting out there in the media and all that. I prefer to keep my head down and want to stay focused on the job in hand. It has changed a huge amount and there are definitely things that you enjoy and the opportunities that you are given.
"We would never have got that this time last year or a couple of years ago as well so it is huge and you do have to take them while they're here. You know they won't be here forever too."
But the positive is inspiring others. As Donegal's highly experienced centurion Emer Gallagher said during the same Lidl launch, emerging counties have taken encouragment from the furrow ploughed by Meath.
'You are kind of thinking 'why are they asking me, why are they looking for my autograph', so it is huge to see the impact that you are having on kids'
However, it's the next generation of talent which Duggan is keen to deflect the reflected glory of success onto.
"It is huge, especially when you see the kids coming up to you in their jerseys asking you to sign them or to get a picture and stuff like that, you are kind of thinking 'why are they asking me, why are they looking for my autograph', so it is huge to see the impact that you are having on kids.
"If that is the big thing we are doing around the country, having a positive impact and inspiring young people, we will take that anyday."
Listen to the RTÉ GAA Podcast at Apple Podcasts, Soundcloud, Spotify, or wherever you get your podcasts.
We need your consent to load this rte-player contentWe use rte-player to manage extra content that can set cookies on your device and collect data about your activity. Please review their details and accept them to load the content.Manage Preferences