SATURDAY 25 JUNE
TG4 All-Ireland SFC Round 3
Group A
Cavan v Tipperary, Kingspan Breffni, 2pm
Dublin v Mayo, MW Hire O'Moore Park, Portlaoise, 7.15pm
Group B
Armagh v Monaghan, Athletic Grounds, 2pm
Group C
Kerry v Westmeath, Fitzgerald Stadium, 1pm
Group D
Cork v Waterford, MW Hire O'Moore Park, 5pm
SATURDAY 26 JUNE
TG4 All-Ireland IFC quarter-finals
Longford v Clare; St Brendan's Park, 2pm
Louth v Roscommon; Kinnegad, 2pm
Tyrone v Wexford; Donaghmore-Ashbourne, 2.30pm
Laois v Wicklow; Kinnegad, 4pm
TG4 All-Ireland JFC
Group A
Carlow v London; Netwatch Cullen Park, 12.30pm
TV
Cork v Waterford and Dublin v Mayo live on TG4. The Armagh-Monaghan, Cavan-Tipperary and Kerry-Westmeath senior fixtures will all be available to view on the LGFA's live-streaming service, as will Sunday's five games.
RADIO
There will be updates on RTÉ 1's Saturday Sport and Sunday Sport.
WEATHER
Saturday will be an unseasonably cold, windy and wet day. Rain will continue over the western half of the country, heavy at times. Mostly dry further east to start, the rain will spread across the country later in the day. Highest temperatures of 11 to 17 degrees, coolest in the west, in fresh to strong and gusty southerly or variable winds. Sunday will see a mix of sunny spells and widespread heavy and possibly thundery showers. Highest temperatures of 13 to 16 degrees in moderate to fresh southwesterly or variable winds. For more go to met.ie.
Senior championship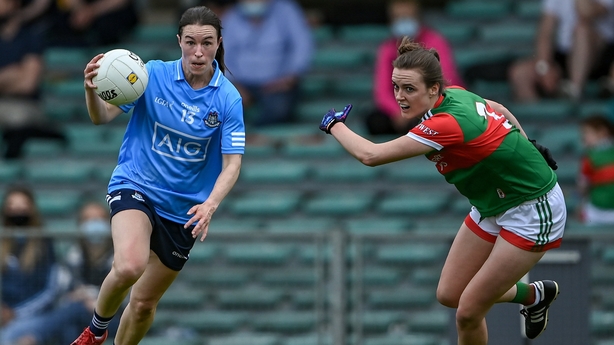 Dublin and Mayo are both safely through to quarters and clash for top spot in Group A, in a repeat of the last year's semi-final.
The winners of this will meet the second placed team in Group D, which contains Cork, Donegal and Waterford.
Both Dublin and Mayo have two wins from two in the 2022 championship.
The Dubs have made no fewer than ten changes in personnel to the team that beat Tipperary last weekend, with goalkeeper Ciara Trant, Jess Tobin, Leah Caffrey, Aoife Kane, Martha Byrne, Sinéad Goldrick, Kate Sullivan, Lyndsey Davey, Sinead Aherne and Hannah Tyrrell, all recalled.
Niamh Collins, Jennifer Dunne, Lauren Magee, Nicole Owens and captain Carla Rowe are the five players who retain starting positions.
Mayo, meanwhile, have made two changes in defence, with Róisín Flynn and Sherin El Massry replacing Éilis Ronayne and Saoirse Lally.
Dublin: C Trant; J Tobin, L Caffrey, N Collins; A Kane, M Byrne, S Goldrick; J Dunne, L Magee; N Owens, C Rowe, K Sullivan; H Tyrrell, S Aherne, L Davey.
Mayo: A Tarpey; D Caldwell, R Flynn, S El Massry; C Needham, F McHale, K Sullivan; S Cafferky, A Geraghty; T O'Connor, S Walsh, S Mulvihill; L Cafferky, T Needham, S Howley.
Cavan and Tipperary are in a battle to avoid the drop to the intermediate ranks.
The winner of this tie will be safe, while the losers will play-off against the bottom-placed team in Group C, which is currently Westmeath, for the right to play senior championship football again in 2023.
Cavan went desperately close to a positive result against Mayo last weekend, losing out by just a point against the green and red, who had beaten Tipperary by ten points.
That line of form would suggest that Cavan will start as slight favourites here, but this one could go right down to the wire.
Cavan are unchanged, as Tipperary make two changes in personnel to the team that lost out by eight points to Dublin.
Sarah Ryan replaces captain Maria Curley, who went off injured against Dublin, as Lorraine O'Shea comes into the starting line-up for Casey Hennessy in attack.
Cavan: E Walsh, K McIntyre, S Lynch, E Longair; S Greene, L Fitzpatrick (capt.), M Sheridan; N Byrd, A Deneher; N Keenaghan, L McVeety, A Walls; A Cahill, G Sheridan, A Gilsenan.
Tipperary: L Fitzpatrick; E Kelly, L Spillane, E Cronin; Nora Martin, Niamh Martin, C O'Dwyer (capt.); M Creedon, A O'Shea; C English, A McGuigan, S Ryan; E Morrissey, L O'Shea, M Murphy.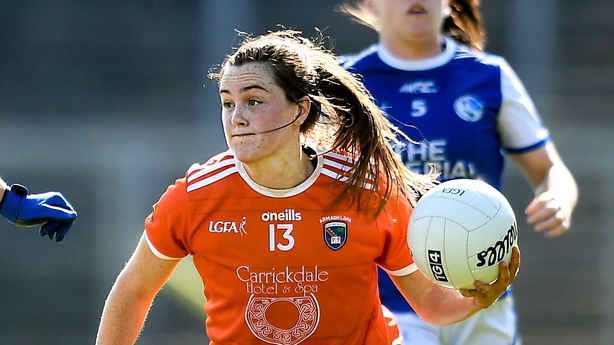 This is a straight shoot out for a quarter-final place – and a big win for Armagh could see them top the group.
Meath are through on four points and with a +15 scoring difference, as Armagh start against Monaghan with a point following their draw with Meath last weekend, and a zero scoring difference.
Armagh enjoyed a 5-21 to 0-05 victory against Monaghan in the Ulster semi-final, while a youthful Monaghan managed just a single point against Meath in Round 1.
The Farney girls will need a vast improvement to compete with Armagh, who will start as hot favourites here.
The reward for the Group B winners is a clash with the Group C runners-up, a pool that contains Galway, Kerry and Westmeath.
Both Armagh and Monaghan have named unchanged starting line-ups for this Athletic Grounds tussle.
Armagh: A Carr; S Grey, C McCambridge, C Towe; N Marley, L McConville, G Ferguson; B Mackin, C O'Hanlon; E Lavery, N Coleman, C Marley; A Mackin, A McCoy, K Mallon (capt).
Monaghan: O Kelly; S Brady, A McCarey, K Nolan; C Jones, R Courtney (capt), C Brennan; J Drury, L Jones; E Clerkin, C Treanor, A Garland; L Garland, L Carey, H Sherlock.
Kerry have put themselves in an excellent position with an opening round victory over Galway. But the Kingdom still have work to do before being assured of a safe passage to the last eight.
Their +2 scoring difference is inferior to Galway's +15, who racked up a big win over Westmeath.
Kerry know that even a draw will be good enough to top the group, while the midlanders need to win – and win big – to progress.
The Lake County start the day on -17 scoring difference, and if three teams are locked together on three points following the conclusion of the group stages, scoring difference will come into play.
Kerry have shuffled their pack ahead of this game with an unchanged Westmeath, as Ciara McCarthy, Clódagh Ní Chonchúir, Mary O'Connell, Katie Brosnan, Caoimhe Evans and Síofra O'Shea come in for starts.
Aishling O'Connell, Ciara Murphy, Cáit Lynch (player of the match against Galway), Lorraine Scanlon, Niamh Ní Chonchúir and former Underdog Erica McGlynn sit this one out.
Kerry: C Butler; E Lynch, K Cronin, A Dillane; C McCarthy, E Costello, C Ní Chonchúir; M O'Connell, A Galvin (capt); K Brosnan, C Evans, N Carmody; D O'Leary, S O'Shea, L Ní Mhuircheartaigh.
Westmeath: A O'Donnell; M Fagan, M Scally, L Power; N Nolan, A Alford, C Kelly; F Coyle, T Dillon; V Carr, S Dillon, K Boyce-Jordan; K Hegarty, K Giles, C Blundell (capt).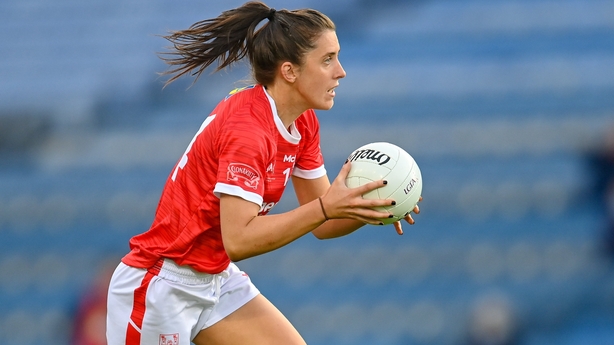 Cork and Waterford meet again not long after contesting a Munster semi. On that occasion, Cork won by 4-10 to 1-12, and this latest encounter will show us how far both teams have come since then.
Waterford were unlucky not to take something from their Round 1 game with Donegal, while Cork were excellent for spells against Donegal, particularly in the first half.
A Cork win would see them top Group D – and set up a quarter-final against Dublin or Mayo.
A Waterford win, however, would see the top two placings decided by scoring difference.
As things stand ahead of throw-in, Cork lead the way on scoring difference with +5, ahead of Donegal (-3) and Waterford (-2).
Both have both named unchanged starting line-ups
Cork: M O'Sullivan; R Phelan, E Meaney, M Ambrose; M Duggan, M O'Callaghan (capt), L O'Mahony; S Leahy, B O'Sullivan; E Cleary, C O'Sullivan, L Coppinger; Á O'Sullivan, D O'Sullivan, O Finn.
Waterford: K O'Hanlon; Kate McGrath, M Dunford, H Power; M Wall, L Mulcahy, Karen McGrath (capt.); E Murray, Á O'Neill; L McGregor, K Hogan, A Fitzgerald; K Murray, C Fennell, A Murray.
Intermediate quarter-finals
A very interesting tie lies in store at Donaghmore-Ashbourne as Wexford, the 2021 runners-up, take on Tyrone, who were relegated from the Senior ranks last year.
Tyrone will be aiming for an immediate return to the elite grade but defeat to Laois would have come as a surprise to many, and they're now pitted against a Wexford side with real momentum following three victories from three outings in Group A.
Wexford are determined to go one better after contesting last year's Final, and the winners of this one will meet Louth or Roscommon in the semi-finals.
Tyrone: S McVey; C Munroe, C Magee, E Mulgrew; J Lyons, E Brennan, S McCarroll; E.J. Gervin, A McHugh; N Hughes, E Hegarty (capt), D Gallagher; N O'Neill, C McCaffrey, S Byrne.
Wexford: S Merrigan; S Harding Kenny, A Halligan, S Murphy; A Walsh, R Murphy (capt.), C Donnelly; B Breen, C Banville; S Hamilton, C Murray, E O'Brien; T Doyle, A Murphy, K Kearney.
It's already been a good year for Roscommon, who defeated Wexford to land the Division 3 title.
A TG4 Connacht intermediate final loss to Leitrim was a setback but Roscommon have recovered well and victory over Kildare in the group stages was good enough to finish second behind Longford in Group C, and progress to the quarter-finals.
Louth, meanwhile, have acquitted themselves extremely well, with victories over Down and Clare seeing the Wee County finish on top of Group B.
Louth: R Lambe Fagan; E Hand, S Quinn, E Murray; C Nolan, S McLaughlin (capt.), A Russell; A Halligan, R Kavanagh; H O'Neill, C Woods, R Carr; K Flood, E Byrne, L Collins.
Roscommon: H Cummins; S Kenny, R Fitzmaurice, R Brady; R Wynne, A McAuliffe, N Feeney; L O'Rourke, L Fleming (capt.); M McHugh, J Higgins, F Tully; A Hanly, N McHugh, C Conway.
Longford showed with victory over Westmeath in the group stages last year that they can be a match for anyone on their day.
And the midlanders showed real consistency in Group C, seeing off Kildare and Roscommon to top the pool.
Their reward is a meeting with Clare, who finished second behind Louth in Group B.
The winners of this one will face Laois or Wicklow in the semi-finals.
Longford: R Jones; S McCormack, E O'Brien, E Doris; C Farrell (capt), L Keegan, K Crawford; M Victory, M Reynolds; A Cosgrove, C Lohan, M Noonan; M Farrell, S Shannon, L Monaghan.
Clare: A Lenihan; E O'Gorman, T Kelly, G Harvey; S Ní Chonaill, L Ryan, O Devitt (capt.); A Reidy, E McMahon; A Sexton, L Roche, R Considine; C Blake, N O'Dea, C Callinan.
A Leinster derby pits an emerging Laois side against Wicklow, the reigning All-Ireland junior champions.
Laois made everybody sit up and take notice with a merited victory over Tyrone last time out, with Erone Fitzpatrick scoring a fabulous solo goal.
Having finished on top of Group D, Laois now face Group A runners-up Wicklow, who have more than consolidated their position in the Intermediate ranks after gaining promotion last year.
Wicklow have already enjoyed a fine campaign, scoring victories over Offaly and Leitrim in the group stages.
Laois: E Barry; A Potts, A Donoher, A Kelly; R Williams, E Healy, J Dunne; A Healy, J Moore (capt.); E Galvin, S Havill, E Fitzpatrick; M Nerney, E Lawlor, S.A. Fitzgerald.
Wicklow: J Kinch; J Byrne, S Hogan, L Dunne; S Goetelen, S.J. Winders (capt.), H Dowling; N McGettigan, S Delahunt, N Cullen, A Gorman, M Deeney; A Burke, L Hogan, M Kealy.
Junior championship
The result of this one will determine who emerges from Group A, to join Group B semi-finalists Antrim and Limerick in the last four.
Victory for Carlow will see them top the group ahead of Fermanagh, who will have a keen eye on this one.
A win for London, however, would see the top two placings decided by scoring difference, as Carlow, Fermanagh and London would all be tied together on six points.
Currently, Carlow and Fermanagh are on +4, with London on -8.
The runners-up in Group A will play Group B table-toppers Antrim in the semi-finals, with the Group A winners taking on Limerick.
Carlow: N Hanley; N Murphy, O Fitzpatrick, A Dowling; R Bermingham (capt), E Atkinson, N Mohan; E Ware, R Bailey; O Hickey, A Gilmartin, R Sawyer; S Doyle, S Hayden, N Kelly.
London: C O'Reilly; J Quinn, R Murphy, N Mulholland; N Walsh, E O'Brien, S Roche; B Casey, C Twohig (capt); E Mulhern, A Cunningham, H Noonan; E Alcorn, R Mills, C McCarthy.