New York Yankees slugger Aaron Judge smashed his 62nd home run of the year on Tuesday to break the American League single-season record set in 1961 by Roger Maris.
Judge clobbered the first inning offering from Texas Rangers starter Jesus Tinoco over the left field wall to give the Yankees an early 1-0 lead at Globe Life Field in Arlington.
Judge's team-mates embraced him one-by-one after he crossed the plate to finally break the tie with Maris after failing to do so in the past five games, including one played earlier on Tuesday.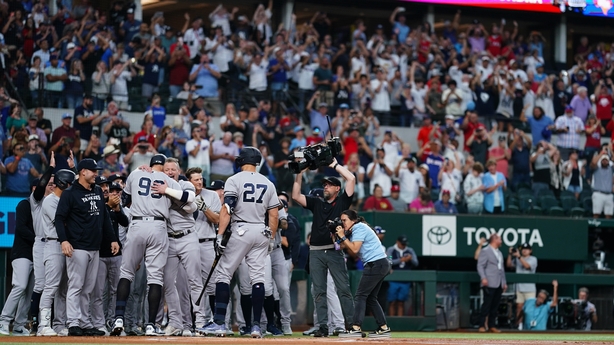 No 99 is now No 1 on the American League single-season home run list.
Leading off the nightcap of a doubleheader, Judge connected on the third pitch of the game from Texas right-hander Jesus Tinoco for a no-doubt homer deep to left field.
6️⃣2️⃣@TheJudge44 has done it. #AllRise pic.twitter.com/xtvXNFPlzf

— MLB Europe (@MLBEurope) October 5, 2022
Judge's record-setting shot moved him past Yankees legend Roger Maris for the most ever by an AL batter. Maris' 61 homers had been the standard since 1961,when the late slugger broke Babe Ruth's record of 60, set in 1927.
The Maris family, who had travelled with the Yankees during Judge's pursuit, did not make the trip to Texas.
Judge tied Maris at 61 on 28 September in an 8-3 win on the road against the Toronto Blue Jays.
Barry Bonds holds the major league record with 73 set in 2001.