Drew Brees threw four touchdowns as the New Orleans Saints won their 10th game in a row with a 31-17 victory over the Atlanta Falcons on Thanksgiving.
Brees completed 15 of his 22 passing attempts for 171 yards as the Saints improved to 10-1, tied with the Los Angeles Rams for the best record in the NFL.
New Orleans scored two touchdowns in the first half - including a 28-yard catch from wide receiver Tommylee Lewis - to go into the break with a commanding 17-3 lead.
Falcons quarterback Matt Ryan threw for two touchdowns in the second half as he completed 35 of 47 passing attempts for 377 yards, but a third straight defeat delivers another blow in their battle for a play-off spot.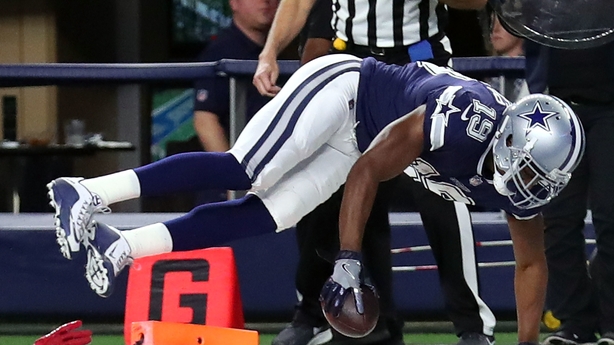 Amari Cooper had a 90-yard touchdown as the Dallas Cowboys beat the Washington Redskins 31-23 to share the lead at the top of the NFC East.
Quarterback Dak Prescott was on his own nine-yard line when he found Cooper, who broke a tackle and took the ball to the endzone late in the third.
Earlier in the game, Ezekiel Elliott got the opening touchdown of the game on a 16-yard rush and celebrated by putting 21 dollars into a donation bucket for the Salvation Army.
Back-up quarterback Chase Daniel led the Chicago Bears to a 23-16 win over the Detroit Lions.
Making only his third start in a nine-year NFL career, Daniel threw for two touchdowns and 230 yards as the Bears took a firm grip on the NFC North.
But it was the Bears defence that secured victory when Lions quarterback Matthew Stafford was picked off by Eddie Jackson, who returned it 41-yards for the winning touchdown with six minutes left to play.