The Houston Texans won their seventh straight NFL game on Sunday as opponents the Washington Redskins lost quarterback Alex Smith to a broken leg.
Smith left the game in the third quarter with his team trailing 17-7, having earlier seen a pass picked off by Justin Reid who returned it 101 yards for a Texans touchdown to add to DeAndre Hopkins' score in the first quarter.
Replacement Colt McCoy led a comeback attempt, with a nine-yard touchdown pass to Jordan Reed added to Adrian Peterson's second rushing score, but two Ka'imi Fairbairn field goals saw Houston home 23-21 as Washington kicker Dustin Hopkins came up short on a late 63-yard attempt.
The wins sees Houston two games clear in the AFC South after the Indianapolis Colts beat divisional rivals the Tennessee Titans 38-10. Andrew Luck threw for 297 yards and three touchdowns, two of them to wide receiver TY Hilton.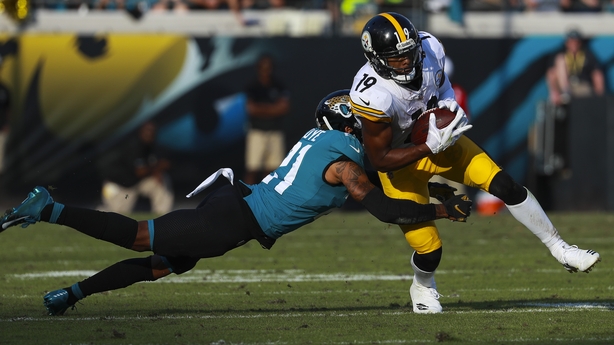 The division's fourth team, the Jacksonville Jaguars, blew a 16-0 lead to lose 20-16 to the Pittsburgh Steelers. Leonard Fournette ran for 95 yards and a touchdown on 28 carries but Steelers QB Ben Roethlisberger overcame a slow start to throw for 314 yards and two touchdowns before diving in for the game-winner himself with five seconds left.
The Baltimore Ravens beat the Cincinnati Bengals 24-21 in the battle for second place in the AFC North behind Pittsburgh. Lamar Jackson, making his first Ravens start with Joe Flacco injured, threw for just 150 yards but ran for 117 on 27 carries.
The Dallas Cowboys beat the Atlanta Falcons 22-19 to move just one win behind Washington in the NFC East, Brett Maher with a last-second field goal after Dak Prescott and Ezekiel Elliott both ran for touchdowns in a dramatic fourth quarter.
Saquon Barkley led the New York Giants to a 38-35 win over the Tampa Bay Buccaneers, the rookie running back with two touchdowns on the ground and another through the air. The Bucs benched Ryan Fitzpatrick after three interceptions and returned to the embattled Jameis Winston under centre.
The Carolina Panthers failed with a late two-point conversion as they lost 20-19 to the Detroit Lions.