A bye week during the opening wild-card round of the NFL playoffs has Nick Foles playing the most confident football of his career, and the Philadelphia Eagles on the doorstep of the franchise's first Super Bowl victory.
During that two-week window, former NFL quarterback and Eagles head coach Doug Pederson determined something had to be done to slow the game down for Foles who was just three-and-a-half games in as the Eagles' starter by default.
On 10 December, MVP candidate Carson Wentz suffered a torn ACL and LCL at Los Angeles, and the win over the Rams put Foles under the microscope.
"It's still the same aggressive mindset," said Eagles offensive coordinator Frank Reich. "That's the unique thread between Carson and Nick. Those guys want to throw the ball down the field and make the big play."
Pederson, mostly a backup quarterback during his NFL career, pleaded with the Eagles and their followers to trust the team would overcome the challenge of losing Wentz and keep winning games.
Foles put up brilliant numbers in his first start on 17 December against the New York Giants - 24 completions, four touchdown passes - but then nosedived with 23 total completions over the next two games, including 4-of-11 for 39 yards against the Cowboys in the season finale.
In the loss to Dallas, Foles posted a passer rating of 9.3.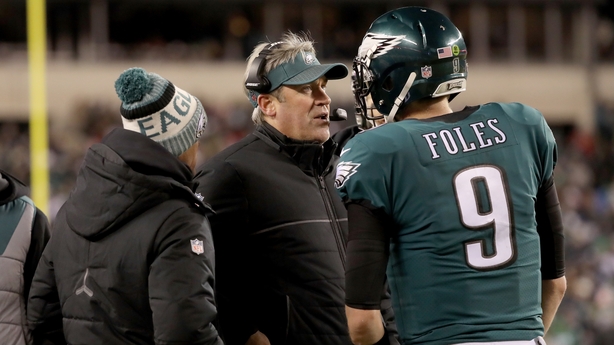 While panic set in around Philadelphia, Foles entered a self-scout session with Reich, Pederson and quarterbacks coach John DeFilippo as the playoffs started.
With two weeks to prepare, the Eagles dug to the roots to find any solutions for fixing Foles' inconsistency.
"Finding that Nick's strengths are just that - limit the formations, limit the shift - just allow him to see the defence and make the play," Pederson said of what the team discovered.
Foles is 49-of-63 in the playoffs in completed 77.8 percent of his passes to defeat the Atlanta Falcons and Minnesota Vikings. Big plays are back - 9.49 yards per pass attempt in the postseason - and Foles is thriving.
"We had a self-scout (session) and talked a lot about just letting me play," Foles said of limiting formations, pre-snap shifts and movement that generally invite the defence to move before the snap, too. "Really allowed me to see more and quickly."
Foles signed a two-year, $11 million contract after weighing retirement in the offseason. He could be the starter for the Eagles when the 2018 regular season begins because Wentz faces a recovery timeline of at least nine months after undergoing surgery on 13 December.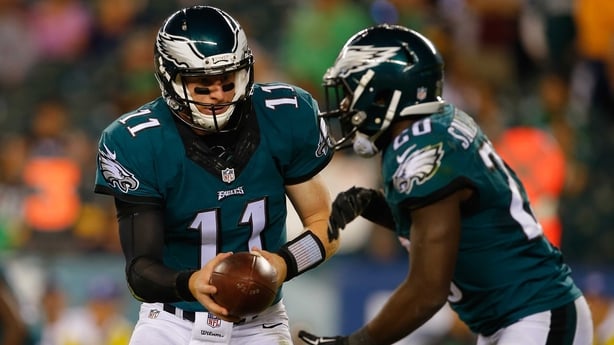 But Wentz is staying in the moment as much as possible as a sideline sounding board and second set of eyes for Foles in preparation for the Patriots.
"He's been around, offers his two cents when he thinks he needs to," said Eagles centre Jason Kelce.
"It's an unfortunate situation (Wentz is) in, considering everything he did to get us to this point before he was hurt. But he's one of those guys, he's loves football so much."
Foles said simplicity in the game plan is not a need because of the change at quarterback. He knows the comparisons - to Wentz, to five-time Super Bowl winner Tom Brady on the other side - are natural and unavoidable. He'll choose not to participate.
"I'm grateful for what I have," Foles said. "The thing with Tom is, even with all of his success he's always working to become better. He's always trying to find a way to get better. That's something you admire."
Foles has been in the driver's seat before. He threw 27 touchdowns and two interceptions in his first season as a starter in 2013 under Chip Kelly. The Eagles during the bye week dusted off portions of that playbook - offensive line coach Jeff Stoutland was in place for the Kelly era - with an emphasis on playing fast.
Stoutland and Pederson are opting to use more run-pass option (RPO) plays, where most often Foles is presented a focused route tree off the line of scrimmage and can find a favourable match-up near the line of scrimmage.
"It's centred around accurate throwing, good decision-making and good execution," said Reich, who was also largely a backup QB in his NFL career.
Wentz this week is still doing his part to make Philadelphia a winner. Up at 6am and engaged in a speaking role in the QB room, he shifted seamlessly into an assistant coaching role. When Super Bowl LII kicks off Sunday, he'll still be fighting through some residual pain.
"It's just tough knowing that could be you," said Wentz, who grew up in North Dakota.
"I had my sights set on this thing since I knew we weren't making the playoffs last year. I had my sights set on playing in Minneapolis - it's right down the road from home, it's meant to be. Here we are, it just looks different for me.
"Couldn't be happier for (Nick Foles). But at the same time there's those real emotions that are human."