New Orleans Saints players will stand for the American anthem at Wembley on Sunday when all eyes will be on whether there are further NFL protests at US president Donald Trump's recent comments.
Trump's suggestion that players should be "fired" if they kneel during the Star-Spangled Banner prompted over a hundred players - including more than 20 of those who played in England - to protest last Sunday in a variety of ways from kneeling, sitting on the bench or simply remaining in the tunnel.
It was the kneeling - a stance started by Colin Kaepernick last year over perceived racial injustice - which most irked Trump and on Twitter he called for the NFL "to set a rule that you can't kneel during our National Anthem!".
The Saints have announced that in London they will follow the lead of the Dallas Cowboys, whose players, owner and head coach knelt in an act of solidarity before standing and linking arms for the anthem itself.
That stance from a franchise nicknamed 'America's Team' due to their popularity across the country was picked up on by Trump, who noted the jeering in Arizona when they knelt and added on social media: "But while Dallas dropped to its knees as a team, they all stood up for our National Anthem. Big progress being made-we all love our country!"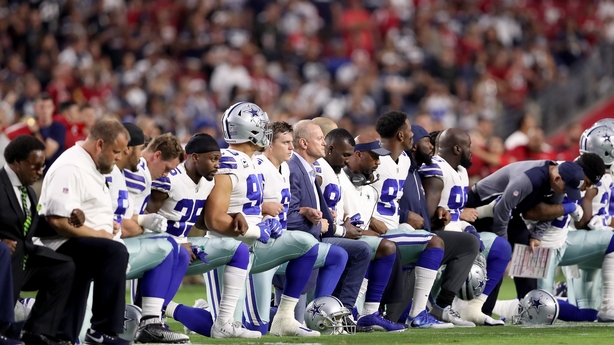 Ten Saints players sat on the bench as the anthem played prior to their win against the Carolina Panthers last Sunday, but this weekend when they face the Miami Dolphins in London they will all stand.
Quarterback Drew Brees wrote on Twitter: "As a way to show respect to all, our #Saints team will kneel in solidarity prior to the national anthem & stand together during the anthem."
Saints owner Tom Benson expanded on their decision in a statement where he explained he saw standing for the anthem as a way of honouring US military.
"One of the things I am most proud of is my military service," Benson said on neworleanssaints.com.
"And there are few things that are more important to me than the honour that I feel we must bestow upon our military men and women - the honour we must show our flag - and standing at attention for our flag and our national anthem is a powerful symbol we must respect.
"As an owner in the NFL and NBA for years, I have met many players, coaches and staff from seemingly every background possible. But as this week has demonstrated, there are very sensitive, difficult and emotional matters affecting this country. Now more than ever we must find solutions that unite and don't divide us.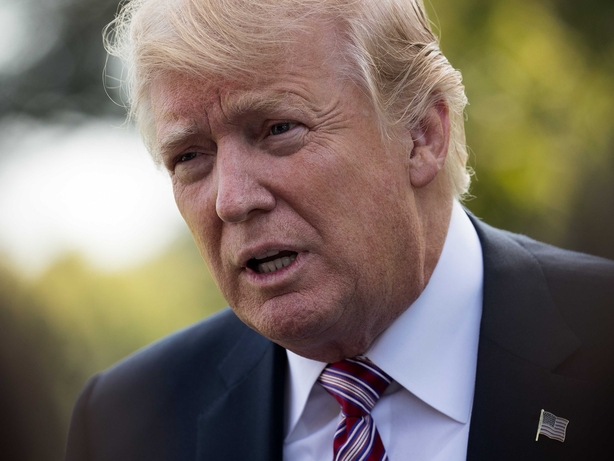 "Today, Drew Brees and team leadership stated that our team will stand for the national anthem. Regarding the issues of social injustice, I stand ready to offer our organisations, our players and our community meaningful support and resources to move from protest to solution."
What Miami's players have planned is unclear. Six Dolphins knelt last week, including London-born running back Jay Ajayi, who was one of those that wore a '#IMWITHKAP' t-shirt in support for the unemployed Kaepernick.
Ajayi said on Friday he was unsure whether he would again protest but tight end Julius Thomas has confirmed he intends to make a statement once more.
"I've decided that I'm going to continue to take a knee," he told CNN earlier this week.
"This is an issue going on in this country that I feel needs to be heard - right, wrong or indifferent, I feel that doing that before the game is the way to have the greatest impact."