NFL commissioner Roger Goodell was "proud" to see the league's players deliver a defiant message to United States president Donald Trump on Sunday with protests during the American anthem.
On Friday Trump described players who had knelt or raised fists for the Star-Spangled Banner over perceived racial injustice as "sons of b******" and suggested they should be fired by team owners.
Rather than deter players, there were widespread protests two days later, beginning with over 20 players kneeling at Wembley before the Jacksonville Jaguars' victory over the Baltimore Ravens.
Three teams - the Tennessee Titans, their opponents the Seattle Seahawks and the Pittsburgh Steelers - remained in the locker rooms or tunnel for the anthem, with the exception of Steelers lineman and US Army veteran Alejandro Villanueva.
Goodell told Sports Illustrated's Monday Morning Quarterback column: "The way we reacted this weekend made me proud. I'm proud of our league.
"(The demonstrations) reflected the frustration, the disappointment, of the players over the divisive rhetoric we heard."
In Washington on Sunday evening, the vast majority of the Oakland Raiders players sat or knelt on the sideline with their arms locked.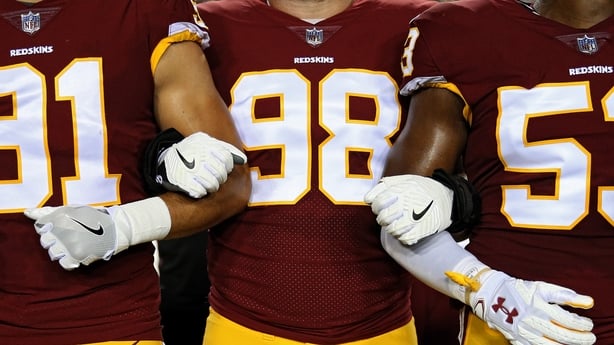 Redskins cornerback Josh Norman, who sang along with the anthem, said in an emotional post-game interview with CSN: "Men who have their constitutional rights - black, white, or whatever - taking a knee, and you call us SOB?
"Am I American? Am I here fighting for the home of the free, the brave? Am I really free? I have to look at myself and think sometimes.
"This is out here in the world. The little ones that grow up have to go through this. It's so sad.
"This right here is not acceptable."
In Detroit, where the Lions took on the Atlanta Falcons, the anthem was preceded by an announcement asking fans to join the team "to celebrate our differences as well as what bonds us", and ended with anthem singer Rico Lavelle kneeling and raising his fist.
The day had started with the scenes at Wembley, where those who did not kneel stood arm-in-arm on the sidelines - including Jags and Fulham owner Shad Khan, who donated one million US dollars to Trump's presidential campaign.
Khan later issued a statement through the Jaguars' social media feed in which he called Trump's remarks "divisive and contentious".
Jags cornerback A.J. Bouye, one of those who knelt, said: "I was p***ed off just for the simple fact I don't know the president as a man, just like he doesn't know us as men.
"It holds close to home with me because what you say about us, you're disrespecting our mums. I lost my mum to cancer. My step-mum came in, I know she's not what he's calling her.
"When you're five years old and you're seeing your dad have a gun pointed at his head because he looks suspicious in the neighbourhood at 6am because he's dropping his son off at a babysitter, it's not about race. It's not about black and white, it's about right and wrong."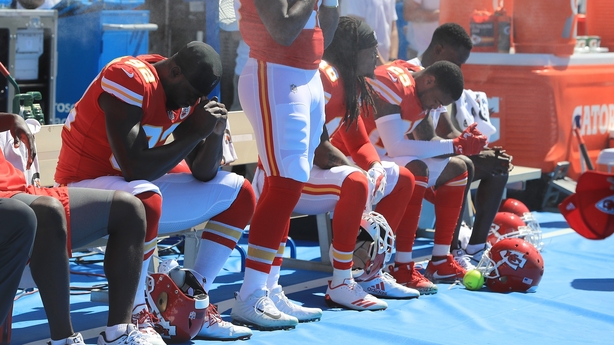 Khan was one of several team owners to link arms with his players and the Jags' Malik Jackson said: "I think a lot of guys were nervous about (kneeling) because they were worried about the backlash.
"Guys have been treated unfairly, like the (Colin) Kaepernick situation, because of his stance, and I think that was a deterrent for a lot of people, but having Mr Khan come down for me was a blessing because you don't have to worry about that backlash."
Former San Francisco 49ers quarterback Kaepernick was the first NFL player to kneel for the anthem. He remains without a team.
Throughout the day Trump continued to tweet on the subject, at one point retweeting a picture which had the label 'BOYCOTT!' over the NFL logo.
He added: "Courageous Patriots have fought and died for our great American Flag - we MUST honor and respect it! MAKE AMERICA GREAT AGAIN!"#
Over the weekend Trump also withdrew a White House invitation to NBA champions the Golden State Warriors.
Star point guard Steph Curry had already said he was unwilling to accept the invitation and the sport's leadingname, LeBron James, called Trump a "bum" in defence of Curry and the Warriors.
James is due to speak at Cleveland's pre-season media day on Monday.