Players from three NFL teams stayed in their locker rooms as the national anthem was played ahead of their games on Sunday as they responded to criticism from United States President Donald Trump.
At a rally in Alabama, Trump had delivered a scathing attack on NFL players who opt to kneel in protest when the Star-Spangled Banner is played, claiming team owners should sack those players and that fans should leave the stadium if they see it.
But while players from the Jacksonville Jaguars and the Baltimore Ravens defied Trump and knelt during the anthem at Wembley, the Pittsburgh Steelers, Seattle Seahawks and Tennessee Titans took a different approach.
Statement from #Steelers President Art Rooney II: pic.twitter.com/V6rCVvmofD

— Pittsburgh Steelers (@steelers) September 24, 2017
Only the Steelers coaches, including head coach Mike Tomlin, were on the field for the anthem ahead of their game against the Chicago Bears, while both sets of players were absent at Nissan Stadium.
A statement from the Seahawks players read: "As a team, we have decided we will not participate in the national anthem. We will not stand for the injustice that has plagued people of colour in this country.
"Out of love for our country and in honor of the sacrifices made on our behalf, we unite to oppose those that would deny our most basic freedoms. We remain committed in continuing to work towards equality and justice for all."
The Titans also released a statement which read: "As a team, we wanted to be unified in our actions today. The players jointly decided this was the best course of action.
"Our commitment to the military and our community is resolute and the absence of our team for the national anthem shouldn't be misconstrued as unpatriotic."
Tomlin had earlier told CBS: "We're football players, coaches, we're not participating in the anthem today. Not to be disrespectful to the anthem, (but) to remove ourselves from the circumstance.
"People shouldn't have to choose, if a guy wants to go about his normal business and participate in the anthem, he shouldn't be forced to choose sides. If a guy feels the need to do something he shouldn't be separated from his team-mate who chooses not to. So we're not participating today. That's our decision."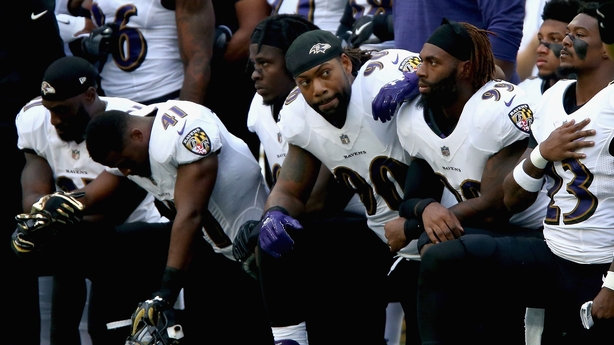 At Wembley, more than a dozen players took a knee as their national anthem played. Those who did not kneel linked arms, including Jaguars owner Shad Khan, who stood between Marcedes Lewis and Telvin Smith on the sidelines.
Khan, who also owns Championship football club Fulham, donated one million US dollars to Trump's presidential inauguration.
In the United States, pictures on the NFL website showed numerous players either standing or kneeling during the anthem, with several team owners standing and linking arms with players.
Philadelphia Eagles owner Jeff Lurie stood beside safety Malcolm Jenkins, who raised his right fist.
At least seven Buffalo Bills players were pictured kneeling ahead of their game against the Denver Broncos, while more than a dozen New England Patriots players also knelt as quarterback Tom Brady stood with his hand over his heart and his other arm locked with Phillip Dorsett.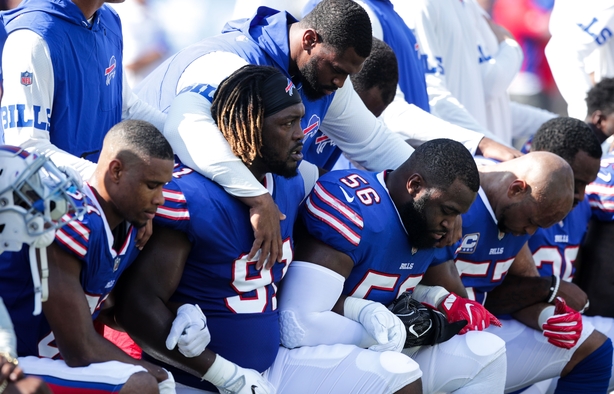 Trump had followed up Friday night's comment with a tweet the following day criticising NFL commissioner Roger Goodell, who had called the president's comments "divisive".
On Sunday Trump took to social media again prior to kick-off at Wembley.
"If NFL fans refuse to go to games until players stop disrespecting our Flag & Country, you will see change take place fast. Fire or suspend!" he wrote from his account @RealDonaldTrump.
"...NFL attendance and ratings are WAY DOWN. Boring games yes, but many stay away because they love our country. League should back U.S."
He later added: "Courageous Patriots have fought and died for our great American Flag --- we MUST honor and respect it! MAKE AMERICA GREAT AGAIN!"
Away from the NFL, the NHL champions Pittsburgh Penguins said they planned to go ahead with a visit to the White House later this year.
"Any agreement or disagreement with a president's politics, policies or agenda can be expressed in other ways," a statement read. "However, we very much respect the rights of other individuals and groups to express themselves as they see fit."