Five-time Super Bowl champion Tom Brady admitted even he did not believe the New England Patriots could pull off the greatest comeback in the game's history in Houston.
New England overturned a 25-point deficit to beat the Atlanta Falcons 34-28 in overtime, the first time the Super Bowl had extended into that period, as the game's MVP Brady threw 466 yards to become the first quarterback to win enough rings to adorn every digit on one hand.
President Donald Trump had predicted his "friends" Brady, head coach Bill Belichick and owner Robert Kraft would triumph in a pre-game interview with Fox, yet his acquaintance was losing faith when the Falcons had such a commanding lead with just over 17 minutes remaining before James White's two-yard score completed the crazy turnaround.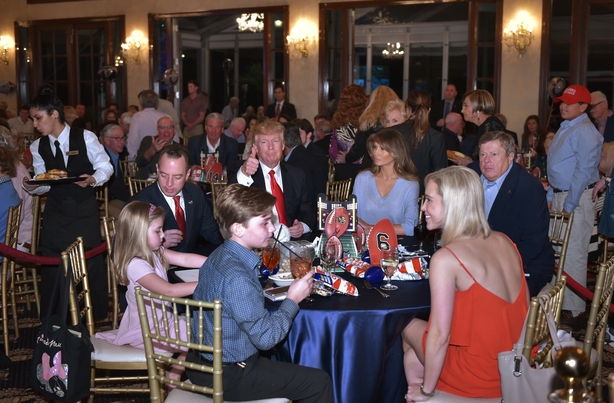 "Down 25 points, it's hard to imagine us winning," admitted Brady.
"It took a lot of great plays and that's why you play to the end. It's a 60-minute game. At half-time, we weren't down at all, we were disappointed in the way we played and knew that we could go out and do a lot better in the second half.
"The one positive was we had the ball for 20 minutes in the first half and I think as the game goes on that gets tough on the defence in these Super Bowls, everyone's expending a lot of energy, when we got it rolling in the second half it was tough to slow us down."
The madness that unfolded in NRG Stadium on Sunday evening - which included a scarcely-believable catch from Julian Edelman during the Patriots' game-tying drive of 91 yards when the receiver bobbled the ball and held on to it despite balancing over various Falcons players' limbs - was perhaps best summed up by Brady.
"I wasn't thinking much; I was thinking - we've just got to score the touchdown," the 39-year-old added of trailing by such a big margin.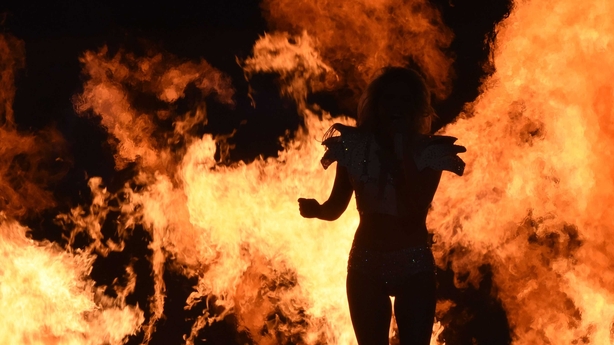 "We scored the touchdown and it was nine (points), then did we get the turnover? There was a lot of s**t that happened tonight, I got hit pretty hard!"
This victory was particular sweet for Brady, who welled up on the podium as his ill mother watched from the crowd.
"I've got my family here and it's the end of a long marathon; I usually wear them on my sleeve," he added of his emotions.
It also came at the culmination of a campaign when he served a four-game suspension for the 'deflategate' saga.
Commissioner Roger Goodell, the man who upheld that ban, was booed as he handed the Lombardi Trophy over to Kraft, who referenced the issue when he addressed supporters.
"Two years ago we won our fourth Super Bowl down in Arizona and I told our fans that was the sweetest one of all," he claimed.
"But a lot has transpired during the last two years, and I don't think that needs any explanation. But I want to say to our fans, our brilliant coaching staff, our amazing players, who are so spectacular, this is unequivocally the sweetest."
Brady was not the only history-maker in the Pats' ranks as Belichick became the first head coach to win a fifth Super Bowl.
Asked what he said at half-time, Belichick responded: "Same thing we told them in the first quarter and the second quarter - just kept coaching and just kept trying to get better."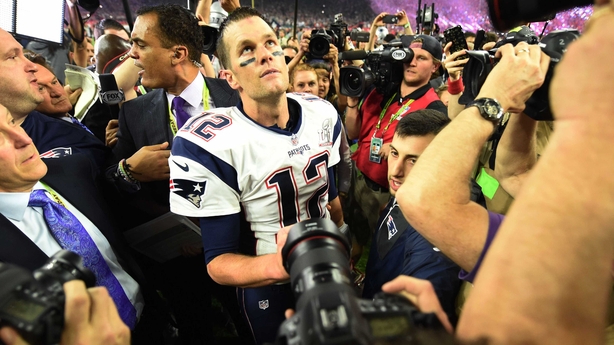 The NFL's overtime rules state that if the team that wins the coin toss scores a touchdown first, the game is over, so Atlanta did not even get a possession in the additional time to try and reply to White's score.
"It is what it is," defensive end Dwight Freeney said.
"We had our opportunities way before that to win it. We didn't. We had the opportunity to stop them at any any point in that drive, we didn't. It doesn't matter about the rules.
"Hats off to them, they deserve it. Tom's great, a legend."