A place in Super Bowl LI in Houston, Texas is at stake in the AFC and NFC Conference Championship games in the NFL play-offs this Sunday, writes Karl O'Shaughnessy.
The NFC takes centre stage first at 20:05 (Irish time) when the Green Bay Packers visit the Atlanta Falcons. The last time these two met, quarterbacks Aaron Rodgers and Matt Ryan threw for seven touchdowns between them and judging by what we saw in the Divisional Rounds last weekend, more of the same is expected.
The Falcons have the number one scoring offence in the NFL and the Packers boast the hottest quarterback in the game right now in Rodgers.
The Packers entered the play-offs following their fifth NFC North Title in six years but were made to battle to the end in a pulsating game in Dallas last weekend to make it to this Conference Championship.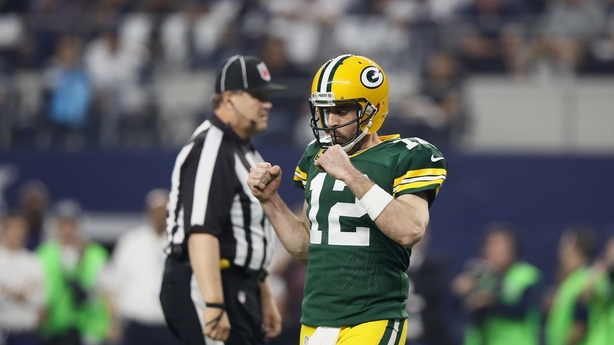 Whatever you read or heard about Aaron Rodgers' performance against the Cowboys last weekend, it certainly wasn't hyperbole. The hype is real. Rodgers was in scintillating form as he led Green Bay to a 31-34 victory on the road.
He threw for 355 yards and two touchdowns but it is the completion to Jared Cook with three seconds remaining on the clock to set up Mason Crosby's game-winning field goal that has dominated chat amongst pundits and fans this week.
Rodgers naturally can't win games all on his own, although it does feel like it at times, and he has been helped by his team-mates who have rose to the occasion in the big games.
"The expectation changes from 'we're gonna be competitive' to 'we're gonna win.'"@AaronRodgers12 talks #Packers' 8-game winning streak. pic.twitter.com/ZJ0O5EUEeG

— Green Bay Packers (@packers) January 19, 2017
Most notably tight-end Cook, and his aforementioned toe-drag catch, will live long in the memory for those who witnessed it thanks both to the amazing athleticism of the catch and the pressure cooker situation in which it was executed.
It would seem difficult to bet against the Packers and Rodgers in his current hot streak although in the last match up between the two teams back in October, they did fall 33-32 to the Falcons in the Georgia Dome.
Atlanta also have their own temperature themed quarterback in Matt "Ice" Ryan. He impressively put the freeze on the Seattle Seahawks defence last weekend as he threw for 338 yards and three touchdowns.
The Falcons led the NFL in points per game, clocking up an average of 33.8 each outing this season and that continued into the Divisional Round as they routed the 'hawks 36-20.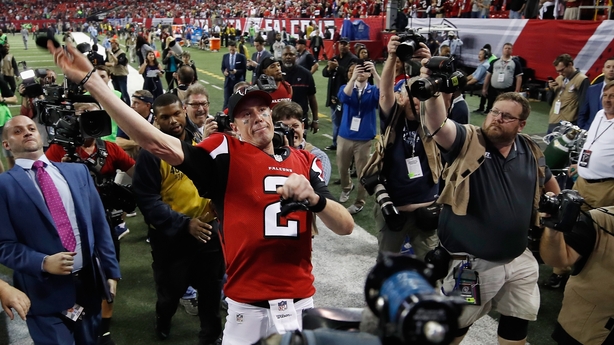 Wide receiver Julio Jones remains Ryan's number one target but the Falcons are able to spread it about much better than in previous seasons with Devonta Freeman, Taylor Gabriel and Mohamed Sanu all proving reliable through the air in the Divisional Round.
Second year running back Tevin Coleman grabbed one of Ryan's three touchdown passes last weekend along with Jones and Sanu and with Freeman and Coleman proving good options in Atlanta's ground game, Green Bay will certainly have their work cut-out defensively.
How can the Falcons defense contain Aaron Rodgers? @DjShockley3 has the answer.

Full Video - https://t.co/Hb16TcOONn pic.twitter.com/C4wXnHcBDd

— Atlanta Falcons (@AtlantaFalcons) January 20, 2017
It is likely that the winner of this one will need a big-play from a defensive player to help them on their way. Atlanta's outside linebacker Vic Beasley led the NFL with 15.5 sacks and may just be that man.
The good news for the neutral fan is that both these teams rank in the bottom section of the league for points allowed per game and this is unlikely to change come Sunday. If ever there was hope for an explosive shootout from start to finish in a Championship game then this is the one! Blink and you might miss something special from "A-Rod" or "Matty Ice".
Sunday's second game sees the Pittsburgh Steelers travel to Foxboro to face the New England Patriots in the AFC Championship at 23:40 (Irish Time).
It's another tale of two exceptional quarterbacks with Ben Roethlisberger and Tom Brady holding the hopes of Pittsburgh and New England in their hands.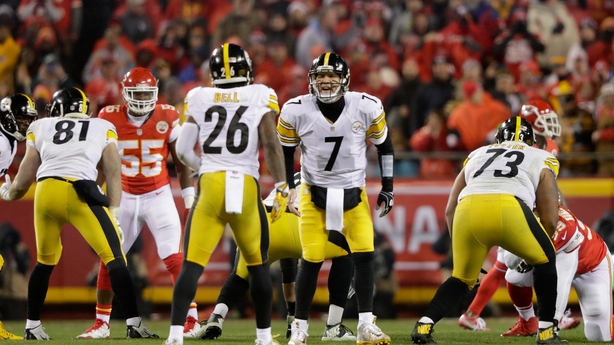 It's a measure of the stature of these two players that eight of the last 13 Super Bowls have featured either Roethlisberger or Brady as the AFC's representatives with the ninth Super Bowl appearance scheduled to come in two weeks time in Texas.
Pittsburgh are making their 16th appearance in the AFC Championship and their last road win in this game came back in 2006 when they overcame the Denver Broncos at Mile High on the way to Super Bowl glory.
Roethlisberger was under-centre for the Steelers that day and rushed for a game-sealing touchdown to see out a 34-17 victory.
While Big Ben's rushing touchdowns are few and far between these days, he's still the man for the big occasion and a player many fans would have more faith than most in to make a good stab at overcoming a Bill Belichick Patriots team away from home in the play-offs.
The Steelers overcame the Chiefs last weekend in a hard-fought 18-16 win. The Chiefs managed to keep Big Ben's offense out of the end zone all night with all 18 points being racked up by Steelers kicker Chris Boswell.
Is it Sunday yet? pic.twitter.com/Tq4yjsWRt0

— Pittsburgh Steelers (@steelers) January 20, 2017
The Steelers know they will need to do a better job at punching the ball over the goal line if they are to have any chance against the Pats on Sunday.
Running back Le'Veon Bell was effective, touchdowns aside, rushing for 170 yards against the Chiefs and becoming the first player in NFL history to rush over 150 yards in each of his first two playoff games.
If he rushes for over 150 yards against the Patriots on Sunday, he'll become the first player in NFL history at any stage of their career to rush for over 150 yards in three straight playoff games in one season.
Wide receiver Antonio Brown continues to be Roethlisberger's number one target through the air, managing 108 yards last time out against the Chiefs. Brown made headlines for the wrong reasons this week in the build-up to the game due to an ill-conceived Facebook Live post from within the Steelers locker-room.
Brown has since apologised but was roundly criticised by coach Mike Tomlin and his teammates who branded his actions as "foolish" and "inconsiderate".
It's a narrative that Brown and the Pittsburgh faithful will be hoping isn't still lingering after Sunday's game.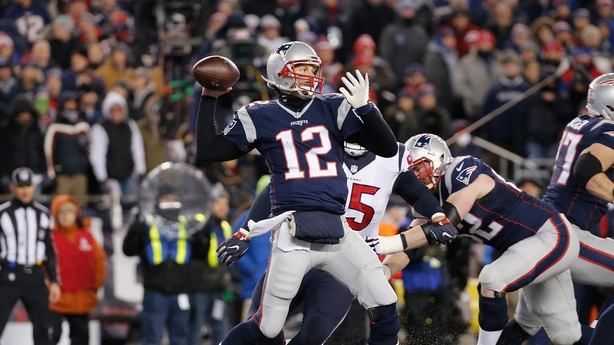 Tom Brady started the season in the stands with a four-game suspension but no one is surprised to see him back again leading the Patriots in yet another AFC Championship game.
Even without tight-end Rob Gronkowski, Brady has been effective if not exactly eye-catching in recent weeks. He threw for 287 yards and two touchdowns against the Texans in a 34-16 win last week.
The surprise star of the show for the Pats last weekend was running back Dion Lewis. He became the fist player in NFL play-off history to score a rushing, receiving and kick return touchdown in the one game but it remains to be seen if Belichick goes back to the well again with Lewis or uses NFL rushing touchdown leader LeGarrette Blount more against the Steelers.
Brady ? White. TOUCHDOWN. https://t.co/sNlFu3p2oX

— New England Patriots (@Patriots) January 15, 2017
Wide receiver Julian Edelman will continue to be Brady's big threat aerially and he had 137 yards against the Texans last week. Edelman always seems to pop up with big plays in the big moments of big games and the Steelers will need to guard against those opportunities effectively.
These two teams were slightly underwhelming in their outings last week but both will be acutely aware that any side not at their best will get turned over in the AFC Championship game.
Both defences will also need to excel at the pass rush on Sunday. Giving time in the pocket to either Brady or Roethlisberger is a recipe for disaster.
When these two met back in October, Brady led the Pats to a 27-16 in Pittsburgh. Roethlisberger didn't play that day due to injury and the Pats had Gronkowski available.
Fast-forward to Sunday and those roles are now reserved, both in personnel and venue. This one really is too close to call. It's set up to be a classic.
Sunday 22 January 2017
Green Bay Packers at Atlanta Falcons 20:05 (Sky Sports)
Pittsburgh Steelers at New England Patriots 23:40 (Sky Sports)