Cincinnati 27-27 Washington
London's NFL fans were treated to a rare spectacle on Sunday as the Washington Redskins and Cincinnati Bengals played to a tie.
Dustin Hopkins missed a 34-yard field goal attempt which would have won the game with 2:09 left in the extra period and the game finished 27-27 - only the fifth tie in the NFL since 2012 but the second in the space of as many weeks.
After Hopkins missed, the Bengals turned the ball over as quarterback Andy Dalton fumbled, but Washington could not take advantage as the clock ran out on the first overtime period to be played in London.
Hopkins was not the only kicker with a costly miss in the game, however, as Cincinnati's Mike Nugent missed a routine point after touchdown kick in the third quarter which would have changed everything.
It was Hopkins who forced overtime at Wembley with a 40-yard field goal late in regulation after Jeremy Hill's one-yard touchdown run put Cincinnati on top, 27-24, with 6:58 to go.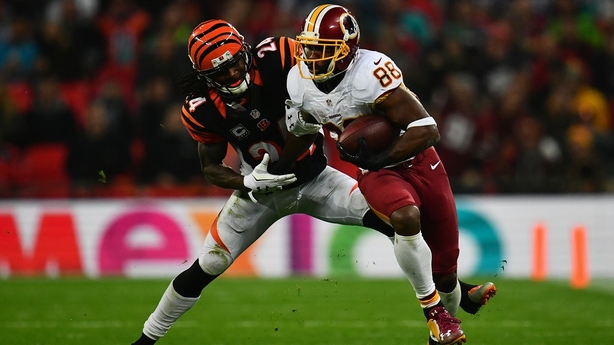 Last weekend, the Arizona Cardinals and Seattle Seahawks both missed field goals in overtime as they played to a 6-6 tie, but it remains a highly unusual result in the NFL.
Both teams will leave London regretting chances to win, but it was Washington who squandered the most.
They looked to set the tone early as, with their first possession, they drove 80 yards to take the lead on Robert Kelley's four-yard touchdown run.
But, thanks to a 66-yard kick-off return from Alex Erickson, the Bengals were immediately in position to strike back and seven plays later Giovani Bernard ran into the end zone from eight yards to level it.
It was an electric start to the game, but not a pace that could be maintained by either team.
Washington put together a string of drives, but found little reward.
Coach Jay Gruden's decision to go for it on fourth-and-one from the Bengals' 18-yard line early in the second quarter backfired as Washington turned the ball over on downs, and on their next drive they were stopped two yards from the end zone and had to settle for a Hopkins field goal.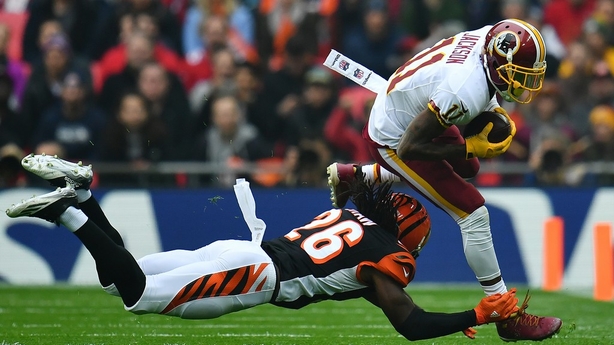 When quarterback Kirk Cousins was intercepted to end the half, Washington went back to the locker rooms wondering how they were not comfortably ahead.
That frustration only grew as the Bengals got going in the second half. Their first drive took them 65 yards to the end zone, where tight end Tyler Eifert hauled in his first touchdown pass of an injury-blighted season.
Nugent committed the cardinal sin of missing the point after. It would prove expensive by the end of the night but had seemed to matter little after Cincinnati went straight back down field again on their next drive, capped by a one-yard touchdown run from Dalton.
Nugent's kick was good this time, and Washington found themselves 20-10 down.
Wasting first-half chances and falling behind has been a disturbing trend for Washington this season, but this time they had a response.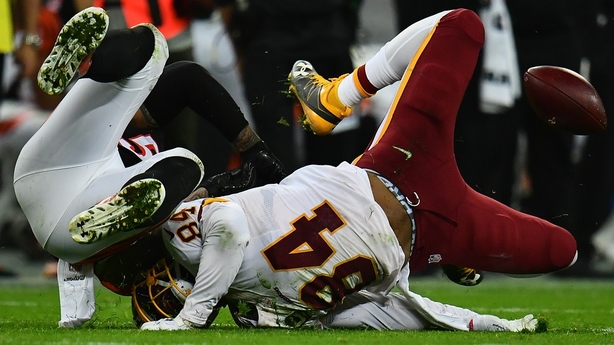 First Cousins found tight end Jordan Reed from 23 yards for a touchdown that cut the deficit to three.
Then, early in the fourth quarter, Cousins threw left to Jamison Crowder, who dived into the end zone for a 33-yard touchdown catch.
Now it was Cincinnati's return for an immediate response as Dalton led them on a 75-yard drive which ended with Hill running into the end zone from one yard out to take the lead back.
Washington's response was to get to Cincinnati's 22-yard line when Crowder hauled in a 20-yard pass from Cousins, but they stalled there before Hopkins tied the game to set up an overtime period which failed to separate them.
Cousins finished 38-of-56 for 458 yards and two touchdowns - the most throwing yards for a quarterback in a London game.
Dalton was 27-of-42 for 284 yards and a score for the Bengals. Attention will now already turn to next year, with confirmation coming from the NFL during the game that the New Orleans Saints and Miami Dolphins will play here in 2017.