Super Bowl champions the Denver Broncos continued their perfect start to the season with a 29-17 victory at the Cincinnati Bengals.
Second-year quarterback Trevor Siemian threw four touchdown passes in his best return since taking over the starting role from Peyton Manning.
Siemian threw a pair of touchdowns to Emmanuel Sanders in the second quarter before a career-long 55-yarder to Demaryius Thomas to cap his best display under centre.
The Broncos are now 3-0 to stay top of the AFC West.
The Carolina Panthers, who were beaten by the Broncos in last season's Super Bowl, suffered their second defeat in three games as they lost 22-10 at home to the Minnesota Vikings.
The Vikings were without injured star running back Adrian Peterson but it hardly mattered as Panthers quarterback Cam Newton threw three interceptions.
Aaron Rodgers threw all four of his touchdown passes before half-time as the Green Bay Packers beat divisional rivals the Detroit Lions 34-27.
The Buffalo Bills overcame the Arizona Cardinals 33-18 on the back of two LeSean McCoy touchdowns, while the Oakland Raiders beat the Tennessee Titans 17-10.
The Baltimore Ravens started a season with three straight wins for the first time since 2009 as they beat the Jacksonville Jaguars 19-17.
The Washington Redskins grabbed their first win of the season, 29-27 against NFC East rivals the New York Giants, while Jay Ajayi's touchdown gave the Miami Dolphins a 30-24 overtime win over the Cleveland Browns.
Philadelphia remained unbeaten, and in some style, with a 34-3 victory over the Pittsburgh Steelers. Carson Wentz threw for 301 yards and two touchdowns for the Eagles.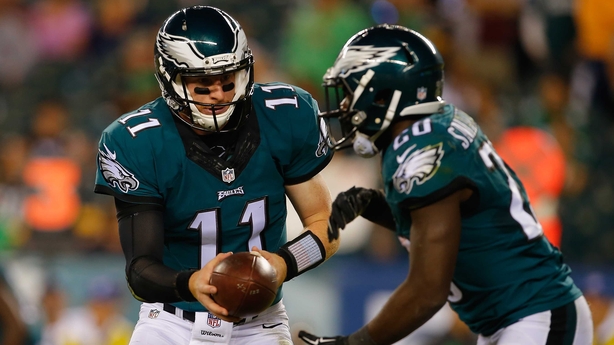 Rookie quarterback Dak Prescott threw his first career TD pass as the Dallas Cowboys posted a 31-17 triumph over the Chicago Bears, who dropped to 0-3.
Having managed just 15 points in total in their first two games, Seattle enjoyed a 37-18 win against the San Francisco 49ers. Seahawks quarterback Russell Wilson threw for 243 yards and a TD before going off in the third quarter with a left knee injury.
Indianapolis saw off the San Diego Chargers 26-22, Andrew Luck providing the crucial touchdown pass for the Colts with 1:17 to go despite a shoulder injury.
The Tampa Bay Buccaneers blew a 10-point lead en route to a 37-32 home defeat in their weather-delayed clash with the Los Angeles Rams, while the New York Jets committed eight turnovers, including three interceptions in the end zone, in a 24-3 loss to the Kansas City Chiefs.