Michael Oher's rags-to-riches tale has already produced one Oscar-winning movie, and he believes he has reiterated the notion that anything is possible by reviving his career with the Carolina Panthers.
The 2009 feel-good film 'The Blind Side' starring Sandra Bullock depicted giant offensive tackle Oher's journey from an impoverished upbringing - where he drifted between sleeping on the streets, staying at numerous foster homes and studying at several schools - to a first-round draft pick in the NFL.
Four years after the film's release he was lifting the Lombardi Trophy with the Baltimore Ravens before his career headed south when he was cut by the Tennessee Titans, then the second worst team in the NFL, following just one season.
However, having faced considerably bigger obstacles in life itself, Oher has been able to defy the odds again by resurrecting his career protecting Panthers quarterback Cam Newton's blindside.
"I pinch myself just being in front of you guys," he said. "Being at the Super Bowl, knowing the road I've had to travel, it was very tough, hard-fought, every day growing up.
"Most people don't get the opportunities and chances that I've gotten. That's why I work so hard, get up early every day because I love doing it. I know where I came from and it's not somewhere I want to get back."
Given the exceptional circumstances Oher encountered when growing up, it is not surprising that he comes across as a player who needs to feel loved.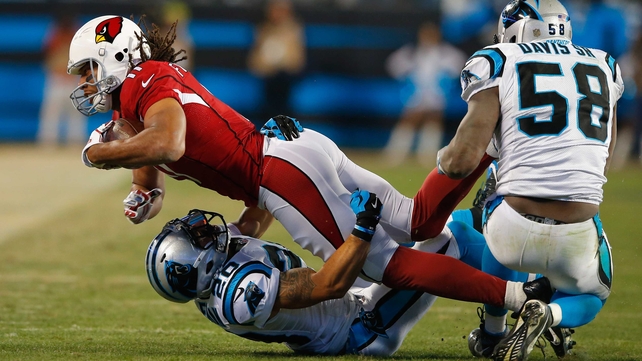 That is exactly what he has had from Carolina, whose quarterback Newton pushed hard for Oher's signing while an encouraging pre-season text message from head coach Ron Rivera and a hand-written letter from general manager Dave Gettleman reaffirmed the feeling of being wanted.
That is why Oher would treasure a second Super Bowl ring even more if he can help the Panthers defeat the Denver Broncos in San Francisco this weekend.
"You're coming from probably the worst team to one of the best teams, and you get people telling you you're not good enough to be around any more," Oher said of his critics. "Then you're here in the Super Bowl, it just shows you can do anything you want to do, anything you can put your mind to.
"Don't listen to people and don't buy into things people say. You've got to look yourself in the mirror. You can't put your dreams and the things that you want to accomplish into other people's hands.
"I've always trusted the NFL organisations and believed that these guys had all the answers. This off-season I said you've got to look yourself in the mirror and know what to do. You've got to just get it done yourself."
Part of Carolina's success this term has been built on players such as Oher, safety Kurt Coleman and wide receiver Ted Ginn Jr, who have emerged as key components despite failing with other franchises.
Coleman attributes that to the environment Rivera and Gettleman have helped cultivate in Charlotte.
"It gave you a personal sense of belonging, a sense of worth," he said of the letters Gettleman penned to the 53 players who made the active roster.
"This is a family-oriented organisation, it's an organisation that cares about you more as a person. I think it translates. Rivera is a great coach, his staff are great coaches, they care for the players they are coaching and it really makes a difference."