Kansas City 45-10 Detroit
The Kansas City Chiefs breathed fresh life into their season as they punished a poor Detroit Lions team 45-10 in Wembley's third NFL game of the year.
Only eight days after the Jacksonville Jaguars beat the Buffalo Bills 34-31 here, Wembley was full once more but there was no frantic finish this time with the game all but over by half-time.
London's appetite may not be dimmed as the capital passed the latest test on the long road to one day getting a franchise of its own, but this was not a game that will live long in the memory of the 83,624 on hand.
The win moves the Chiefs to 3-5, still well short of pre-season expectations, but at least they do not have Detroit's problems.
Earlier this season a Wembley defeat proved to be the final stop for Miami Dolphins coach Joe Philbin and with his team now 1-7, Detroit's second year coach Jim Caldwell is firmly on the hot seat.
He began the week by firing offensive co-ordinator Joe Lombardi - grandson of the great Vince Lombardi - and two assistants, but with his team playing like this such moves can only buy him so much time.
This was not even a shadow of the Detroit team that rallied rallied from 21-0 down to beat the Atlanta Falcons 22-21 at Wembley last season, with horrible play on the offensive line rendering their star players - quarterback Matthew Stafford and receiver Calvin Johnson - helpless.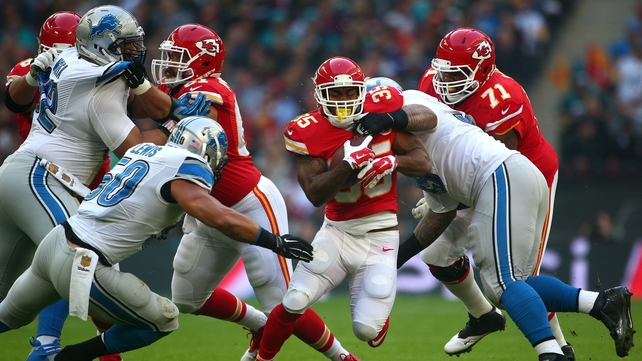 Stafford piled up 217 yards but was sacked six times, and picked off twice. There was early promise for the Lions as Joique Bell sparked their first drive with a 35-yard run, but they had to settle for a 35-yard field goal from Matt Prater.
That opening drive, and the 3-0 lead it gave them, proved the high point for Detroit.
Knile Davis returned the ensuing kick-off 50 yards for the Chiefs, kick-starting a drive which ended with De'Anthony Thomas' 10-yard touchdown run, and the rest of the game belonged to Kansas City.
Their offence ran riot, with quarterback Alex Smith, not noted for his rushing ability, amassing 78 yards on the ground, including a 49-yard dash in the second quarter and a touchdown run from 11 yards out. Smith also had 145 passing yards for two scores.
And the Chiefs' defence joined in the fun as the Lions' offensive line disintegrated time and again to leave Stafford exposed.
He was sacked four times in the first half, and threw two interceptions. The first led to a Chiefs field goal, the second to a touchdown which made it 24-3 when Charcandrick West rumbled over from eight yards out with 3:31 left in the first half.
The Chiefs' first drive after the break ended with a two-yard touchdown pass from Smith to Travis Kelce, and they rubbed salt in Detroit wounds in the fourth quarter as Smith picked out Jeremy Maclin from 17 yards out for another score.
As time ran down, Detroit's Lance Moore gathered in a 21-yard pass from Stafford to score a late touchdown, but it did little to add any gloss to their afternoon as the Chiefs immediately replied through Spencer Ware.