Former Australia rugby league star Jarryd Hayne has realised his dream of winning a place on the San Francisco 49ers' NFL squad.
Hayne beat out practice-squad player Kendall Gaskins for a spot in the running back rotation as the Niners cut 14 players to bring their squad down to the 53-man limit.
"I am over the moon," Hayne told 49ers.com. "I'm blessed and honoured to be a part of the 49ers franchise.
"I wanted to take a risk, and I wanted to put myself out there. This whole journey, I've never felt so alive."
Regarding the wait to hear from coach Jim Tomsula, he said: "It was the most nervous I've been in a while. It was more trying to get confirmation than anything. And then it was a sigh of relief."
Second-year pro Carlos Hyde is the likely starter at running back following the off-season departure of Frank Gore to the Indianapolis Colts.
Former Detroit Lions, Miami Dolphins and New Orleans Saints flyer Reggie Bush is expected to feature heavily on passing downs, with Hayne and fellow rookie Mike Davis competing for carries in relief.
Given the high attrition rate among NFL backs, injuries to those ahead of him could easily hand the Australian a share of match action, but his initial opportunities are likely to come on the special teams units.
During pre-season, he had punt returns of 34 yards against the Dallas Cowboys and 28 against the San Diego Chargers and took a kick-off back 33 yards against the Houston Texans.
He recorded a special teams tackle against the Chargers and, on offence, had carries of 53 yards against the Texans and 34 against Dallas.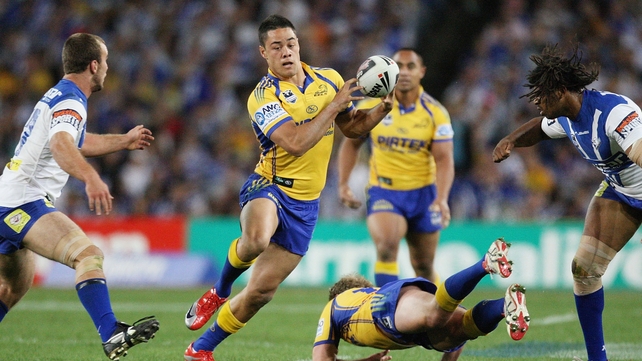 Tomsula said: "Making an NFL roster is an outstanding accomplishment, period. But obviously his situation is unique.
"The odds of an American who grows up in this game playing in the NFL is astronomical. Now you're talking about a guy who wasn't raised in this game and has made it.
"He's by no means a finished product but the type of person he is and the approach that he takes, he's a guy that we want here.
"It should be a celebration in Australia. I do understand the magnitude and that it's huge."
Hayne added: "For the fans back home, I don't think words can really describe how great it is to see so many people support me. Australia is such a sporting country, and I'm very proud about where I'm from."
Notable players released across the NFL ahead of the deadline included quarterback Tim Tebow, who has struggled to catch on with a team since leaving the Denver Broncos and was let go by the Philadelphia Eagles on Saturday.
88 seconds of @jarrydhayne_1 steam-rolling defenders from the NFL and @NRL. Because #HaynePlaneHereToStay. http://t.co/LS2ohIRK8P

— NFL (@NFL) September 5, 2015