New York Yankee legend Derek Jeter bowed out in the most dramatic fashion last night, scoring a game-winning hit, in his final at bat, at the bottom of the ninth inning, in his final game at Yankee Stadium.
Fans came in their thousands to bid an emotional farewell to "the Captain" and Derek Jeter responded with a game-winning single against the Baltimore Orioles.
              
The retiring veteran, with two decades in the major leagues, was serenaded throughout the game by fans chanting his name as he played in his 1,391st and last game at Yankee Stadium - and contributed to a fairytale send-off.
              
Jeter drove in the first run of the game with an opening-inning double off the fence in left-centre, snapped a 2-2 tie with an RBI grounder in the seventh and broke a 5-5 deadlock with a single to right for a game-winner that sent the crowd into a frenzy.

              
And at the end, Jeter was mobbed by team mates near second-base as the stadium rocked to the 6-5 victory.
              
He hugged each one before heading toward the dugout where his former 'Core Four' team mates -- Mariano Rivera, Andy Pettitte and Jorge Posada, who won five World Series together -- waited to congratulate him.
              
He then walked out to his shortstop position, and with the crowd still roaring and opposing Orioles players applauding at the railing in front of the visitors' dugout, he acknowledged the crowd and took some time for personal reflection.
              
"I never dreamed of an ending like this," Jeter said. "I wouldn't have believed it myself."
              
All-day rain had threatened to spoil the party, but it came to a stop an hour before game time and the grey skies brightened for the 48,000 fans that packed Yankee Stadium for the 40-year-old Jeter's final home performance.
              
Jeter, the face of the storied club and often that of Major League Baseball over a turbulent two decades, said he had played his last game at shortstop, and would appear as a designated hitter for the final games of the season in Boston against the Red Sox.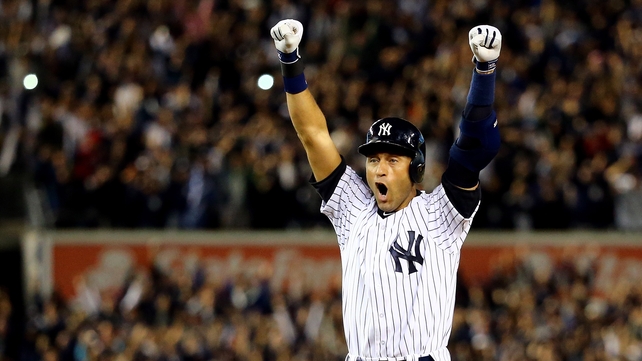 "Today I decided I wanted to take something special from Yankee Stadium and New York and it would be playing shortstop," he said.
"I wanted to take my last view from shortstop at Yankee Stadium."
              
Jeter has already ensured he will retire as having played the most games, amassed the most hits and stolen the most bases of any Yankees player - no small feat when you played for the same club as Babe Ruth, Lou Gehrig, Joe Di Maggio and MIckey Mantle.
              
The game-winning single through the hole into right field gave him 3,463 in his career, the sixth all-time on the major leagues hits list.
Emotions ran high as fans saluted the 14-time All-Star who came to symbolize the best in baseball in terms of consistency on the field and the way he handled himself off it.
              
Critics have asserted that Jeter, despite his five Gold Gloves for fielding excellence at baseball's arguably most demanding position, was overrated as a shortstop.
              
They pointed to statistical research that showed he had sub-par range and might have hurt the team during the last couple of seasons by continuing to hit near the top of the order despite fading at the plate.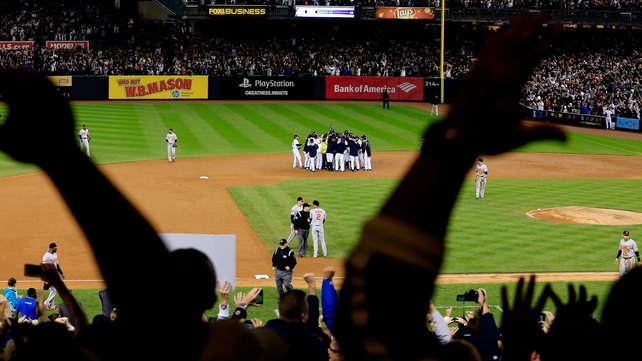 Others have taken shots at the commercialization of Jeter's farewell tour, with the Yankees marketing every conceivable product they could tie into the campaign.
              
It did not stop souvenir hunters packing into the roomy Yankees Store behind home plate on Thursday as they purchased everything from a $275 replica game jersey to a $120 hoodie sweatshirt, to a package deal of a Jeter teeshirt, hat, lapel pin, baseball and an 'I Witnessed History' button for $75.
              
But after all that buying, the sell-out crowd still paid him wave after wave of affectionate tribute by breaking into "Thank You Derek" as a late-innings tribute.
              
"There were a couple of times I almost broke down," the usually stoic Jeter said.
              
"I was almost thinking of telling Joe (manager Girardi) get me out of here before I cost us this game."