Several teams lost more than a game as injuries took their toll on a tough day in the NFL.
Three quarterbacks left their games injured and all three teams involved ended up on the losing side.
Jay Cutler headed for the locker room with a groin injury in the second quarter of the Chicago Bears' game in Washington, but it was not until the very last minute that the Redskins prevailed 45-41 with Roy Helu running in from three yards for his third touchdown of the day.
Robert Griffin III threw for 298 yards and two touchdowns with one interception for Washington, while rushing for 84 yards.
Josh McCown threw for 204 yards and one touchdown after replacing Cutler.
Sam Bradford suffered a knee injury as the St Louis Rams lost a heated encounter with the Carolina Panthers 30-15.
Chris Long had already been ejected for throwing a punch in one of several personal foul penalties racked up by St Louis when Bradford suffered a knee injury in the fourth quarter. He was taken to the locker room on a cart.
Cam Newton threw for 204 yards and a touchdown for Carolina.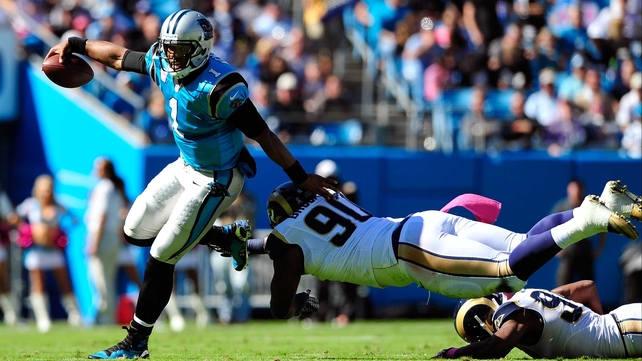 Philadelphia Eagles quarterback Nick Foles also left injured, taking a blow to the head in the third quarter of a game his team lost 17-3 to a Dallas Cowboys team suffering plenty of problems themselves, with three of their starting defensive line missing.
The New York Jets claimed a dramatic 30-27 overtime win against the AFC East-leading New England Patriots when Nick Folk kicked a 42-yard field goal.
Folk had missed a 56-yarder moments earlier but was handed a second chance thanks to an unsportsmanlike conduct penalty on Chris Jones.
It was the Jets' first victory over the Patriots in seven attempts.
There were plenty of other close games as the Buffalo Bills edged out the Miami Dolphins 23-21 and a late field goal saw the AFC North-leading Cincinnati Bengals top the Detroit Lions 27-24.
Calvin Johnson made one of the plays of the day in hauling in a 50-yard touchdown pass in triple coverage for Detroit but it was not enough as Mike Nugent kicked the winning field goal for Cincinnati as time expired.
In Miami, Mario Williams sacked Ryan Tannehill and forced a fumble with less than three minutes left, helping to set up the winning field goal which was kicked by former Dolphin Dan Carpenter with 33 seconds on the clock.
It ended a run of six straight road losses for the injury-hit Bills.
The Jacksonville Jaguars remain winless seven games into the season after going down 24-6 to the San Diego Chargers.
Philip Rivers threw for 285 yards and a touchdown for the Chargers.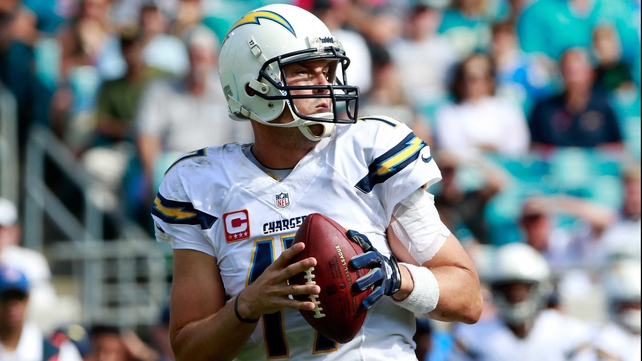 Jacksonville, who head to London next week to play San Francisco at Wembley, have lost every game by double digits this season, something not seen since the 1984 Houston Oilers lost their first 10 games by such a margin.
Matt Ryan threw for 273 yards and three touchdowns, two of them caught by Jacquizz Rodgers, as the Atlanta Falcons topped the Tampa Bay Buccaneers 31-23, ending a three-game losing streak while keeping Tampa Bay winless after six.
The Denver Broncos saw their perfect start to the season come crashing down to leave division rivals the Kansas City Chiefs as the only undefeated team.
Andrew Luck threw for three touchdowns and ran in for another score to outshine former Colts quarterback Peyton Manning as Indianapolis claimed a 39-33 victory over the Broncos.
Manning may have been looking to make a statement against the side that released him in March 2012, but made several uncharacteristic mistakes and the Colts took advantage.
Jamaal Charles was the star of the show as Kansas City extended their record to 7-0 this season.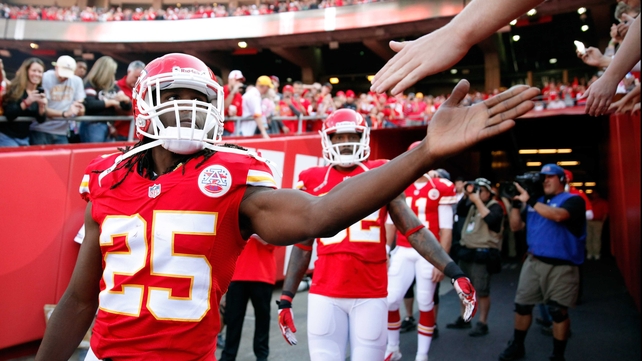 The 26-year-old running back ran for 86 yards and a touchdown as the Chiefs held on to beat a valiant Houston Texans side 17-16 and extend the second best start in their history.
Case Keenum threw for 271 yards and a touchdown for Houston but received precious little support from his runners.
Colin Kaepernick came to the fore as the San Francisco 49ers warmed up for next week's Wembley showdown against Jacksonville with a 31-17 victory over the Tennessee Titans.
Kaepernick threw for 199 yards, as well as running for 68 and a touchdown, to claim a fourth straight win for the 49ers.
The Titans, by contrast, have now lost three in a row even though Jake Locker threw for 326 yards with two touchdown passes after missing the last two games due to injury.
The Green Bay Packers claimed their third win on the spin after battling to a 31-13 win over the Cleveland Browns.
Aaron Rodgers led the charge, throwing for 260 yards and three touchdowns, with Eddie Lacy running in for another score.
Shaun Suisham's last-gasp field goal lifted the Pittsburgh Steelers to a 19-16 win over the Baltimore Ravens.
It was Suisham's fourth field goal of the day, while Ben Roethlisberger threw for 160 yards and a touchdown.