Some of Ireland's frontline internationals got to rest up over Christmas. Others played on St Stephen's Day, before being given the New Year's weekend to put their feet up.
Not Andrew Porter. On top of a full 80 minutes against Munster on 26 December, he found himself logging another half-hour on Sunday, called into the replacements at the last minute after an injury to Marcus Hanan who had originally been named on the bench.
For a centrally contracted player with the IRFU, Porter's played a significant amount of matches this season, featuring in 10 of 13 games for Leinster, as well as two of Ireland's Autumn Nations Series games.
As one of the most dynamic props in the game, he's also staying on the pitch longer than most in his position. While many teams change their front rows early in the third quarter, Porter will regularly play into the final 10 or 15 minutes in the bigger games.
And while some people might want to see him bubble-wrapped as we head into a World Cup year, Porter cites the recent retirement of his Leinster team-mate James Tracy at the age of 31 for why he will never get tired of playing.
"I was more than happy to be involved," he told the RTÉ Rugby podcast.
"Every game, I've such pride, and I'm so privileged to be part of such a group."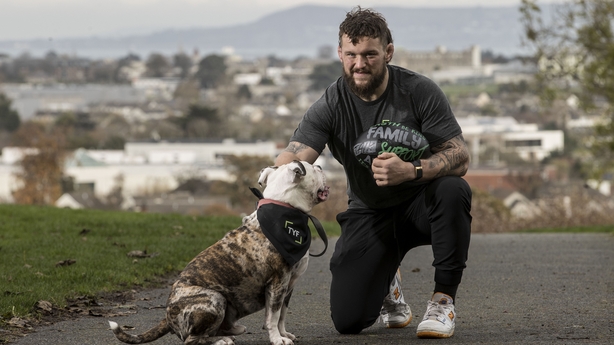 Tracy, who played 141 times for Leinster and 10 times for Ireland, was forced into retirement just before Christmas after battling a neck injury for the last eight months.
And Porter says it's made him realise he can't take his career for granted.
"I'm so lucky to be playing this game, and you don't know when your last game is going to be. It really put into perspective how grateful I am to be doing what I'm doing.
"You'd never know when you're going to step on the field for the last time. Any game I play, I'm so grateful to play and be a part of it, because it's a tricky sport.
"You know the risks that are involved in it. You could be stepping on the pitch for the last time, you have to savour every minute of it."
Having made his 100th Leinster appearance in the St Stephen's Day win against Munster, the loosehead will have big ambitions in 2023, as Leinster look set to compete once again on two fronts this spring, before the World Cup comes round in September.
However, he says when he looks back on the player he was four years ago, he knows a long year of rugby has to be taken on in small, bitesize chunks.
"You have to try and not let it happen [thinking about the World Cup], you have to keep your mind from wandering too much, and keep your focus on the present, and not let what's happening further down the road take over.
"There's a huge game against the Ospreys this week and then two huge games in Europe the weeks after, and then we're into Six Nations, hopefully I get selected for that first, but it's a huge few months for Leinster and for Ireland as well.
"I'm very much in the mindset on focusing short-term and then we'll see what happens down the road.
"Your experiences really shape who you are and who you become. It's definitely something you constantly have to work on, mentally, in terms of how things can affect you.
"I was relatively inexperienced in 2019 coming into that World Cup, but given the experiences I've had with Ireland and Leinster, and given the experiences I've had through injury, which opened my mind to new things.
"It's only when I broke my foot before the Lions where I made the decision to switch back to loosehead. Everything happens for a reason in that sense."
Now 18 months into his switch back from tighthead to loosehead, he's becoming more comfortable with the nuances of the position.
There were difficult moments in the opening year, with Leinster and Ireland's scrum enduring tough days at Stade de France, Twickenham, Welford Road and Stade Velodrome in the Champions Cup final, but Porter says he's starting to feel more and more comfortable back in the number 1 jersey.
"That's benefitted me in a way, switching back. What did I hate, that a loosehead would do? Those experiences really shape you as a player.
"That's the thing when you're a prop, you're constantly challenged by new things. You're always coming up against completely different styles of scrummager, or a different pack [every week].
"It's something you constantly have to work on, it's a constant learning, there's never a dull moment when you're a prop.
"If I compare myself to Jamison Gibson-Park, it's like we're playing two different sports, he's a distance runner and I'm some strongman trying to shift a ruck. It's about constantly learning from your training. We have incredible players in Leinster and Ireland to learn from."
Listen to the RTÉ Rugby podcast on Apple Podcasts, Soundcloud, Spotify or wherever you get your podcasts.
Watch live coverage of Connacht v Sharks (Saturday, 5.15pm) in the BKT United Rugby Championship on RTÉ2 and RTÉ Player.