In the immediate aftermath of their 27-5 defeat to Leinster in the final of the Pro14 in 2020, Dan McFarland admitted the gap between the champions and the rest of the league seemed to be growing bigger and bigger.
"They look further away now that they did this morning, and that's worrying," he said with a nervous laugh.
But in the two years since, that gap has closed. The introduction of the South African franchises to the URC has shaken things up and provided a different type of challenge to Leinster, who saw their run of four titles in a row ended by the Stormers last summer.
And while Ulster's title challenge also fell short in South Africa, they did prove last season that there is no longer a fear-factor around playing Leinster.
It's been a slow-build for Ulster since McFarland took over in 2018, the province having dealt with poor performance on the pitch and controversy off it, which saw them labelled a "basket case" by former Ireland captain Brian O'Driscoll at the time.
And while the Ulster progress has been incremental each year under McFarland, the differences across a four-year span are significant.
When they meet at the RDS tonight (7.35pm), it has the makings of the season's biggest game to date; the top two in the table, loaded with Ireland internationals, and their full-blooded derby from September still fresh in the memory.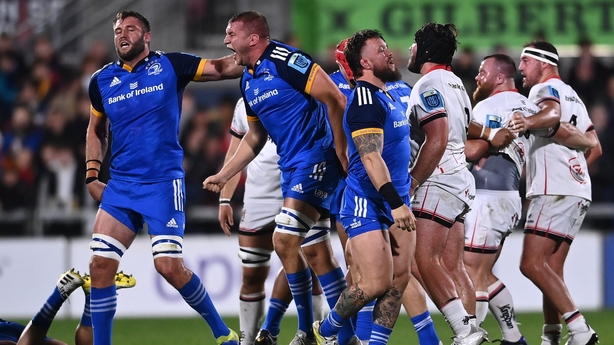 And with their last four meetings shared two apiece, and all four being decided by 10 points or fewer, it's a rivalry that's ready to ignite.
"Ulster and Leinster have become the crunch Interpro now," said former Ireland head coach Eddie O'Sullivan on the RTÉ Rugby podcast.
"It used to be Leinster and Munster, but I don't think you can say that anymore. The Leinster-Ulster games are the crunch ones. People in Munster mightn't like to hear that but the truth of the matter is that the old days of Leinster and Munster being the standout Interpro that everyone wants to be at, it doesn't hold the same water anymore."
And while they've brought in talent from the outside, they've produced considerable talent from inside their base. Five of today's starting backline are home-grown, and four of them under the age of 25. Add to that group Nathan Doak and Jacob Stockdale on the bench.
And O'Sullivan says the rivalry has been a result of Ulster's growth rather than Leinster's decline.
"It's because Ulster have put themselves in that position. They've been more consistent, and this year they've really upped their game."
Prior to Ulster's double over their neighbours last season, it would have been kind to call their Interpro a "rivalry", Leinster having won 13 of the previous 16 meetings between the pair, and plenty by wide margins.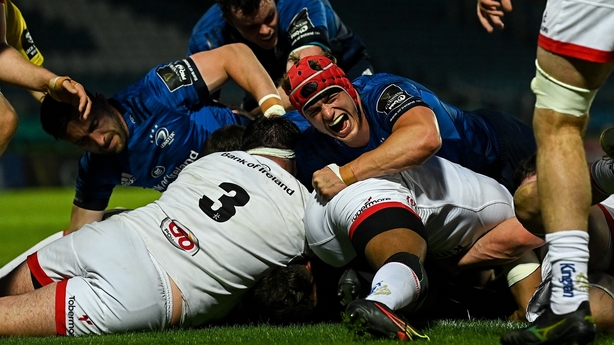 It wasn't always that way, as Leinster head coach Leo Cullen reminded us.
"The rivalry has always been there, not just in recent times," he said.
"When I was taking an interest in rugby first, Ulster won something like nine Interpros in a row in the 80s and early 90s. They were the dominant team in Ireland when I was a kid growing up.
"The playing numbers are big in Ulster, it's not a surprise to me. Growing up, seeing rugby for the first time, you see all the Ulster names, Phillip Matthews, Willie Anderson, JJ McCoy, Stevie Smith, the list goes on, when I'm watching rugby for the first time that's what you're seeing, a huge contingent of Ulster players [playing for Ireland]."
Through the course of the professional game, those roles have been reversed, with the population and schools system available to Leinster seeing them develop one of the deepest squads in Europe.
"In terms of the tournament, this is, I think, a colossal game for Ulster."
Ulster aren't on that level, but they're getting there. Some of that depth has been built recruited from the outside; former Leinster players Marty Moore and Jordi Murphy brought in early in McFarland's tenure, while they've also spent money on quality, experienced forwards like Duane Vermeulen, Rory Sutherland and Steven Kitshoff, the latter set to join from the Stormers next season.
And while they've brought in talent from the outside, they've produced considerable talent from inside their base. Five of today's starting backline are home-grown, and four of them under the age of 25. Add to that group Nathan Doak and Jacob Stockdale on the bench.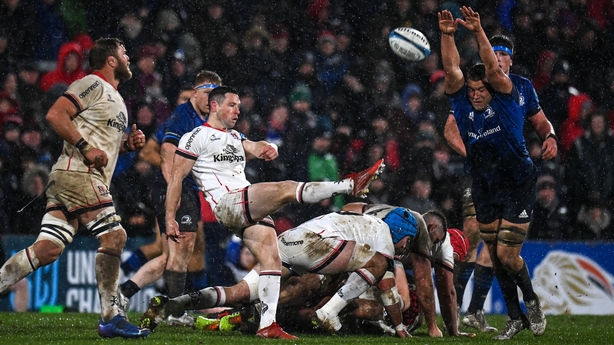 They remain a forwards-first side though, and their maul has been their go-to weapon this season and last.
"Ulster come with that type of game, a lot of box-kicking from nine with John Cooney (above) who's done it well and Nathan Doak, a younger player coming through. They've a big strong ball carrying 12 in Stuart McCloskey who is a very pivotal player for them," Cullen added.
"So they'll play territory but go hard around the breakdown, try and win turnover penalties, kick to the corner and you'll see the stats, they score a lot of tries from their maul. Even last weekend, they scored four tries from their maul.
"That's the game that it is, South Africa win the World Cup, it's a very similar type of game. The way they defend is slightly different. But that's the game plan that Dan has tried to implement there so you need to be ready for what the opposition trying to do to us."
The next step for Ulster will be beating Leinster when both are close to full-strength. While they did the double over Cullen's side last season, on each occasion both sides were without a number of key internationals; their win at the RDS a year ago having been straight after the Autumn Nations Series, while their victory in Belfast fell in the Six Nations window.
For Eddie O'Sullivan, a win for Ulster would send out a statement.
"In terms of the tournament, this is, I think, a colossal game for Ulster.
"Leinster, it's not an existential threat for Leinster to lose, you still think they'll be in the shake-up at the end of the season, but for the Ulster psyche, if they can win this weekend it would really bolster their confidence that they're going in the right direction."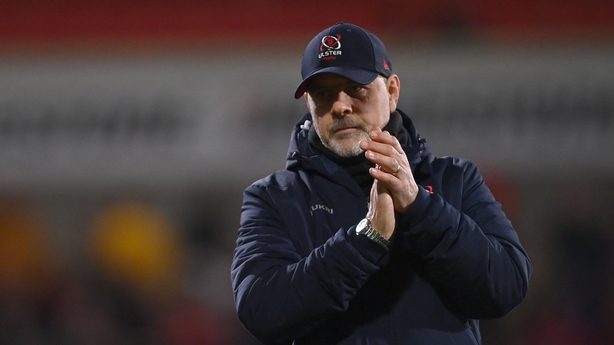 Dan McFarland (above) has done his best to play down the rivalry, with his focus on the league table.
With Ulster eight points back from their neighbours, albeit with a game in hand, defeat in Dublin would see Leinster open up a double-digit lead, right at the midpoint of the regular season
"You don't want the gap between yourself and the top team to stretch out, that's the bottom line, it's important," McFarland said this week.
"It's a game in and of itself and we've to play it for what it is. It's 80 minutes and we're trying to get the win, going into Europe off the back of a win.
"We enjoyed winning down there [in 2021], it doesn't happen often, we believe we're a team that can compete with Leinster and on our day get a win."
That belief, it would seem, has changed dramatically in the space of two years.
Listen to the RTÉ Rugby podcast on Apple Podcasts, Soundcloud, Spotify or wherever you get your podcasts.
Follow the BKT United Rugby Championship across RTÉ radio, TV, RTÉ.ie/sport and the RTÉ News app.
Watch Connacht v Benetton live on RTÉ1 and RTÉ Player from 2.45pm on Saturday, and listen to live commentary of Leinster v Ulster on RTÉ Radio 1 from 7.30pm.