Last Saturday was a day to remember for Calvin Nash, although he didn't even realise it at the time.
The 25-year-old scored the first of his side's four tries in the 24-17 win against Connacht, his eighth for the province on his 40th appearance.
For the Limerick man, it was also his first time scoring for Munster at Thomond Park. Thankfully the wait wasn't playing on his mind.
"I actually didn't know that at the time," he laughed, after being congratulated on the Munster rite of passage.
"Someone said it to me over the weekend and I was like, 'I've definitely scored a try at Thomond Park, I have to have?'.
"It's class, and a bonus point win against Connacht to have done it. I was surprised with the stat!"
It speaks to a confident grounding that he hadn't been waiting for it to happen. Waiting has been a feature of his career to date.
A Munster Schools Senior Cup winner with Crescent College at the age of 16 in 2014, Nash had been a prodigious talent through the age-grades, and long marked down as a future Munster player.
Making his debut at the age of 19, and scoring his first try a few months after his 20th birthday against Zebre in November 2017, the Young Munster clubman continued to be a standout in his academy days, before an ankle injury limited him to just three appearances in the 2018/19 season.
And with Munster well-stocked in the back three with Keith Earls (below), Andrew Conway, Shane Daly and Mike Haley, even before the return of Simon Zebo in 2021, Nash says he's learned the value of patience.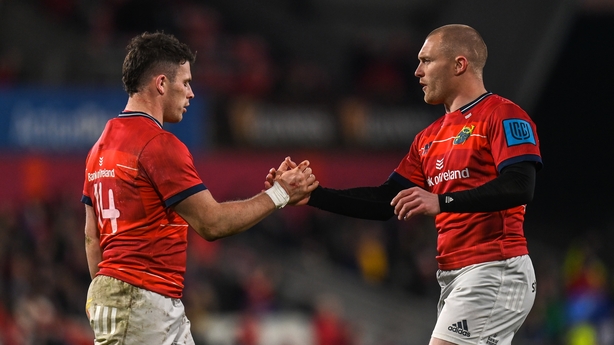 "It's tough when you come out of school because a lot of time you back yourself, you're like, 'I'm good enough, I'm good enough, I need an opportunity', that kind of way, and I feel that can be frustrating sometime for young players.
"You just need to stay at it and be patient, but be working hard in the background," he added.
It feels like the rewards are beginning to come his way. In three games for Munster he's impressed, most recently with his try versus Connacht, as well as being one of their better performers in the first half of their bonus-point win against the Bulls in October, before an injury saw his game ended early.
He'd likely have featured more for Munster had it not been for international interests; touring and scoring for Emerging Ireland on the trip to South Africa earlier in the campaign, as well as earning his first Ireland call-up for the Autumn Nations Series.
He wasn't able to win a senior cap during November, but he did feature for Ireland 'A' (below) in their defeat to an All Blacks selection, catching the eye with an adventurous offload to set up Max Deegan's try late in the game.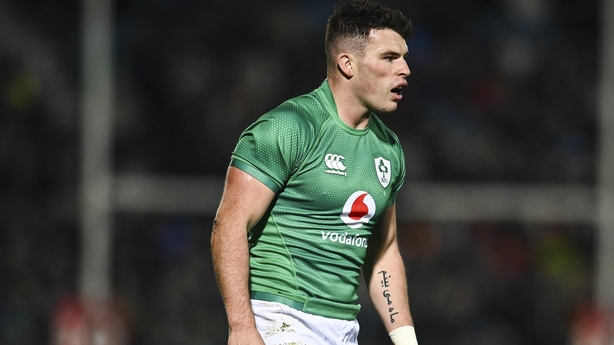 "I think putting it into perspective, where I was last year, compared to this year, I'm very happy and am just trying to keep going.
"The team are heading in a good direction, I'm happy that my form is along the same as the teams I've been in, and I feel I've learned a lot; from Emerging Ireland through to getting the call-up to the main squad with Ireland, and coming back here, I'm trying to put everything I learned into practice."
With eight tries in 40 games for Munster, his scoring record is modest, and probably a reflection of Munster's style of play in recent seasons.
And he credits his good form with the province's new gameplan this season.
"I think Prendy [attack coach Mike Prendergast] coming in, the game suits me a bit more and I feel like I'm a bit more involved, and I feel like that's kind of the way Ireland are going as well, they want their wingers more involved.
"That's kind of been a focus for me, being involved more, whether it's showing up as an option off 10 or nine, just trying to be in different positions all the time.
"I got an opportunity at the start of the season with Earlsy and Bomber (Andrew Conway) having knocks, all I've been trying to do is stay healthy and play my own game."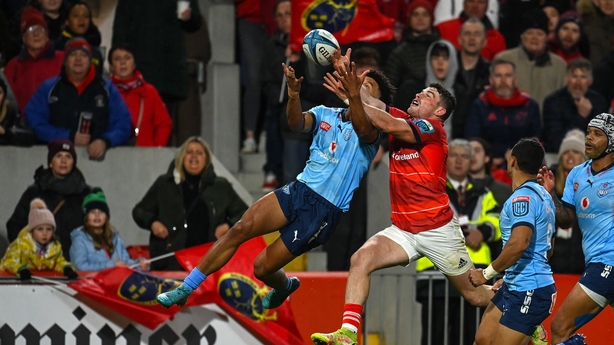 Having had a taste of international rugby in November, Nash has set his targets on getting back into Andy Farrell's squad when the Six Nations rolls round in the new year.
"Initially when I got the call-up I was absolutely delighted just to be in there, but then once you achieve something, the competitor within you just makes you want to get on the pitch.
"I think within the first week I was already in Faz's [Andy Farrell's] office going, 'How do I get selected?'
"I wouldn't look back on it like regretting anything at all, I tried my best and selection didn't go my way. It was my first Irish call-up, so not frustrated by it, just learn from it and try to progress this year.
"The way the lads work in the Irish camp, I hadn't experienced that as much.
"Just chatting to lads during the evening and stuff, getting more of an understanding of what different players do and what way they feel, and those little chats in camp are actually really good for your development, even though you think you're just having a little chat it's still really good.
"Faz's main thing for me was what am I going to do with the experience, now that I've games coming back into Munster; how am I going to use my knowledge? Is he going to see that on the pitch, is it going to be reflected there and in some of Munster's performances am I going to affect what way the games go?
"That's the main thing that he was on about for me."