Josh van der Flier and Neve Jones have claimed the top prizes at this year's Guinness Rugby Writers of Ireland awards for 2021/22.
The pair were named Men's and Women's XV Player of the Year respectively, voted by members of the rugby media.
For Van der Flier, it's the latest in a series awards, after he also picked up the European Player of the Year crown from the EPCR, as well as being voted best player of the season by his peers at both Leinster rugby, and Rugby Players Ireland.
"I am very proud to have been voted the Guinness Rugby Writers of Ireland Men's Player of the Year," the flanker said.
"On a personal and professional level, 2022 has been incredibly special for me and it was wonderful to have our amazing supporters backing us throughout the season. All my teammates at Leinster and Ireland were equally incredible last seasons and I definitely would not be picking up this award without their help.
"I hope that we can keep all improving over the next 12 months as we look ahead to an exciting year for Irish Rugby."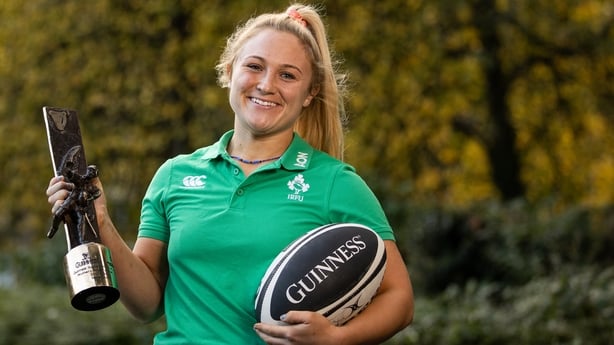 Jones caps off a breakthrough season in the Irish team to claim the women's XV prize, with the Gloucester-Hartpury 23-year-old cementing her place as Ireland's first-choice hooker.
After impressing in the Six Nations, particularly defensively where she finished third in the tournament's tackle count, while also topping the championship's "dominant tackles" with eight.
And her form continued into Ireland's summer tour of Japan, where she scored a hattrick of tries in Ireland's first Test win against Japan in August.
"There is no doubt that this has been the most enjoyable year of my rugby career so far and to be the recipient of this award just tops that off. I was also delighted to be a part of Ireland's historic tour to Japan and I am really looking forward to the years ahead with this team," she said.
For the second time in a row, Terry Kennedy was voted Men's Sevens Player of the Year, having played a key role in Ireland's third place finish at the Rugby World Cup Sevens in Cape Town, while Amee Leigh Murphy Crowe was named Women's Sevens Player of the Year, the second time she's won the award in her career. The Tipperary native reached a century of tries this season while also being named on the World Series Dream Team.
Retiring Leinster Rugby CEO, Mick Dawson who was awarded the Guinness Rugby Writers of Ireland Tom Rooney Award, in recognition of his contribution to Leinster and Irish rugby, having overseen a period of extraordinary success both on and off the field for Leinster Rugby.
The Ireland men's team was named the Dave Guiney Team of the Year in recognition of their historic series win over New Zealand during their summer tour, while Enniscorthy RFC has been voted the Club of the Year on the back of their achievements in winning Division 2B of the Energia Men's All Ireland League last season.
Finally, former British and Irish Lions, Ireland and Munster rugby player, Mick Galwey and former Barbarian, British and Irish Lion, Ireland and Ulster rugby player, Phillip Matthews, have both been inducted into the Guinness Rugby Writers of Ireland Hall of Fame.
Listen to the RTÉ Rugby podcast on Apple Podcasts, Soundcloud, Spotify or wherever you get your podcasts.