Damian de Allende was always going to be a tough act to follow.
The South Africa World Cup winner made a big impact at Munster in his two seasons, and while he wasn't able to help end the province's trophy drought in that time, he more than held up his end of the deal, often producing his best performances in Munster's bigger games.
But with De Allende now back playing in Japan, Munster's big-name signing this summer was Malakai Fekitoa, the former All Black and now Tonga international, arriving from Wasps on a two-year deal.
Through three games, the powerful centre is yet to explode into life, although for now that can be attributed to a general malaise in their gameplay.
At the very least, Fekitoa has been looking for work. His 32 carries across three rounds is the province's highest, and second only to Jacob Stockdale and Sione Kalamafoni of the Scarlets across the BKT United Rugby Championship.
Turning those carries into line-breaks and try-scoring opportunities, however, requires composure from him and those around them.
And while we're yet to see the end product really click, Munster assistant coach Mike Prendergast says the potential for growth in that area is huge.
"Absolutely, he's a fantastic player on his day and I've seen glimpses of it, absolutely I have, you see it at training and in some of the games," the Munster attack coach said of Fekitoa.
"Again, it's just getting used to combinations which it has been over the last number of weeks, he's still finding his feet, that takes a bit of time in terms of the move, the whole rugby side of things, new coaches, new players, but we definitely see aspects of his game both sides of the ball which are exciting and we know what's going to come down the line."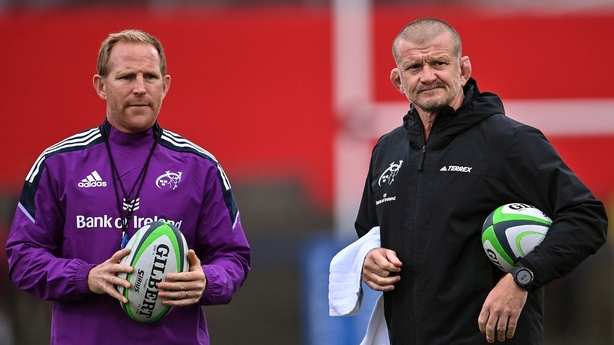 Prendergast (above, left, with head coach Graham Rowntree) is also finding his feet back in Limerick, after spending seven years coaching in France, remarking that he feels a lot more recognisable in his home town, compared to his days in Paris, when he could disappear into the crowd when things weren't going so well on the pitch.
"In Paris you can go for a coffee or go for lunch, and you don't meet anyone, and they don't ask you any questions. Here, it's a lot different and obviously, I suppose we got a nice result last week, but the performance wasn't the best. When your performances overall haven't been where people maybe expect them to be, yeah there's a lot more to it.
"There's more conversations around it, but look, I knew that coming home. It's a great club and it's a great rugby city so you've got to embrace that as well, with the good times and with the tough times. And we know sport is like that and I know it very well, so I'm just getting used to that again."
Tasked with making the Munster attack sing, the former scrum-half will certainly have been frustrated in recent weeks with the basic handling errors that have stymied his team's attacking structures.
Six tries in three games, and two scoreless second halves, have seen the province pick up just one win in their opening three games, while they also missed an "open goal" when failing to secure a bonus-point against Zebre last week.
And while he recognises the urgency in ironing out some of the creases in their game, Prendergast says he believes their attacking plans will be worth the wait.
"Yeah, you do [have to be patient] because you're changing the philosophy in a way. You're not changing everything, but there's certain parts and certain aspects that you're changing, and you're just trying to change habits as well.
"We've a couple of top-quality players who are out injured at the moment as well, and international players on top of that. So that will wrap up everything as well.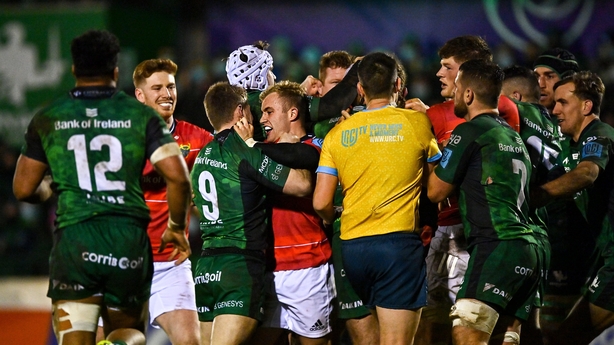 "From a coaching perspective, and us as a staff, we realise that, and we know that it's going to take time and we have to be patient to a certain point.
"But as I said we do see green shoots and if we can eradicate those handling errors, and two or three of those passes stick, that can have a different view on some performances."
Munster will look for their second win of the season this Friday night when they visit Connacht, who are in desperate need of a win of their own following three defeats in a row to start the season.
And the Munster assistant says he believes Connacht will look to expose those handling errors, if they aren't addressed before Friday night.
"From their defensive point of view and our attack, they'll look to keep us to a high error count and that's where we, individually and as a collective team, need to be better, so that we can eradicate those errors.
"When you're playing somewhere like Galway, if those mistakes are compounded, you have a big home crowd with a party atmosphere and it becomes hard.
"We've spoken about these scenarios and where we don't want to get to, so there is that onus on the players individually and us as a group," he added.
Watch Leinster v Cell C Sharks in the URC on RTÉ2 and RTÉ Player on Saturday from 4.45pm.