While there are plenty of players around the country for whom 16 appearances last season would have been a satisfactory return, for Iain Henderson it was a season punctuated by frustration.
The Ulster lock had one of his best campaigns in 2020/21, one of Ireland's best performers in the Six Nations, captaining the Lions on their tour match against the Sharks, and coming close to selection for a Test place.
But after having surgery on his thumb last summer, the 30-year-old found his campaign constantly disrupted by injury issues. The hand issue saw his season delayed until late October, and just three games after returning, a pulled hamstring sidelined him for another three weeks. He managed less than an hour on his return in December when his ankle got trapped in a ruck, and those damaged ligaments saw him sent to the sidelines for another seven weeks.
Even after returning during the Six Nations, the disruption continued, Covid-19 seeing him ruled out of Ireland's Round 3 meeting with Italy, and although the remainder of the provincial season passed by unanswered, a knee injury on Ireland's tour in New Zealand saw him miss out on a first series win against the All Blacks.
As the new BTK United Rugby Championship season begins, he's back where he was a year ago, a bandage on his hand after using the off-season to get further work done on an issue that has troubled him across the last five years, with a target of returning during October.
After 10 years in the professional game, the second row is well used to the physical demands the game will bring. But he's honest in admitting that the mental aspect of dealing with injuries never seems to get any easier.
"I had a few very dark times over the last number of months," he says of the stop-start nature of the last 12 months.
"Depending on what type of injury it was, the time of year it came at, it was all incredibly frustrating."
"I had a few very dark times over the last number of months. Depending on what the injury was, what time of year it came at, it was all incredibly frustrating."

Ulster and Ireland lock Iain Henderson reflects on a difficult 12 months. #RTERugby pic.twitter.com/NWa3gUtFBe

— RTÉ Rugby (@RTErugby) September 6, 2022
While there's still a bandage on his hand, he admits that he could probably return to action in the next couple of weeks, but says that Ulster's medical staff are urging him to play the long game.
"Last year it was a handful of frustrating, freak ones; someone falling on my ankle the wrong way, someone falling on my knee in New Zealand the wrong way, a fractured thumb, all that sort of stuff you can't account for, but I've had my fair dealing of injuries over the last 10 years and I'm relatively well-equipped to deal with it now.
"With the season ahead we want to make sure I'm not just getting back to full fitness but get some training and a good few weeks under my belt. Personally I don't even know, but hopefully Round 2, 3 or 4.
"There's loads of internationals, loads of club games, European games to be played over the next 12 months and it'll be a big summer next year as well. Ensuring our body is in the best position, best place to be able to deal with that, and 100% taking the guidance of the guys looking after me. I have full faith in them and I know they have my personal and long term best interests at heart."
While the 'very dark times' he refers to are fleeting, he speaks openly and honestly about how hard they hit.
I came off and I knew as soon as I came off - with five games in 17 days - the pop I felt, I knew I was done. I was thinking 'I'm not coming back from this knee in two weeks'. Sitting and watching them finish the session I knew my tour was done
Although he's endured long-term injuries before in his career, the short-term ones can be just as frustrating when they dot a season like speed-bumps, and sometimes to the extent that they make him question whether or not the game is worth it.
"You go through a low point, feelings of being very upset, there's times you're like 'if anyone asks me, I'm done, I'm not going to play again', and then you gather yourself again, talk to loved ones, talk to mates in the squad, physios, and then all of a sudden you have a goal to get back.
"Before you know it you're a couple of weeks into that, and everyone is running and you're back for that, and getting into a run of games, and then that's how most of my injuries go.
"Last year it was frustrating because they were all small, all four, six, eight week injuries, so not enough to put you out long-term where you can have a goal and do something for 10 months, all these short, choppy injuries if you like.
"Like I said, I've had plenty of them in my career, and dealing with them is something I've become accustomed to."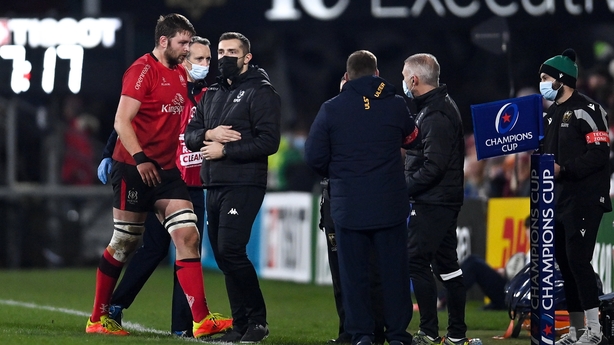 Being a father puts the frustration into perspective, with two young kids at home who "don't have a clue what's going on", Henderson can soon put any setbacks behind them.
Seeing them, and his wife Suzanne when he returned to Belfast from New Zealand in June was badly needed after a "miserable" journey home, which involved nearly 48 hours of travel and four separate flights.
"I remember it happened early in the session on the Saturday," he says of the knee injury that ended his tour.
"I came off and I knew as soon as I came off - with five games in 17 days - the pop I felt, I knew I was done. I was thinking 'I'm not coming back from this knee in two weeks'. Sitting and watching them finish the session I knew my tour was done.
"I was a bit down, but once all the guys came off the pitch, there was still that nervous energy about being on tour.
"There was still a good energy, a good buzz, and then the darkness, for want of a better word, set in on my journey home. I was up at three in the morning to get a taxi to the airport, sitting in the taxi thinking 'here we go'.
"Similar to most of my injuries, that whole miserable part started, the journey home wasn't great, trying to source flights. Geraldine [Geraldine Armstrong, team operations manager] in the IRFU had a torrid time trying to get me a flight out of New Zealand.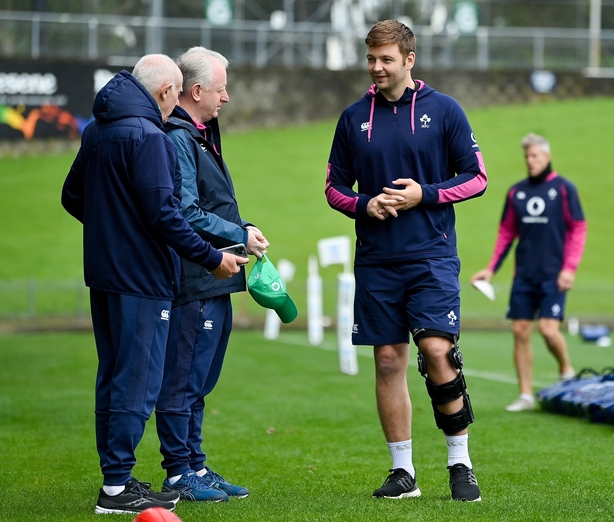 "To get home was a bit a disaster, nearly 46 hours travel, sitting in different airports, long layovers. That was all miserable, sitting on your own. My Dad picked me up at the airport, dropped me off home, and then you see the kids, and all that [frustration] disappears.
"Following that, it was quite nice. It was the first time I've been able to sit, and watch a series, and know I was completely removed from it, I wasn't involved. It was like being a fan again, no stress... well a little bit of stress for the guys out there, but in terms of personal stress, I wasn't getting back for any games, I wasn't under a huge amount of pressure that way, and it was nice to be able to sit and watch the lads.
"Watching it, I was frustrated watching that first Test, but I knew we had the goal to try and win the series, and it was unbelievable to be able to sit and watch it play out the way it did."
While Henderson will sit out the opening round of the URC against Connacht in Belfast, he is confident of a return around Rounds 2-4, as Ulster once again look to take the next step from being contenders to champions.
How they go about doing it remains to be seen.
"If I had the exact answer I'd have implemented it 10 years ago. We're going to keep on giving it a crack. The young lads coming in now are absolutely superb. The effort they give at training, their skill and professionalism, I couldn't fault ay of that.
"Playing Connacht first up, it'll be... for want of a better word 'who'll throw the first punch', and it's going to be who will come out and start, who will get things going? We'll look forward to seeing who does it."
Follow the 2022/23 BTK United Rugby Championship across RTÉ radio, TV, RTÉ.ie/sport and the RTÉ News app.
Watch live coverage of Cardiff v Munster (16 September), Zebre Parma v Leinster (17 September), Stormers v Connacht (24 September) and Dragons v Munster (25 September) on RTÉ2 and RTÉ Player.