This weekend's United Rugby Championship semi-final results have been great for the tournament, but raise questions around how Irish teams deal with more physical teams, according to Bernard Jackman and Jamie Heaslip.
Next weekend's final will be an all-South African affair, after the Stormers and Bulls set up a decider in Cape Town, after dramatic wins against Ulster and Leinster respectively.
It's a dramatic turnaround in fortunes for the South African franchises, who struggled in the opening rounds of the competition, with the Bulls having been second from bottom at one stage in December.
On Friday night, Jake White's side ended Leinster's four-year reign as champions with a 27-26 win at the RDS, which once again exposed Leinster's inability to play against sides who have a power advantage.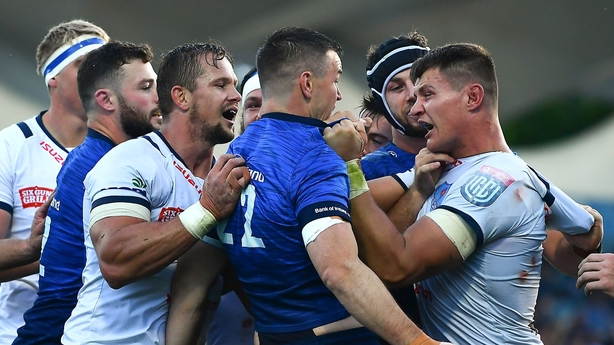 "I think when they look back on the game, they'll be really disappointed. Yes, they invested emotionally, physically, mentally over the year and they're not in a final in this competition. They probably expected to be," the former Leinster captain told RTÉ Sport.
"When they look at the game, more territory, possession, tries scored, more carries, they'll be wondering what went wrong.
"They'll see the same theme we talked about last week, in terms of the La Rochelle final where they were inaccurate and then a physical team came and dominated them, or upset them, at ruck and lineouts, slowing down the play.
"They didn't seem to have a plan B around it, and that's the most disappointing thing for them. They have to learn about how they evolve. It's some big questions for Leo, the organisation, what do they do now in terms of proving they can evolve and not be beaten by the same kind of play."
Those thoughts were echoed by former Ireland scrum-half Peter Stringer, who says Leo Cullen's side have struggled to think on their feet during the game.
"How they react on the field, a lot of these young guys have to step up to the plate, and their decision making when they're behind.
"They have the luxury going into a lot of these games with a 20 or 30-point lead and they can brings guys on.
"It's how you deal with the pressure moments on the field, against tougher opposition and have to come up with a Plan B to claw your way back. It's a learning curve for them, and a position they haven't been in for a number of years."
Bernard Jackman believes that Leinster's coaching team will have real regrets over their squad selection, both in terms of their starting team, and their reluctance to use the bench.
"When Leinster look at this, they will look at selection. Should they have started Johnny? I think if they started Johnny they win, and Hugo Keenan was rested.
"It's become a 23-man game, and if you look at someone like Joe McCarthy who there is lot of hype around, the type of player you need against La Rochelle, he got four minutes against La Rochelle in the final, five minutes against Leicester and four minutes against Toulouse.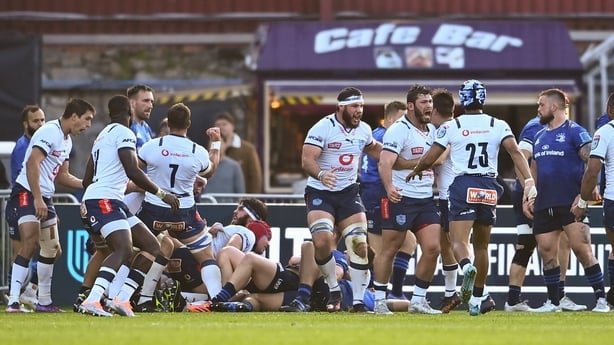 "Luke McGrath got five minutes against La Rochelle, 10 minutes last night. Cian Healy got two minutes last night.
"It's a big ask for a pack or team who are under-powered physically to go 80," Jackman said.
The trio were recapping Leinster's defeat in advance of Ulster's semi-final against the Stormers in Cape Town, with Dan McFarland's side suffering a similar fate to Leinster, losing 17-15 after Warrick Gelant scored a try in the final phase of the game.
For Jackman, the defeat followed Ulster's season trend, where they have struggled late in games.
"It's a big blow for them," he added.
"They just stopped playing. Fair play to the Stormers. For South Africa rugby, the World Cup, the Lions tour and now two teams in the [URC] final, what a period they're having.
"It's great for the competition, when you think people thought they shouldn't be in it.
"From an Ulster point of view it's another year of regrets. That capacity to concede late tries has been a constant for them. For some reason they seem to release mentally, and allowed the Stormers come at them."
Watch highlights of the weekend's URC games on Against the Head, RTÉ2 and RTÉ Player, Monday 8pm