Ulster head coach Dan McFarland was once again left to rue his side's inability to knock out an opponent on the ropes as the DHL Stormers scored a late winning try.
Leading 15-10 and capitalising on some good attack play, the visitors established a foothold in the Stormers 22 but failed to secure the ball at lineout and then off a maul.
At that stage, a two-score margin would probably have done the trick.
"We lost it in the third quarter," said the head coach after the 17-15 defeat.
"That was where we started to have territory, field position and possession in their half and we couldn't score for our own errors."
The Stormers came from behind with 14 men in the final 10 minutes, after Adre Smith was sent off for interfering with the eyes of Iain Henderson #RTERugby #RTESport

Full report: https://t.co/8QkJfTdiP8 pic.twitter.com/YFRP6Yqmvq

— RTÉ Rugby (@RTErugby) June 11, 2022
Ulster also had what would appear on paper as the advantage of playing against 14 men for the last 10 plus six minutes of overtime when Adre Smith was sent off for gouging Iain Henderson.
But, as Leinster found out in the Champions Cup final, the loss of a player can lift a team.
"We've played against red cards before and it can have a galvanizing effect," he said.
Ulster did have an opportunity to take a kick at goal during that spell of pressure but ultimately declined the shot.
From there, a Rob Herring knock on let the South Africans off the hook.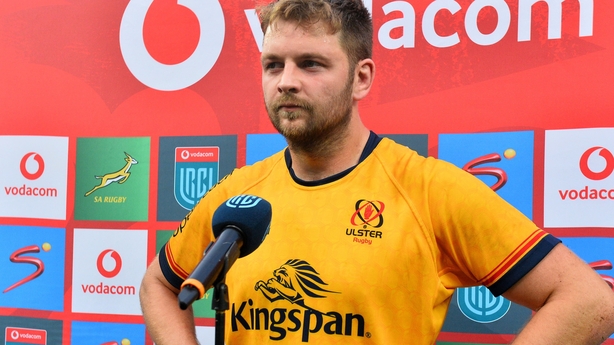 "[It was] something that we talked about on the pitch," said captain Henderson.
"We felt our maul was going well.
"It has gone well this season and we wanted to back it.
"In hindsight, three points would have been lovely sitting in this seat right now but we've to back our maul where we've done well all season, yeah, it's a difficult one."
Asked where he felt the game was lost, the Ireland lock said: "We let them score a lineout maul in the first few minutes. We were used to that, the last time we were here they went 12-14 nil up early on.
"Around the park our breakdown could have been a lot tidier.
"Small errors where we didn't convert when we had opportunities to.
Heartbreak for Ulster as Stormers score with the last play of the game #RTERugby #STOvULS #URC pic.twitter.com/cq8Qm0bBHl

— RTÉ Rugby (@RTErugby) June 11, 2022
"Other games gone by when we've played slightly better we come away with 3-5-7 points visiting an opposition 22. That's where we need to fix things, capitalising.
"That second half, we scored zero points. To win a game you need to score points."
The Stormers will host the Bulls at DHL Stadium next Saturday and for the first time since 2007 there will be no Irish involvement in the decider.
"It will be an exciting final," predicted McFarland. "I won't be watching it."
On the benefit of the new South African franchises, he said: "They've added something special to the tournament, a level of quality, difference, in terms of venue, style of player, number of high-quality players. It can only be good for the competition.
"I would rather they weren't in it right at this moment probably but it has raised it a level."
'One of the best games I've been at in a long, long while' - CJ Stander and Darren Cave review Ulster's dramatic loss to Stormers in the #URC semi-final #STOvULS #RTERugby pic.twitter.com/0df7m8F5Pb

— RTÉ Rugby (@RTErugby) June 11, 2022
Watch highlights of the weekend's URC games on Against the Head, RTÉ2 and RTÉ Player, Monday 8pm