Peter Stringer didn't hold back in his criticism of Munster's performance against Ulster as the Johann van Graan era came to a close.
Dan McFarland's side were humming as they put five tries on a visiting side that looked like they didn't want to be there, despite the chance to advance to a semi-final.
In the end, Ulster won the URC play-off clash 36-17.
"It was very disappointing," Stringer a two-time Heineken Cup winner with Munster, told RTÉ Sport.
"From minute one the team seemed to be playing as individuals, there were a lot of errors. They were not focused on the game.
"The frustration lies around a couple of good games in Europe, Exeter and Toulouse, and the Ulster [regular-season] away game, some really good performances.
"It just seemed like the attitude wasn't there [on Friday].
"For a Munster side in a knockout game, it felt like a pre-season game.
"There was so much at stake, this Munster side need to win something, they want to win something.
"They didn't exude that confidence, that little bit of arrogance that 'we want to go and win'.
"Those simple basics: aggression at the breakdown, carry hard, latching on, simple things that don't take a huge amount of talent. Simple unforced errors.
"No coaches were on the field, the players have got to put their hands up and take responsibility."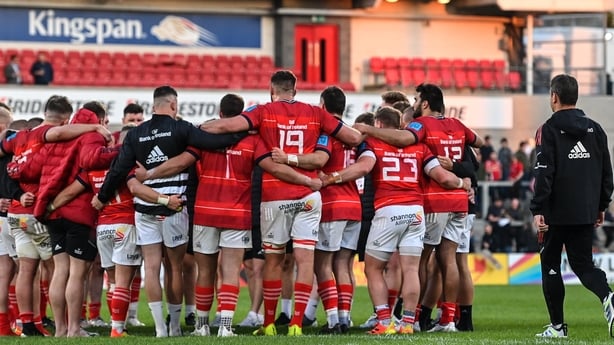 Fellow pundit Bernard Jackman agreed and wondered why, when Van Graan had handed in his notice before Christmas to pave the way for a move to Bath, the head coach wasn't put on gardening leave at that point.
"I'd be worried, I think it's a difficult task for [incoming head coach] Graham Rowntree," said the former Ireland and Leinster hooker.
"I think Munster made a mistake not letting Johann go six months ago because now you don't know how Graham is a head coach. He's got to learn.
"It's a two or three-year plan for Graham, [Mike] Prendergast, [Denis]Leamy etc.
Of the game itself, Jamie Heaslip said: "It looks like everyone has checked out, it looks like the players have checked out."