A 20-minute 'red card' rule is something that should be explored in the northern hemisphere, according to two leading coaches of Irish sides.
Currently being trialled in Super Rugby, the experiment sees teams that have had a player sent off being able to replace that player with another after 20 minutes.
It's a hot topic at the moment with early red cards, all for high tackles, being brandished in Ireland's Six Nations games against Italy and England, and last Saturday's URC clash between Connacht and Ulster.
There is a sense that having to play with reduced numbers for most of the game is a harsh punishment.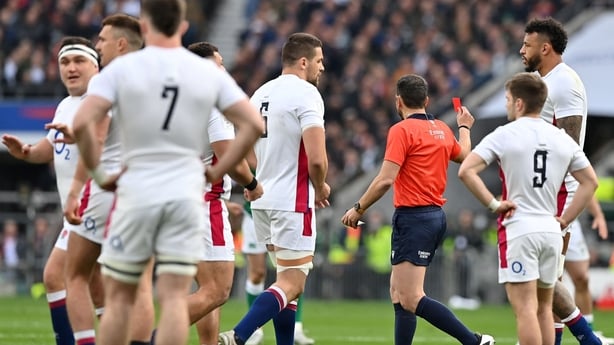 "It's fine margins, I know they've trialled the 20-minute red card. There's got to be a place for it," Leinster forwards and scrum coach Robin McBryde told RTÉ Sport.
"We've gone from it not being a red card, the same incident, to being a red card. You just feel the energy drain out of the stadium when somebody gets red-carded early in the game.
"We saw that in the Six Nations, we saw it at the weekend.
"It just detracts from the game a little bit as a spectacle."
Here's Tom Daly's early red card
Follow live updates: https://t.co/H1RxA2NRel #CONvLEI | #URC pic.twitter.com/jAdcpval0j

— RTÉ Rugby (@RTErugby) March 26, 2022
With player safety one of World Rugby's main priorities anything that appears to be lenient around that area may not get much traction but Dan McFarland was among those to question how effective the current sanctions are in reducing incidents.
"If you get a red card in minute one of the game and a team has to play [with 14] that's probably too harsh," said the Ulster head coach.
"What is harsh enough? Is 20 minutes harsh enough?
"I'm definitely not proclaiming to know it all and think that I have the answer.
"[But] I'm not sure how much of a deterrent it is anyway.
"Players probably need to be coached the skills and learn the skills that are required to avoid these situations where they are frequently getting into positions that require red cards."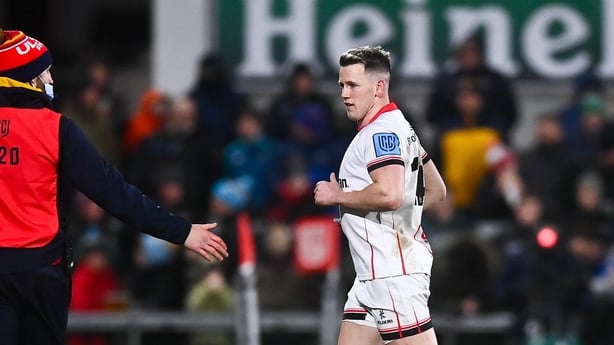 McFarland cited the example of wing Craig Gilroy, who was yellow-carded but later banned for four weeks for a challenge on Scarlets' Tom Rogers, who was forced off the pitch, during their URC meeting in January.
"A lot of them are freak incidents, like Craig Gilroy's red card," said McFarland, whose side face the Vodacom Bulls on Saturday.
"It looked absolutely terrible, but his behaviour doesn't look terrible.
"His approach to the tackle was what it was and the red card is the decision of the officials, but in any given situation where [Tom] is not falling over, it's a bog-standard tackle. It's a difficult one.
"If [the sanction] had been 20 minutes, do you think he was more likely to do that, than if it had been a whole game? I don't really see that."
Gilroy subsequently undertook a World Rugby "HPC Coaching Intervention process, where a player can undergo a coaching session to modify their technique or behaviours", which reduced his ban to three weeks.
Listen to the RTÉ Rugby podcast on Apple Podcasts, Soundcloud, Spotify or wherever you get your podcasts.
Watch Benetton v Connacht (Saturday 12pm), France v Ireland (Saturday 2.15pm) and Munster v Leinster (Saturday 7pm) live on RTÉ2 and RTÉ Player (also live on RTÉ Radio 1).