Following Andrew Porter's switch across the scrum last summer, a gap has been created in the market for Tadhg Furlong's tighthead deputy.
Finlay Bealham got the job last November, and looks likely to continue in that role for the Six Nations with the Connacht man arguably enjoying his best season to date.
The longer-term option is Tom O'Toole; Ulster's powerful, dynamic prop is very much in the new breed of front- row forward, as comfortable with the ball as he is without, and a relentless tackler.
And while it seems for now like Andy Farrell has eyes on both Bealham and O'Toole, Marty Moore cannot be much further behind.
It's almost seven years now since Moore won the last of his 10 caps, playing every game across two Six Nations title-winning campaigns in 2014 and 2015. At the time the Dublin native had just turned 24, and with Tadhg Furlong yet to make the international breakthrough, Moore would have been a certainty to play for Ireland at the World Cup, but for a foot injury to end his chances.
His move to Wasps a year later saw his Test career cut, but having returned to Ireland with Dan McFarland and Ulster in 2018, the 30-year-old is arguably playing his best rugby since those Six Nations wins.
"I'd like to think I'm probably producing more quality rugby than I have consistently anyway and had more impacts in games and more involvements," he said ahead of Friday's United Rugby Championship meeting with Scarlets at Kingspan Stadium.
"Maybe not just hitting rucks and that but getting a little more time with the ball and things like that.
"But I haven't had a huge amount of consistency thanks to a few niggles here and there this season and games being cancelled has gone against me as well.
"The ones I've been involved in on a personal level I've been happy performance wise.
"It's probably near to where I want to be anyway so I'm not a million miles away from where I think my standards are."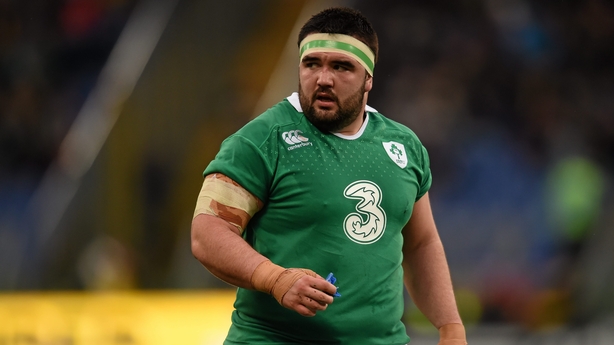 While O'Toole has been called-upon for several Irish camps in recent seasons, it's not to say he's been Ulster's first-choice prop, with he and Moore employing something close to a timeshare in the number three jersey.
In recent months, Moore has been given some of the bigger starts when fit, and O'Toole brought off the bench for his energy. Moore started three of the four Heineken Champions Cup pool games he was available for, as well as the November win against his former side Leinster.
"I think I've got a lot of rugby left in me and I'd like to think I'm probably hitting some of my best rugby now. It's always something as a player that would be amazing but I think it's not really on the wish list at the moment."
On form, he would have to be a strong contender for an Irish call-up should any of Furlong, O'Toole or Bealham pick up a knock in the coming weeks.
But he's honest enough to say it's not something he's concerned by at the moment.
"I don't really know," he told RTÉ Sport, when asked where he stands in the pecking order.
"I think I've spoken about it in the past and I don't really know what the situation is with that.
"I think I've got a lot of rugby left in me and I'd like to think I'm probably hitting some of my best rugby now. It's always something as a player that would be amazing but I think it's not really on the wish list at the moment.
"My sole ambition is to put good performances in for Ulster, it's what I want to do and it's my job and I'm really enjoying it at the moment.
"I don't really know what my position is in the bigger scheme of things."
Whether or not he returns to an Irish squad, Moore will be in Belfast for at least another two seasons, having extended his contract over Christmas.
"It's brilliant, obviously it is a big part as a professional player to have security and be happy where you are playing your rugby and for me to have that that going forward plays into that."
"It gives me the confidence to go out there and do my thing and to try and improve, to just enjoy where I'm at and not worry about external factors."
"It takes away a lot of the external pressures of where I will be in six months or 12 months which is the case in the pro game for coaches and players alike."
"I'm delighted to nail my future for the next few years to the club and even happier that they want me here, I very pleased that it is done and done at an early enough stage of the season so I can crack on and not have it interfere with the real stuff that matters."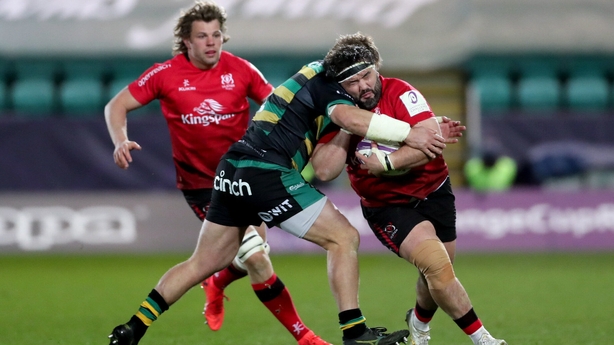 After completing their clean sweep of their Heineken Champions Cup pool to set up a last-16 match with Toulouse in April, Ulster attention shifts back to the URC, where their form has been patchy.
Having won four in a row to start the season, they've since been beaten in three of their last four games, falling seven points off leaders Edinburgh.
McFarland's side have back-to-back home games against Scarlets (Friday and Connacht before a week off ahead of their visit to the Dragons.
"We have spoken about it, this is a big part of our year now the Six Nations period especially with games that won't scheduled," said Moore.
"We have five games that could make or break our ambitions in the league this year and we're going to do it with some of our squad away so that responsibility lies with the rest of us that are here. It is a challenge that we kind of look forward to taking on as a group."
"There is no room for error it is getting to the business end of the season in the league and the Champions Cup. We are very aware of that and hopefully we can get the results to put us in a good position come the spring."
Follow all of Ireland's Six Nations games via our live blogs on rte.ie/sport and on the RTÉ News App or listen to live radio coverage on RTÉ Radio 1. Watch live TV coverage of Ireland v Wales (5 February, 2.15pm) and England v Ireland (12 March, 4.45pm) on RTÉ2 and the RTÉ Player.