Bernard Jackman believes that Graham Rowntree could be an ideal fit to be the next head coach of Munster.
However, Jackman thinks it may only happen if Johann van Graan and Stephen Larkham are let go early by the province.
The pair have both confirmed they will leave Munster at the end of the season, with Van Graan cancelling the contract extension he originally signed in order to secure a move to Bath, while Larkham's return to Australia was announced in November.
Despite the upheaval, Rowntree is staying at the province in some capacity until 2024, with the forwards coach signing a new two-year deal yesterday.
However, he has hinted that he could still be in contention to step up as head coach, saying the province and IRFU are aware of his coaching ambitions.
Jackman was alongside Hugh Cahill and Fiona Hayes on the first RTÉ Rugby podcast of the new year, and says it could be the right time to see if Rowntree has head coach credentials, particularly if the province wish to cut ties with Van Graan and Larkham early.
However, in the event Munster keep their head coach and senior coach in place for the rest of the season, Jackman believes it would be unlikely to see the Englishman being chosen as their replacements.
"This could be a great opportunity to throw the shackles off and see," he said.
"If Rowntree worked out as being a good head coach, which at 50 years of age in the environments he's been in, the fact he's in the squad he should have a good idea of what's needed.
"If we're honest, it's also not the time to go looking for a head coach, it's a World Cup cycle, realistically in June there won't be the creme de la creme available, and maybe Rowntree (below) knowing what the squad needs, and being allowed pick his own team might be the best option.
"Unless he gets it now as a caretaker role I don't think he's going to get it though."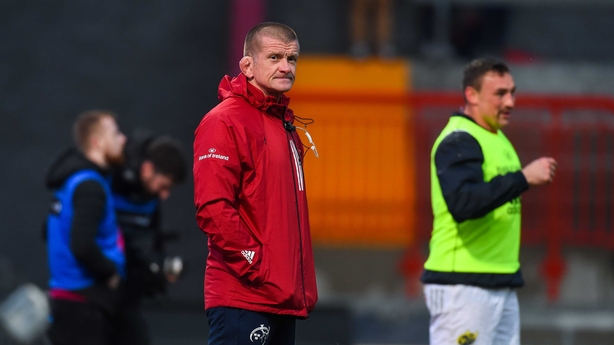 While it's uncommon in rugby for management teams to depart mid-season, there have been calls for Munster to relieve both Van Graan and Larkham of their duties, after they looked so flat in their two games (Castres and Connacht) since Van Graan's future departure was announced.
Last season, Harlequins dismissed their head coach Paul Gustard mid-season, before ultimately pulling off a dramatic Premiership title victory. However, their situation was different, with Gustard sacked due to poor results rather than announcing a future move away from the province.
Jackman believes there is merit to the possibility of Munster acting swiftly, which could give them a head start on their rebuild.
"It's definitely something they will have to consider particularly if performances start to slide.
"I think the Connacht non-performance is something that really hit the fans. I haven't heard as much criticism or apathy towards where Munster are going since that performance.
"In professional sport, you can't afford to wait six months to rebuild or to have a chance at winning something. I think over the next three or four weeks, if performances stay as stagnant as they are, they are going to have to look at what the best option is."
However, he believes Van Graan is getting a disproportionate amount of the blame.
The Heineken Cup winner said: "In fairness, Stephen Larkham needs to come under the spotlight as well. Johann isn't on the pitch at the moment, Johann is very much a [director of rugby], it's Larkham who runs the team game-plan, the team strategy. Has he clamped the players' ambition?
"For whatever reason, they have become unbelievably conservative.
"I don't think it can be just Johann when he's not on the pitch much. It's Larkham and Van Graan, who have set them up to play like the Boks, but without that power and dominance.
"Munster won't want to be seen to do something drastic but I think over the next couple of weeks unless there's a marked improvement on the performance, it'll affect bums on seats.
"It'll affect their chance of winning this year, and then it's a full rebuild in June with a new set-up and it's two or three years before they look like they'll win something.
"It is a question to be asked."
---
Listen to the RTÉ Rugby podcast on Apple Podcasts, Soundcloud, Spotify or wherever you get your podcasts.
Follow Munster v Ulster (Saturday 7.35pm) via our liveblog on RTÉ.ie/sport and the RTÉ News app, watch live on RTÉ2 and the RTÉ Player or listen to commentary on RTÉ Radio 1 Extra.