We waited for rugby throughout the Christmas period amidst the continued Covid-19 postponements.
Finally, on New Year's Day we had an interprovincial derby to look forward to but the Connacht and Munster tie at the Sportsground did little to scratch the itch for the viewers.
Connacht will be happy to get the win considering the last result against Munster in Thomond Park, and how that game played out, but none of these teams should be overly satisfied with how the mistake-riddled contest transpired.
The game started with mistakes from both sides, Fineen Wycherley obstructed the Connacht defence on their kick chase, while Carty missed touch from the resulting penalty, and that is how a lot of the game was played.
However, the hosts were able to show some of their much-improved phase play.
They employ very clever use of a back door pass and then the likes of Conor Oliver running clever tip lines to attack the inside shoulder of a slightly sideways defence.
Andy Friend's side manufactured a few of these plays in the opening 20 minutes to put Munster under a bit of pressure and were rewarded with a penalty to go 3-0 up.
Munster's only entries into the Connacht half resulted from clever kicks down field and Connacht's inability to exit effectively.
Mack Hansen got blocked down for Andrew Conway's try, some hope crept in that we might see a bit more rugby after that, but it wasn't to be.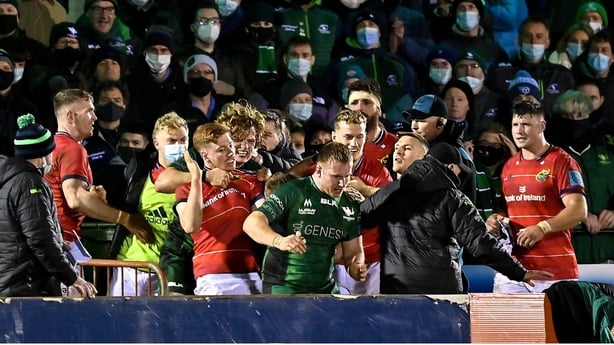 The first half was played in the middle of the pitch.
Any time one of the teams gained territory they gave away a penalty to kill their own attack or allowed the opposition to clear their lines due to a turnover or defensive penalty, and play returned to the middle of the pitch.
There were few opportunities in the opposition 22.
Ultan Dillane was penalised for getting ahead of the ball carrier in the maul, which looked like an almost certain try for Connacht.
Munster finally had a period of pressure in the Connacht half for seven or eight minutes at the end of the first half.
They spent the eight or so minutes going through their tap and go playbook after a cascade of penalties, but it didn't result in a score.
Connacht were repeatedly penalised for infringing, resulting in a yellow card and more pressure before Munster became disjointed.
Had Johann van Graan's men managed to get over the line at this stage you felt it was a long way back for Connacht, but it wasn't to be.
They showed no ingenuity and refused to pull the trigger to pick off the heavily-committed Connacht defence.
The game descended into a shambles when two yellow cards were dished out by referee Chris Busby just after half-time for the fracas that broke out as the teams disappeared down the tunnel for the break.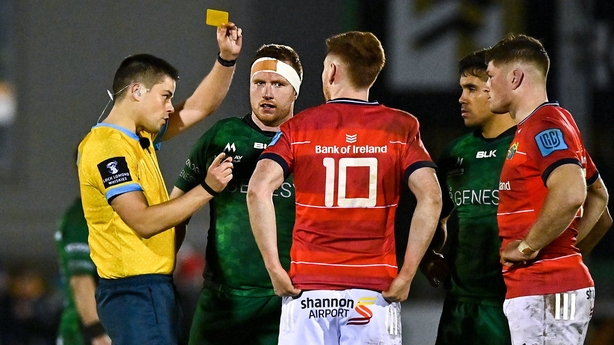 Busby had warned the teams on the field and left himself no choice but to sin-bin Ben Healy and Shane Delahunt, two vital positions for the free-flowing nature of any game.
Connacht were down to 13, Munster were missing their general and the game was worse off for it.
The teams weren't long reinstated to 15 players when Chris Farrell's hit on Tom Farrell meant he was also sent to the bin, but in reality it was another poor decision and should have been a red card for the Ireland centre.
You don't want any team down to 14 men, for the sake of the contest, but players heads must be protected and you can't go searching for mitigation to reduce the decision to yellow.
In the modern game, it was no doubt a red card and should have been sanctioned that way.
Chris Farrell seems like a good guy and doesn't play with the intent to hurt someone like that, however, that's far from important when the incident is being reviewed.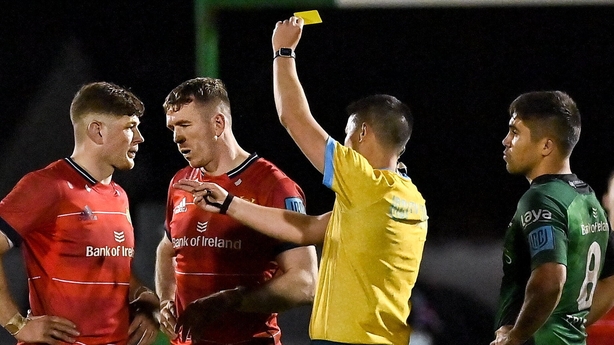 Connacht scored from the maul after the penalty was kicked to the corner and Munster never threatened to come back.
They only exited their half two or three times since that try, one of those moments finished with a poorly struck 65-metre drop-goal attempt from Healy.
It pretty much summed up the ambition of Munster's game management and attack throughout the game.
Both teams stalemated their way to a 10-8 result, aside from a couple of line breaks from Oisín Dowling and player of the match Cian Prendergast.
Connacht deserved the four points on the balance of their ambition and the opportunities created in the game, but Irish rugby was certainly no better having endured the 80 minutes in the Sportsground.
The Westerners can be happy that they ground out a win against a perceived better team.
However, none of the teams should be overly proud of their performance.
Often when you win a game like that it can paper over the cracks of the performance. Connacht gave away 12 penalties in a game where they were never really threatened, and one player accounted for four of those.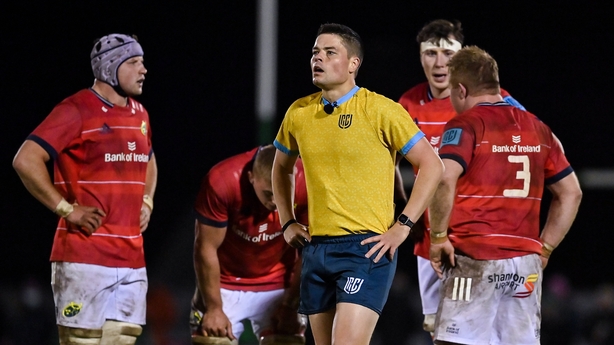 Munster's discipline was much worse with 17 penalty concessions and a fraught relationship with the referee.
That's going to set you up for failure in most matches.
The worrying thing was that they were in touching distance throughout the whole game, despite their best efforts to hand possession and territory back to their opponents.
The losing team in such a poor game like that will often look deep into their soul to get an answer for their dreadful performance.
The winning team can easily chalk it down to 'one of those days' and start again. Both teams were really strong so it isn't much of an excuse that the likes of Peter O' Mahony, Tadhg Beirne and Conor Murray didn't tog out for Munster.
Some players hadn't played for weeks due to Covid-19 outbreaks, paired with the lingering Christmas spirit but it is worrying for the Irish teams heading back into European action and further into the Six Nations in February if that's the standard that they are currently producing.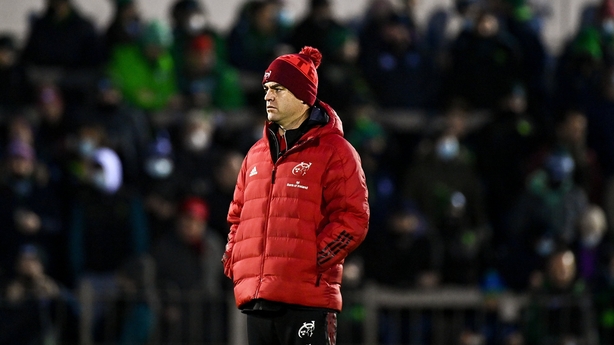 Munster will get another opportunity to front up against Ulster on Saturday before heading into European action.
They'll need a massive turnaround against the confidence that Ulster are playing with if they're going to get their season back on track.
Supporters and players alike will be eagerly awaiting the next game to put that rugby nightmare behind them.
Van Graan better hope that Munster turn their fortunes around quickly, or it could be a long and heavily criticised few months before he sets off for Bath.
Follow Munster v Ulster (Saturday 7.35pm) via our live blog on rte.ie/sport or on the RTÉ News App or watch on RTÉ2 or RTÉ Player. Listen to live radio coverage on RTÉ Radio 1 Extra.