Connacht senior coach Pete Wilkins says they need to focus on their own performance this week, ahead of their United Rugby Championship meeting with Leinster on Friday night.
The western province will travel to the RDS in buoyant mood following impressive wins against Ulster and the Ospreys, while Leinster are picking up the pieces after their flat performance in defeat at the weekend.
And Connacht will be traveling to Dublin knowing how to win at the RDS, having ended a 19-year wait for an away win against Leinster in January of this year.
While Andy Friend's side have lost three of their six games so far this season, they come into their latest Interpro having found real form either side of the international break.
Their 36-11 win against Ulster at the Aviva Stadium was followed up by an even more impressive hammering of the Ospreys, where they played free-flowing rugby in wretched weather conditions in Galway Bay.
The performance against the Welsh side was composed in spite of howling wind and rain, with senior coach Wilkins - who is responsible for their coordinating their attack - believing it showed a maturity to his players.
"Historically - we'd be the first to acknowledge it - Connacht would have had an emotional yo-yo between different types of opposition," Wilkins said of their win on Friday night.
"That Ospreys game just gone was incredibly important for us.
"On the back of that Ulster performance, albeit with a bit of break, we needed to show we were no longer chained to the opposition in terms of how we enabled the mindset for that game.
"Typically that Ospreys game, missing a couple of internationals at home, with full respect to Ospreys, we would have been expected to put on a good performance in that game and in the past it would have been a banana skin for us."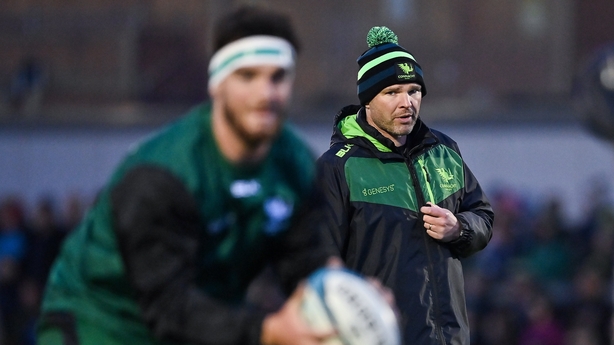 The former Edinburgh assistant says his side have never lacked motivation for their interpro fixtures, but says they need to move away from tailoring their approach to suit the opposition.
"We need to build that emotional connection to how we want to play, and that's why you hear us talking about identity and key principles within that, talking about ourselves and our game, because we need to shift the players' emotional connection to that, and then that can remain consistent and constant each week, rather than it being about who is in the opposition changing room.
"With that comes the yo-yo of external expectation and narratives around how you're going to go.
"By putting the focus on ourselves and how we want to play, that gives us the best chance of polishing our own game and continuing to improve it, but also in that emotional sense making sure we're up for every game. It's just another opportunity to test ourselves.
"It will be a step up this week, and we have to embrace that and be grateful that it's Leinster bringing that test, and no better opposition for us to see where we're at in terms of the growth of the game on the back of that Ospreys performance."
The 2016 champions are becoming one of the league's best teams to watch, with their commitment to their philosophy of 'fast, relentless, adaptable' rugby, which has played into the style of out-half Jack Carty, while their forwards have looked more and more comfortable with the ball in hand week-on-week.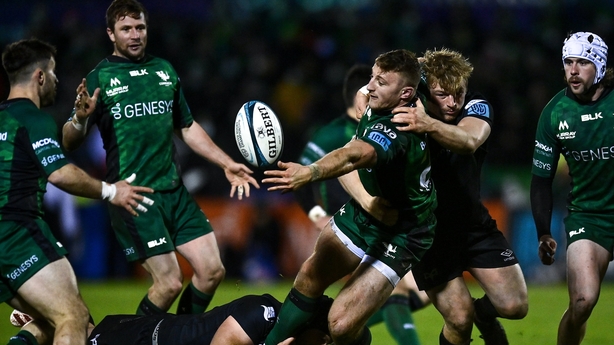 It's been a slow process, as evidenced by their early season defeats to the Dragons and Cardiff, but as the winter conditions worsen, their outstanding ball-skills are becoming more apparent.
"We're trying to find that balance between playing in an unstructured environment and bringing as much chaos to the game, and I mean that in a positive sense," added Wilkins
"As much unstructured chaos to the game as possible, but still give the players a framework that enables us to have some cohesion and all be on the same page within that chaos.
"We're trying to find a sweet spot somewhere in there, letting go a little bit of the strictness around attacking shape and judging ourselves by where the pieces on the chess-board are, and focus more on what they're doing within the play and those small moments, their movement and link-play with each other, and the cohesion of those running lines together.
"I guess it's trying to restructure the environment but at the same time get us all on the same page within that.
"We should get a flow to our attack and should see a lot of motion, a lot of movement, but ultimately generate and regenerate that momentum within games.
"Defences have a pretty strong say in how they allow you to do that, but that's our intent, to get that flow and unstructured environment and empower the players to thrive in that."