Connacht head coach Andy Friend says he has yet to receive any feedback from the United Rugby Championship following his comments about the standards of refereeing on Saturday.
The Australian voiced his frustration after Chris Cloete's controversial try helped Munster to a 20-18 win against his side at Thomond Park.
Friend said the decision to award the try so quickly showed a lack of consistency, and highlighted that the league is currently still without a referees' manager following Greg Graner's departure this summer.
Speaking on Tuesday afternoon, Friend said he has not been contacted yet by the URC to discuss his frustrations.
When asked whether he believes he should have been contacted by now, Friend was non-committal.
"That's not up to me to decide," he said, before adding he may initiate contact himself.
"I would have liked, possibly, some explanation, but in my own mind I thought everyone is normally pretty busy on a Monday or Tuesday.
"If I haven't heard anything by tomorrow afternoon I might make a few calls."
After a mostly frustrating half, Munster go in to the interval a point ahead of Connacht after Chris Cloete's try on the whistle.

?? Watch live - https://t.co/ppdfuAyEpa…
?? Live updates - https://t.co/KxwCwKaIv8…#RTERugby #URC #MUNvCON pic.twitter.com/SOZOeyN8qQ

— RTÉ Rugby (@RTErugby) October 16, 2021
On several occasions, the Connacht coach cited the "healthy working relationship" that exists between him and the Irish referees, who he says are always forthcoming with dialogue and feedback each week.
However, the lack of a refereeing head to link the five different unions of the URC remains an issue.
"It makes it hard, it does make it tricky," said Friend.
"We also do have access to Johnny Lacey and Dudley Phillips who heads the referees in Ireland, and we have a great working relationship with them.
"They support us by giving us refs during the week, we have Eoghan Cross coming on Thursday to support our session in the build up to Ulster.
"I can - and I do every week - ring Johnny (Lacey) and discuss things around the law, but it has an Irish slant and Irish focus to it.
"From a competition point of view, I know they're trying to replace Greg Graner (below) who moved on at the end of last season, but I suggest it's important."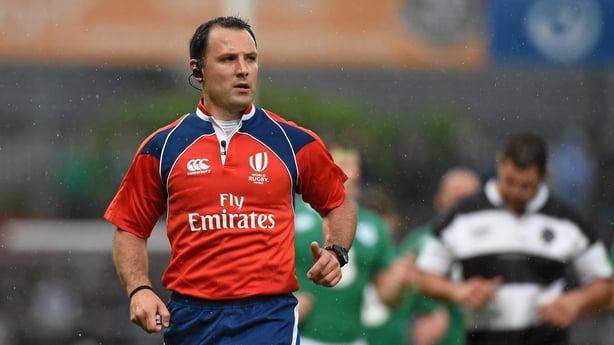 Friend stressed that his comments on Tuesday and last Saturday are not a criticism of specific match officials, but that he is simply looking for consistency in their approach.
"So me calling that out was not a direct attack on any individual, it certainly wasn't on Chris Busby (referee), I just thought it was the lack of process, that hadn't been undertaken.
"You just want to get clarity on, because you want to make sure you can deliver the message back to your team.
"That's the purpose of doing it, it's not witch-hunting, it's not trying to find fault in someone else's performance, it's just trying to get clarity on what are the standards, because it does change quite rapidly."